Gay man to lead SFMTA
Wednesday Nov 13, 2019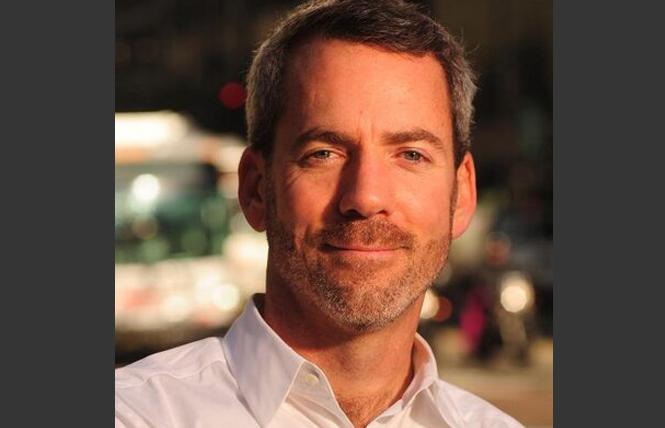 Mayor London Breed on Wednesday named a gay man to head the San Francisco Municipal Transportation Agency.
Jeffrey Tumlin will begin serving as the city's director of transportation December 16. The SFMTA Board of Directors is expected to formally appoint him at its meeting November 19.
Currently, Tumlin serves as director of strategy at Nelson/Nygaard Consulting Associates, a San Francisco-based transportation planning and engineering firm that focuses on sustainable mobility. Before that, he served as interim director at the Oakland Department of Transportation. A news release from the mayor's office said he has 25 years of experience working in cities around the world.
"Jeffrey Tumlin is exactly the type of forward-thinking, results-oriented leader that the SFMTA needs and I am excited to announce his new role as director of transportation," Breed said in a news release. "I believe Jeffrey is the right person to improve our public transportation, continue making our streets safer, and ensure that our approach is equitable and serves all of our residents across San Francisco."
The director of transportation oversees Muni, parking, traffic engineering, and bicycle and pedestrian safety.
SFMTA has been plagued by slow service on Muni's bus and rail lines and other issues, including the delayed opening of the new Central Subway. Former director Ed Reiskin resigned this summer, after being on the receiving end of criticism from Breed over Muni's poor performance. He subsequently took a job as an assistant city administrator in Oakland. Reiskin was replaced on an interim basis by Tom Maguire.
In April, Breed sent a letter to the SFMTA board Chair Malcolm Heinicke outlining the ongoing challenges at the department and calling upon the board to launch a search for a new director who could help deliver a world-class transportation system for San Francisco. A subcommittee of board members led the candidate search process and the full SFMTA board will take the final action to appoint Tumlin next week, the release noted.
In a brief phone interview Tuesday, Tumlin, 50, acknowledged "so many challenges" he will inherit.
"I think my primary take will be to listen closely to MTA staff," he said. "MTA has the greatest collection of talent and I'm confident that they know the right way forward. My job will be to clear a path and that means working in SF politics."
Asked about proposed changes to speed up the notoriously slow J-Church Muni line, Tumlin said he is "aware of the talk of that." SFMTA is set to announce its planned improvements for the subway line Monday, November 18.
While he lives in Noe Valley not far from a J-Church stop, Tumlin told the Bay Area Reporter that he regularly takes the K-L-M Muni subway lines from the Castro Muni station. He wants to take advantage of the long subway platforms and explore possibly running three-car shuttle trains between the West Portal and Embarcadero Muni stations and running three-car trains on the N-Judah line.
That would mean J-Church riders would need to transfer at the Church Street Muni station on upper Market Street, Tumlin pointed out, to access the shuttle trains. Doing so, he said, could likely "significantly improve their ride even if we had to add a transfer."
Tumlin told the B.A.R. he is eager to get started overseeing one of the country's largest transit agencies.
"I'm excited and terrified," he said. "I'm looking forward to being one of the senior most queer people in our industry."
SFMTA board members said they found the right candidate to run the agency.
"With over 20 years' experience, Jeffrey has earned a reputation as a renowned asset to the global transportation space," Heinicke said in the release. "We were lucky to have found him right here in our own backyard, and are thrilled for Jeffrey to lead our city's goals and values in the realm of mobility and street space."
SFMTA board Vice Chair Gwyneth Borden said in the release that Tumlin is a "deep thinker invested in values-based solutions."
In June, Breed, gay District 8 Supervisor Rafael Mandelman, and District 3 Supervisor Aaron Peskin created a Transit Performance Working Group tasked with reviewing the city's current bus and rail system and recommending actionable steps that the city can take to improve service for riders. According to the mayor's office, Tumlin will begin his duties by taking steps to implement those recommendations and assessing the state of the agency.
Breed noted that 2020 will be a significant year for major capital transportation projects around the city.
Gay state Senator Scott Wiener (D-San Francisco), who formerly served as the District 8 supervisor, representing both the Castro and Noe Valley neighborhoods at City Hall, praised Breed's choice.
"I've known Jeff Tumlin a long time — throughout my tenure on the Board of Supervisors," Wiener told the B.A.R. in a phone call, adding that he interacted with him while serving on the Metropolitan Transportation Commission and other transportation-related panels. "I'm optimistic he'll come in and make some much-needed changes."
Wiener said that in his view, "Muni is stuck."
"There are known issues, particularly in the subway, but Muni doesn't seem to be able to fix them. It needs to get unstuck and I think Jeff can do that," he said.
Wiener added that he's "thrilled the mayor continues to appoint LGBT people to lead important agencies."
Tumlin will become one of several out agency heads that Breed has named since becoming mayor last year. Dr. Grant Colfax is the health director; Jeanine Nicholson is the fire chief; and three gay men oversee various arts departments: John Caldon at the War Memorial, Tom DeCaigny at the Arts Commission, and Matthew Goudeau at Grants for the Arts. Additionally, a bi woman, Shireen McSpadden, has long led the Department of Aging and Adult Services.
Tumlin is a longtime resident of San Francisco and lives with his immigrant, artist husband, Huib Petersen. He has a bachelor's degree in urban studies from Stanford University. Tumlin said that he and Petersen have been together for 25 years.
At press time, Tumlin's salary was not available.
Comments on Facebook