News Briefs: Oakland LGBTQ center offers trans workshop
Wednesday Nov 13, 2019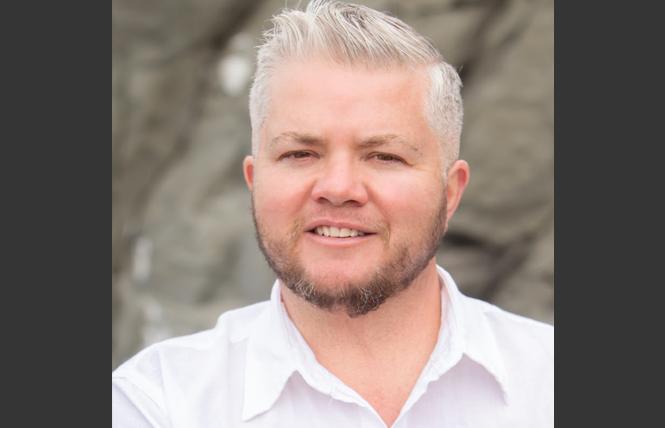 The Oakland LGBTQ Community Center will hold a free workshop titled, "Honoring Trans Journeys," Saturday, November 23, from 10 a.m. to 1 p.m. at 3207 Lakeshore Avenue (entrance on Rand Avenue).
The presenter will be Sâde Gryffin, an Oakland-based mystic, psychic energy healer, teacher, and artist. Gryffin identifies as a genderqueer, trans, nonbinary gay man. His practice and ceremony work is deeply rooted in earth-based Welsh mysticism, according to a news release.
The workshop will honor the gender journeys of trans, gender-nonconforming, and nonbinary folks coming into alignment with their true selves, wherever they are on their path.
The interactive session will create profound, meaningful ways for participants to honor themselves and a ceremony to honor their gender journey, the release stated.
Self-identified trans, nonbinary, and gender-nonconforming people are welcome to attend. To sign up, visit https://bit.ly/2qytsEg
For more information about Gryffin, visit http://www.sadegryffin.com
TDOR events coming up
Events will be held next week to commemorate the annual Transgender Day of Remembrance, which is observed Wednesday, November 20.
TDOR, which was started in 1999 by Bay Area Reporter Transmissions columnist Gwendolyn Ann Smith, specifically addresses the deaths of trans folk. Despite increased visibility, trans people continue to be murdered in unprecedented numbers, and trans women of color bear the brunt of it, trans leaders said.
In San Francisco, there will be a two-part event. People can meet at City Hall, 1 Dr. Carlton B. Goodlett Place, at 5:30 p.m. There will be a march to nearby UC Hastings College of the Law, 200 McAllister Street, where a program will begin at 6.
Several agencies are co-sponsoring the evening, including the San Francisco Office of Transgender Initiatives, the San Francisco LGBT Community Center, the San Francisco Community Health Center, El/La Para TransLatinas, and Openhouse. For more information, go to https://sf.gov/information/trans-awareness-month
In San Jose, the Billy DeFrank LGBTQ Community Center will observe the day at 6 p.m. at the Martin Luther King Jr. Library, 150 East San Fernando Street. At 7, the center, located at 938 The Alameda, will hold its regular drag queen bingo that will be a special tribute to the day of remembrance, organizers said.
For more information, visit http://www.defrank.org
SFO unveils new LGBT short films
The SFO Museum at San Francisco International Airport has some new LGBT-related short films that are now screening or will debut this month.
The films can be viewed for free in the SFO Museum's Video Arts room between 5 a.m. and midnight. It is located in the pre-security area of the departures level in the International Terminal.
November is Native American Heritage Month and Transgender Awareness Month. To that end, the museum is showing "Mino Bimaadiziwin," by filmmaker Shane McSauby, a citizen of the Gichi Wiikwedong Odawa Anishinaabek. It is about a trans youth who has lost connection to his Native culture and is profoundly affected by a chance encounter with a mysterious woman.
The 10-minute film is showing through December 4. For an excerpt, visit https://www.sfomuseum.org/programs/video-arts
The other LGBTQ-themed film is a short doc by American Indian filmmaker Ben-Alex Dupris. In "Sweetheart Dancers" (2019), Dupris delivers an inspiring profile of Sean and Adrian, a Ute and Navajo two-spirit couple who are challenging perceptions of identity through their participation in Sweetheart Dance competitions at powwows across the United States.
The 13-minute film debuts November 21. For a preview, visit https://www.youtube.com/watch?v=w21X4NmRgGY&feature=youtu.be
Dining Out for Life in Sonoma
Food for Thought, a nonprofit that provides food and nutrition services to more than 850 Sonoma County residents living with HIV and other serious illnesses, will hold its 18th annual Dining Out for Life benefit Thursday, December 5.
Participating restaurants and cafes will donate between 25% and 100% of that day's sales to Food for Thought. This year, 75 area eateries are taking part, according to a news release.
"The Dining Out for Life event gives people the opportunity to enjoy a meal at their favorite restaurant, while benefiting their neighbors in need," Ron Karp, executive director of Food for Thought, said in the release. "It is our biggest fundraiser of the year."
Restaurants taking part include those in Bodega Bay, Cotati, Forestville, Geyserville, Guerneville, Healdsburg, Occidental, Petaluma, Rohnert Park, Santa Rosa, Sebastopol, Sonoma, Valley Ford, and Windsor.
For a complete list of restaurants, visit https://www.fftfoodbank.org/dofl-restaurants.
SFPD starts holiday toy drive
The San Francisco Police Department has kicked off its annual toy drive for children in need.
For the fifth year, SFPD is working in collaboration with Walgreens, which will accept donations of new, unwrapped toys at over 70 San Francisco locations through December 12. SFPD will pick up the toys and donate them.
Last year, approximately 2,500 toys were donated at the city's Walgreens stores, according to an SFPD news release.
Comments on Facebook