Political Notebook: In 1st year, Newsom praised on LGBT bills
Wednesday Oct 23, 2019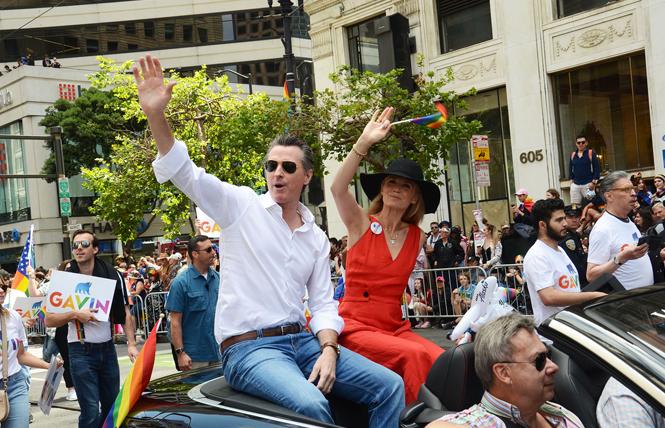 Having finished his first legislative session, Governor Gavin Newsom is winning praise from LGBT advocates for his across-the-board support for the six LGBT-related bills sent to his desk. It ensures he will receive perfect marks from Equality California when the statewide LGBT advocacy organization releases its scorecard for state lawmakers later this year.
Having built an international reputation as a supporter of LGBT rights when he served as mayor of San Francisco and famously ordered city officials to wed same-sex couples in 2004, Newsom had been expected to be extremely supportive of LGBT issues as governor. He has hired a number of LGBT people to high-profile posts in his administration; flew the rainbow flag at the California Capitol for the duration of Pride Month in June for the first time in the state's history; and became the first sitting governor of the Golden State to march in a Pride parade.
Among the hundreds of bills Newsom signed this year were ones allowing people to obtain HIV prevention medications over the counter; requiring state education officials to create training materials for how school teachers can address LGBT-based bullying; mandating school districts update the records of transgender students; improving access for LGBT-owned businesses to hospital and insurance company contracts; and protecting the rights of LGBT adoptive parents.
"I think we were really pleased with the governor's office, especially given they were just starting up in their first year," EQCA Executive Director Rick Zbur told the Bay Area Reporter in a phone interview Tuesday. "We had a very high level of engagement with the governor's staff on our bills."
Helping Newsom avoid the use of his veto pen during his freshman gubernatorial year on bills backed by EQCA was legislative maneuvering to address the cost of the teacher training bill. At the governor's request, the mandatory provision in the legislation was pulled, and in exchange, Newsom agreed to come up with the funding next year, said Zbur.
"It is the first step toward it. He allocated budgetary resources to make a new position at the California Department of Education," noted Zbur. "Basically, the person will start the program by developing more online training for teachers as part of the bill."
Newsom is likely to face several pieces of controversial LGBT legislation during his second year in office. For various reasons the bill sponsors or committee chairs held the legislation over to next year's legislative session.
A trio of bills aimed at helping intersex people, transgender inmates, and gay and lesbian adolescent sex offenders will be taken up again in January when lawmakers return to the Capitol. According to gay state Senator Scott Wiener (D-San Francisco), the chair of the Legislative LGBTQ Caucus and the author of the three bills, opposition to his legislation has not come from Newsom's office but from outside groups or his fellow lawmakers.
"I think the governor is off to a very strong start with our community," said Wiener. "The good thing about Governor Newsom is he understands our community's issues in a way that not all straight elected officials do. Because of his experience in San Francisco, he has been exposed to a lot of those issues."
Wiener said he has been working closely with Newsom's office and state prison officials to move forward next year his bill to ensure trans inmates are housed in gender appropriate prisons based on their personal preferences. On Monday this week he traveled to Chino to meet with trans male and female prisoners, as well as cisgender inmates, at a male prison and a female prison in the San Bernardino County city. Joining the lawmaker were LGBT advocates and Daniel Seeman, Newsom's deputy cabinet secretary who advises him on criminal justice issues.
Newsom, noted Wiener, "has also shown a real commitment to working with us, for example, on the trans inmate bill."
That bill and the several others held up in the Statehouse this year will be among the legislative issues discussed at the EQCA Institute's fifth annual Fair Share for Equality convening being held in San Francisco Friday, October 25. A number of state lawmakers and community leaders are expected to address the daylong summit on the UCSF Mission Bay campus.
(The event is at capacity, but people interested in attending can sign up for waitlist registrations at http://www.eqca.org/fairshare2019/.)
Come January, Wiener said he expects to have brokered consensus on how to move forward his legislation ensuring LGBT teens are treated the same as their heterosexual counterparts when faced with registering on the state's sex offender registry. But he expects to face continued opposition to his bill limiting gender reassignment surgeries on intersex infants from medical lobbying groups.
"It is a righteous bill but it is a hard bill because the California Medical Association is fighting so hard against the bill," said Wiener.
Should he get the bills to Newsom's desk, Wiener expressed confidence in again seeing broad support from the governor for next year's LGBT legislative package.
"He has shown a real commitment to work with our caucus and our community," he said.
Zbur added that Newsom's administration has signaled it is supportive of this year's held-over bills.
"It is clear the governor has made advancing LGBTQ civil rights and social justice a high priority," he said. "It really isn't something that is a second priority set of issues for this governor."
Gay journo to run again for SF supe
Gay journalist Joel Engardio is hoping the third time is the charm for him winning the District 7 seat on the San Francisco Board of Supervisors. Having lost both his races in 2012 and 2016 against Supervisor Norman Yee, Engardio is once again running in 2020 to represent the neighborhoods west of Twin Peaks at City Hall.
With Yee termed out of office, his seat will be open come next November's ballot. Currently serving as board president, Yee has reportedly urged his aide, Ivy Lee, to enter the race. She is running unopposed on next month's ballot to serve on the city's community college board through the end of 2020.
Lee, appointed last summer to her seat by Mayor London Breed, recently told the B.A.R. she does not plan to seek a full four-year term next year on the board overseeing City College of San Francisco. She also said that she has not decided if she will run for supervisor.
Engardio and his husband, Lionel Hsu, own a home in the Lake Merced neighborhood. He writes a regular column on city issues and local politics for the San Francisco Examiner and serves as vice president of Stop Crime SF, a grassroots group aiming to hold local law enforcement and judges accountable.
In an email to his supporters Tuesday, October 22, Engardio soft launched his supervisor bid, having pulled papers to run in September. The move had long been expected, as Engardio has remained politically and publicly active since his campaign three years ago.
"Joel Engardio believes San Francisco's best days are ahead, if we are willing to address today's problems with equal doses of innovation and common sense. That's why Joel is running for supervisor in 2020," read his email, which also solicited donations to his campaign.
He told the B.A.R. that he plans to hold a formal campaign launch sometime in early 2020. According to the city's ethics department, he is the first and only candidate so far to pull papers for the District 7 supervisor seat.
To learn more about his bio and platform stances, visit http://www.engardio.com/.
Trump protest to hit Castro Saturday
The group Refuse Fascism is holding a nationwide protest against the Trump administration this Saturday, with a march planned in San Francisco that day. It will kick off at 1 p.m. at the plaza above the BART station at 24th and Mission streets and then wind its way to the city's LGBT Castro district. A rally is planned for 3:30 p.m. at the intersection of Castro and Market streets.
For more information about the group, visit its website at http://www.Refusefascism.org.
Political Notes, the notebook's online companion, returns Monday, October 28.
Keep abreast of the latest LGBT political news by following the Political Notebook on Twitter @ http://twitter.com/politicalnotes
Got a tip on LGBT politics? Call Matthew S. Bajko at (415) 829-8836 or e-mail m.bajko@ebar.com
Comments on Facebook