Political Notebook: Newsom signs bill allowing CA pharmacies to furnish PrEP
Monday Oct 7, 2019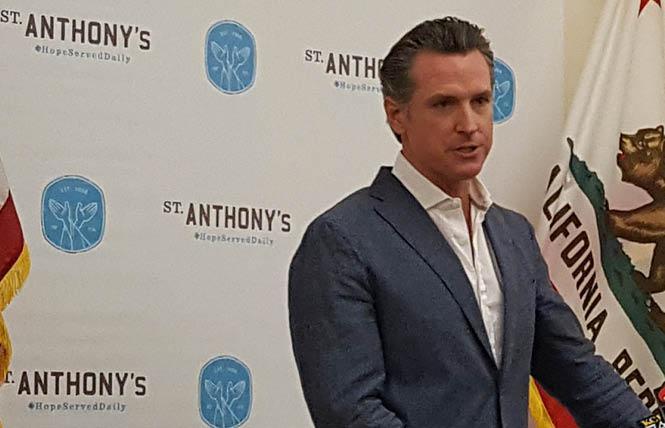 Starting next summer Californians will be able to obtain a two-month supply of an HIV prevention medicine known as PrEP from their local pharmacy without having a prescription from their primary care doctor.
Monday afternoon Governor Gavin Newsom signed into law Senate Bill 159 that authorizes pharmacies to furnish at least 30 days worth, and up to 60 days, of pre-exposure prophylaxis pills. Since 2012 doctors have prescribed Truvada (tenofovir/emtricitabine) for PrEP as an effective method for preventing the transmission of HIV.
Federal health officials last week also approved the use of Descovy (tenofovir alafenamide/emtricitabine) for PrEP in adults and adolescents who are at risk of acquiring HIV through sex, with the exception of receptive vaginal sex. In practice, this means it is indicated for cisgender (non-trans) men who have insertive anal or vaginal sex, as well as for cisgender or transgender men and women who have receptive anal sex.
Pharmacists will be able to start furnishing the limited supply of PrEP medication on July 1 next year when SB 159 takes effect. They will also be able to supply customers with a 28-day regimen of drugs for PEP, or post-exposure prophylaxis, that has proved to be effective at keeping someone HIV negative if they have been exposed to HIV through sex.
The legislation also prohibits insurance companies from requiring patients to obtain prior authorization before using their insurance benefits to obtain PrEP or PEP from a pharmacy.
"Recent breakthroughs in the prevention and treatment of HIV can literally save lives," stated Newsom in an embargoed media advisory. "All Californians deserve access to PrEP and PEP, two treatments that have transformed our fight against HIV and AIDS. I applaud the Legislature for taking action to expand access to these treatments and getting us close to ending HIV and AIDS for good."
Gay state Senator Scott Wiener (D-San Francisco) authored the first-in-the-nation bill with his colleague, gay Assemblyman Todd Gloria (D-San Diego). Initially, they had amended their legislation to limit the amount of PrEP pills pharmacists could furnish to only 30 days in response to feedback from doctors, who had initially opposed the bill.
This summer, gay Assemblyman Evan Low (D-Campbell) successfully fought to increase the supply to 60 days. In light of changes made to the bill to address its concerns, the powerful California Medical Association switched its stance from being opposed to being neutral.
For California to end the transmission of HIV, Wiener and Gloria argued that the state needed to make access to both PrEP and PEP as easy as possible.
"To end new HIV infections, we must dramatically expand access to PrEP and PEP, yet far too many Californians who need these drugs struggle to access them," stated Wiener in an emailed statement. "SB 159 will keep more Californians HIV-negative and help us end this epidemic. I applaud Governor Newsom for signing this first-in-the-nation legislation to remove barriers to these critical HIV-preventatives."
In order for someone to obtain PrEP from a pharmacy, they must have taken a test showing they are HIV-negative within the previous seven days. If not, the pharmacist is required to order an HIV test. Should the person test positive for HIV then pharmacists are required to direct the person to a primary care provider and provide a list of providers and clinics in their region.
The legislation also requires pharmacists to educate their customers about PrEP, which can include discussing its side effects, the importance of adhering to recommended dosing, and additional testing for HIV, renal function, hepatitis B, hepatitis C, and other sexually transmitted diseases. The bill also specifies that additional safety information about PrEP use during pregnancy and breastfeeding should be given to women of child-bearing age.
The bill restricts pharmacists from furnishing a 60-day supply of PrEP to a single patient more than once every two years. If a person wishes to continue using PrEP after 60 days, they will need to see a doctor in order to receive a prescription for additional pills.
The California State Board of Pharmacy has until July 1, 2020, to adopt emergency regulations to implement the bill. It is to consult with the Medical Board of California in developing the guidelines.
The Golden State will become the first state to allow people to obtain PrEP over the counter from a pharmacy. It is likely other states will follow suit as they work to also end their own HIV epidemics.
"The HIV epidemic is still a pressing issue today — especially for LGBTQ people of color and folks in rural communities," said Rick Zbur, executive director of Equality California, the statewide LGBT advocacy organization that sponsored SB 159. "But with Governor Newsom's signature, SB 159 is a giant step forward in getting to zero transmissions, zero deaths, and zero stigma. By increasing access to life-saving HIV prevention medication, California — unlike the White House — is leading the country in the race to eliminate HIV."
In a phone interview Monday with the Bay Area Reporter, Wiener said he does plan to re-examine the legislation in the future to see if the 60-day cap can either be lifted or extended.
"We need to let it play out and let it show it can work expanding access to PrEP," said Wiener, who has taken PrEP for years. "If it succeeds, which I believe it will, we can have a conversation within a few years about it."
Alice early endorses Wiener
As expected, the Alice B. Toklas LGBT Democratic Club early endorsed Wiener, a former co-chair of the political group, at its meeting October 7. Wiener, 49, first won election to his 11th Senate District seat in 2016 and is seeking another four-year term next year.
To date, Wiener is the only person to be actively seeking the seat and raising money, reporting a campaign war chest of more than $1 million as of August 1. Former state Senator Quentin Kopp, 91, an independent moderate who served three terms in the Senate, pulled papers expressing interest in running for Wiener's seat.
A Republican is also expected to enter by the December 6 deadline to file for the March 3 primary. As for seeing a well-known progressive candidate jump into the contest, that seems unlikely at this point, as the B.A.R's online Political Notes column reported September 30.
The current chair of the seven-member Legislative LGBTQ Caucus, Wiener is one of 14 out Democrats and one Republican who have announced state legislative campaigns next year. LGBT advocates are hoping to either maintain or expand the caucus' membership come the 2021 legislative session.
City seeks listing of historic Japantown site
A property in San Francisco's Japantown that has ties to the early LGBT rights movement is a step closer to receiving federal historic status. City preservation officials and the property owners are seeking to have it listed on the National Register of Historic Places.
California's State Historical Resources Commission is expected to vote in support of the historic designation for the 1830 Sutter Street property, known as the Japanese YWCA/Issei Women's Building, at its November 7 meeting. As the B.A.R. reported online October 2, San Francisco's Historic Preservation Commission voted 5-0 to back the national register listing.
Famed architect Julia Morgan designed the building, pro bono, for a group of first generation Japanese immigrant women as they were barred from using the YWCA's other facilities. The original two-story-over-basement, wood frame structure was constructed in 1932 and sports an eclectic Japanese-inspired style. (An addition also designed in a Japanese-inspired style was built in 2017.)
The Japantown Y site, in May 1954, was where the pioneering gay rights group the Mattachine Society hosted its first convention, according to the city's LGBTQ historic context statement. Bayard Rustin, the late gay African American Quaker and civil rights leader, also taught a seven-week course about addressing racial discrimination at the Japantown Y in the summer of 1943, according to research done by Donna Graves.
Should the state panel vote next month to recommend listing on the National Register, then the nomination is sent to the State Historic Preservation Officer for approval. The Keeper of the National Register in Washington, D.C. makes the final determination within 45 days after receipt of the nomination from the state officer.
It would become only the fourth property on the West Coast listed on the national register due to its place in LGBT history. The most recent to be listed was the San Francisco Women's Building last year. There are a little more than two-dozen LGBT properties across the country given such federal recognition.
Mandelman calls for SOGI hearing
At Tuesday's Board of Supervisors meeting, gay District 8 Supervisor Rafael Mandelman called for a hearing on how city agencies are collecting sexual orientation and gender identity data. It is expected that the board's government audit and oversight committee will schedule the hearing sometime in November.
Since July 2017 six city agencies have been required to collect SOGI data, but as the B.A.R. has previously reported, meeting the requirement has been a slow slog. At a hearing this spring that Mandelman had called for, city officials acknowledged that they were behind in fully ramping up their SOGI data collection due to a variety of reasons.
Mandelman said he would ask them to come back later in the year with an update. LGBT advocates have long argued that without the SOGI information the city cannot adequately address the needs of the LGBT community.
Lee won't seek full college board term
Last week's column featured community college board member Ivy Lee, who is running unopposed on the November ballot to serve out the remainder of former City College of San Francisco trustee Rafael Mandelman's term. When Mandelman resigned to become District 8 supervisor in August 2018, Mayor London Breed appointed Lee to fill the vacancy.
After the story was posted to the B.A.R.'s website Wednesday, October 2, Lee contacted the paper to disclose that she has decided not to seek a full term on the college board in November 2020. As for seeking another elected office, Lee clarified that she has "no idea right now" whether she will or not.
"I'm focused on what I can do for the college over the next year. I think it's important to get the financial oversight into place," wrote Lee. "Once that's moving solidly forward, I'll think and decide what to do next."
The online version of the column has been updated.
Web Extra: For more queer political news, be sure to check http://www.ebar.com Monday mornings for Political Notes, the notebook's online companion. This week's column reported about Equality California's new affiliated group in Nevada.
Keep abreast of the latest LGBT political news by following the Political Notebook on Twitter @ http://twitter.com/politicalnotes
Got a tip on LGBT politics? Call Matthew S. Bajko at (415) 829-8836 or e-mail m.bajko@ebar.com
Comments on Facebook