New sex toy to be unveiled at Folsom
Wednesday Sep 25, 2019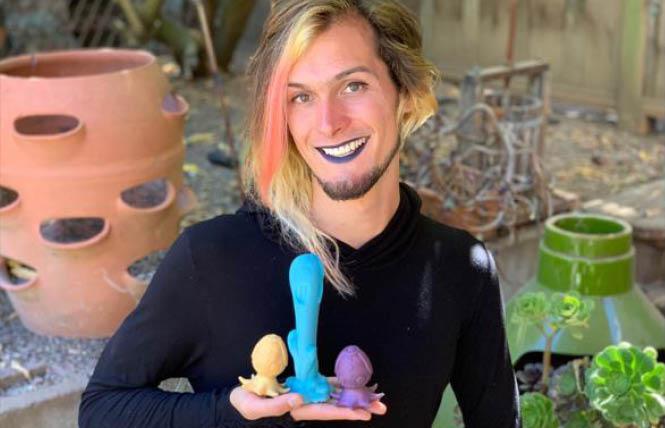 A new sex toy designed and produced by a local queer person will be unveiled at the Folsom Street Fair.
Cute Little Fuckers is a line of small vibrators shaped like "adorable monsters," along with a webcam series on sexual health and queer issues. It's the brainchild of 28-year-old Stephen Tranovich, known as "Step," an Oakland resident who identifies as gender fluid and has been active in the sex-positive community in the Bay Area since they moved here five years ago from Washington, D.C.
Tranovich is also the founder of the nonprofit organization Loud and Queer, which "runs lots of events around sex positivity, polyamory, and kink" and has an online presence, they said in a recent interview in San Francisco.
Designed for use by all genders, the new vibrating toy was introduced September 24 on Kickstarter and Sunday, September 29, at the Folsom Street Fair.
Tranovich said Cute Little Fuckers "is an activist organization in a cute package, fighting for gender inclusion and more accessible sexual health."
Tranovich started the company earlier this year "for social impact" but was also "hoping to find a way to support" themself if it turns out their painful neuropathy, which has forced them to leave the nine-to-five workforce, doesn't improve. Ten months ago, Tranovich said they developed numbness in both hands, causing them to leave their computer-based job. The symptoms have since spread throughout their body and doctors have been unable to find the cause, they said.
The idea for the vibrators came during a conversation with friends who agreed "it would be fun to have sex toys with more personality and creativity."
Tranovich said they "let the idea simmer in their head for a while" before constructing the first prototypes. After interviewing "tons of people" to see what they thought of the idea and receiving "an overwhelmingly positive response," Tranovich took the plunge.
There are currently three characters available: Princette Puppypus, Trinity, and Galh. The toys are made of 100% medical grade silicone, except for the internal electronics, Tranovich said. They vibrate at five speeds and in five modes.
They're "incredibly strong," they said. The toys are USB rechargeable, quiet, waterproof, and easy to clean
They're also "innocuous," Tranovich said. "You can leave them on the counter and nobody will know it's a sex toy."
Tranovich is keeping their fingers crossed that the product will take off. The first batch of prototypes sold out in a week, based on publicity on social media.
"I think they will help a lot of people to explore their sexuality," Tranovich said.
At a price of $90 each, "they're super affordable for the quality," they said. By next year, Tranovich said they hope they'll also be available in retail stores.
No matter how well they sell, Tranovich said starting their own company has had its own rewards already.
Tranovich's illness has been "genuinely terrifying" they said, "but my ability to launch the new company has shown me that even in difficult times I can still show up to the world in powerful ways.
"And I realize I'm part of an incredible community that has supported me in more ways than I can count," they added.
For more information, visit www.cutelittlefuckers.com and www.loudandqueer.com
Comments on Facebook