News Briefs: Breed, Schaaf kick off cleanup challenge
Wednesday Sep 11, 2019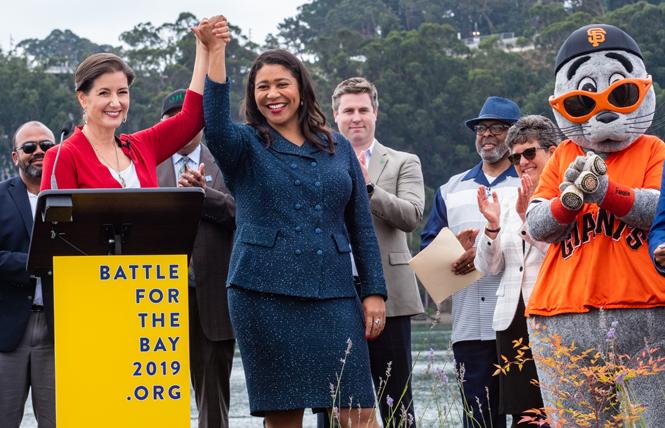 San Francisco Mayor London Breed and Oakland Mayor Libby Schaaf met on Treasure Island last week to promote a friendly volunteer "Battle for the Bay" competition ahead of the Bay Cleanup Challenge, set for Saturday, September 21, as part of the annual California Coastal Cleanup Day.
The challenge is to protect the bay by cleaning and greening both cities.
Oakland and San Francisco will compete to make the most impactful cleanups measured by volunteer turnout, amount of debris removed, geographic area cleaner, beautification projects, and most unusual object found by a volunteer.
Projects include trash removal, habitat restoration, tree planting, and beautification.
"Battle for the Bay will help protect our cherished bay and is part of our broader efforts to keep every neighborhood in our city clean, green, and beautiful," Breed said in a news release.
At the September 5 news conference, Schaaf and Breed also announced their convivial wager over which city will win the contest: the mayor who has fewer volunteers will travel to the winning mayor's city to volunteer at a nonprofit of the winning mayor's choosing.
"From the streets to the shores, this annual cleanup is an opportunity to shine that thousands of Oaklanders make a huge success every year," Schaaf said in the release. "This year we're building on that success by bringing new support into our neighborhoods where the community faces illegal dumping everyday."
She said that sidewalk trash is often just a few steps away from contaminating natural waterways.
"By cleaning up our neighborhoods we're also protecting the bay," Schaaf added.
The event has drawn major support from sponsors on both sides of the bay, including Recology and Waste Management of Alameda County, California Waste Solutions, and the Golden State Warriors, who used to play in Oakland but next month begin the season at the new Chase Center in San Francisco.
To sign up as a site coordinator, find volunteer locations, register as a group, or for more information, visit www.battleforthebay2019.org
Drag brunch in Walnut Creek
Petit Dejeuner, a drag brunch benefitting the Rainbow Community Center of Contra Costa County, will take place Sunday, September 15, from noon to 3 p.m. at Club 1220, 1220 Pine Street in Walnut Creek.
According to the center, all funds raised will go toward its HIV prevention program. There will be free HIV and hepatitis C testing at the event between 11 a.m. and 5 p.m.
Tickets are $25 and include brunch and the show. For more information, go to https://bit.ly/2m2XMo9
Comments on Facebook