SJ LGBT youth center vandalized
Tuesday Jun 25, 2019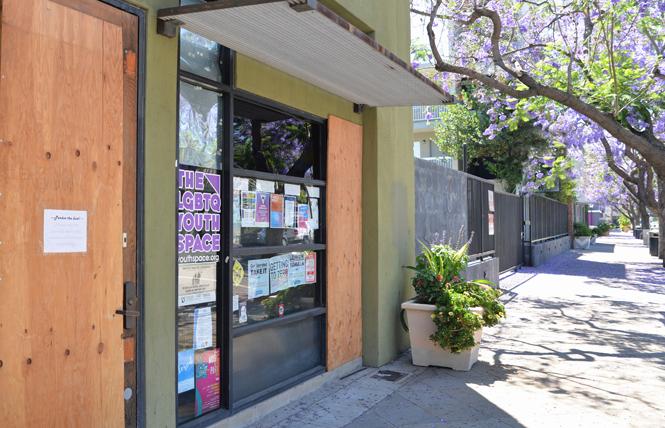 San Jose police are investigating a reported vandalism incident at the city's LGBTQ Youth Space.
Sometime before dawn Monday, June 10, the windows and the door of the space were smashed in.
The youth space is located at 452 First Street, along a busy nightlife corridor near downtown San Jose.
It isn't uncommon for businesses in the area to be vandalized, James Gonzales, the LGBTQ liaison to the San Jose Police Department, told the Bay Area Reporter.
Gonzales, a gay man, said that police aren't considering the incident as a hate crime.
However, it was the only building targeted on that Monday morning and it's Pride Month, LGBT community members noted.
Adrienne Keel, director of the LGBTQ programs at the space, which is a part of Family & Children Services of Silicon Valley, a division of Caminar, told San Jose Inside that "vandalism sucks — period," but knows that "what happened to us, it could have been way, way worse."
She isn't sure if the space was targeted because it serves queer youth. There were no signs of hate, such as homophobic epithets, at the scene.
"The only thing we have to go off of is that we were the only storefront on the block that got bashed in," Keel told KRON 4 News.
The B.A.R. reached out to Keel several times for comment but didn't receive a response by press time.
Keel reported it to SJPD.
The windows and the door were immediately boarded up. The organization is working on repairing the damage.
Maribel Martínez, a queer woman of color who is the director of the Santa Clara County Office of LGBTQ Affairs, told the B.A.R. that while it was important to find out if the crime was "hate-related," her focus was on how young people might view the incident.
"I'm concerned about the message that it sends to youth who are not connected to the space," she said, explaining that the youth who do participate in programs at the youth space are surrounded by support.
"The staff there are amazing," she added.
"My concern is more for folks, especially young people, who are not out, who are not yet connected to a support space," said Martínez.
Martínez also noted how the community has come out to support the space. Local businesses, elected officials, LGBTs, and allies have stopped by the space to check on it, reported SJI.
For more information on San Jose LGBTQ Youth Space, visit http://www.youthspace.org.
Comments on Facebook