Rainbow crosswalk flags cause stir in San Jose
Wednesday Jun 19, 2019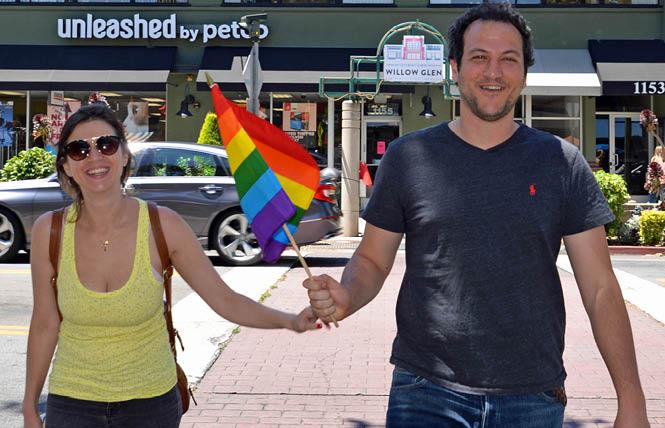 Residents in San Jose's quaint upscale Willow Glen neighborhood are outraged and disappointed by a controversy that saw Christian flags replace rainbow ones that pedestrians use to cross a busy thoroughfare.
Realtor Holly Barr, who oversees the street crossing flags on bustling Lincoln Avenue, put out rainbow flags with her business logo on them at midnight June 1 in celebration of Pride Month.
The flags temporarily replaced the usual red flags residents use to slow traffic while they cross the street.
The rainbow flags immediately started disappearing, Barr, a 40-something biracial woman who declined to disclose her sexual orientation, but supports the community, told the Bay Area Reporter on Tuesday.
The flags were replaced by Barr and upset residents. A couple of times residents contacted San Jose Police about the flags, she said, but expressed she wasn't involved with any of the incidents.
That was until all of the rainbow flags disappeared and were replaced by Christian flags last week. Barr noticed the switch and posted about it on her Facebook page, Willow Glen Charm, June 14.
"It's disheartening and frustrating that people are threatened by a rainbow flag and love," said Barr, who has been contacted by many community members about the dustup.
"Not one gay person that I'm aware of has ever done harm to a straight person because they are straight, it only seems to be the other way around," she said, adding that the world doesn't need more oppression.
LGBT residents and city officials were caught off guard by the flag switch.
San Jose City Councilwoman Devora "Dev" Davis, who represents District 6 that includes Willow Glen, was surprised when she learned of the news about the flags.
Davis, 41, said she saw them at the beginning of the month.
"I thought it was a great idea," she said, noting how each June San Jose officials raise the Pride and transgender flags at City Hall.
Davis said the rainbow crossing flags were "a cool, cool way to bring that to the rest of the community."
Other city officials pointed out the rainbow flag symbolizes diversity and the resilience of the queer community.
"It denotes that LGBTQ people belong here," Maribel Martinez, director of the Santa Clara Office of LGBTQ Affairs, wrote in a statement to the B.A.R. "It has been a long journey toward this visibility and fight for our rights."
Davis, an ally, was surprised by the incident since the city she knows is "pretty welcoming."
"It makes me sad that people would be willing to do that, would even think to do that," she said.
Martinez, a queer woman of color, noted, "Any incident done with malicious intent is a constant reminder that there is more work to do to address discrimination and bias against the LGBTQ community.
"From Stonewall to 2019, the LGBTQ community has faced many struggles and there is more work that we need to do as a community in Santa Clara County," she added.
Gay Willow Glen resident David Zappelli, 50, was happy about the rainbow flags. He felt that it was a nice way to "show Pride in the outer neighborhoods of the city."
The fourth generation San Jose resident, whose family has settled mostly in the Willow Glen neighborhood and who identifies as Christian, was sad about the politicization of the rainbow flags being temporarily replaced by Christian flags.
"I find it odd because many of us are gay Christians. I don't see it as a conflict. I don't see it as being a political choice of being gay or Christian. It's just who we are. You can be both Christian and gay," he said.
The neighborhood's response inspired Davis.
"We know that there will always be hate and intolerance, but I also think it's on its last legs," she added. "The outpouring of support for the LGBTQ+ community is much greater than the actions of intolerance that we saw."
As of Tuesday, the Christian flags were gone, and the rainbow flags were restored to the crosswalk poll buckets.
KTVU reported some people expressed that they might hold a community watch taking turns to oversee the flags.
Comments on Facebook