Dem prez hopefuls offer LGBT proposals
Wednesday Jun 19, 2019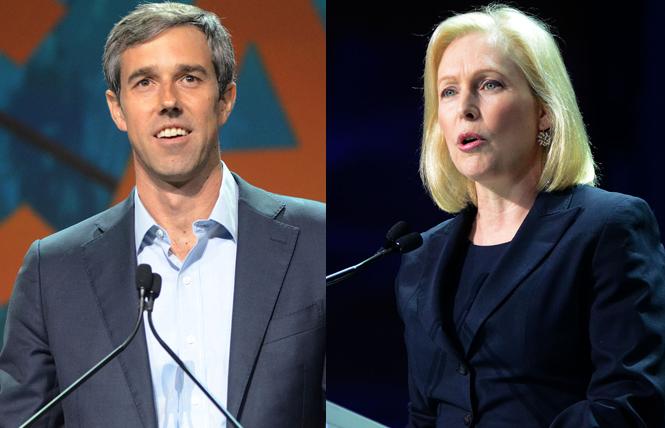 Ahead of next week's Democratic presidential debates, several candidates have been showing their Pride.
Twenty candidates have qualified to appear in the first nationally televised debates of the Democratic Party for the 2020 presidential primary season, including gay South Bend Mayor Pete Buttigieg. One of four questioners for those candidates will be lesbian political analyst Rachel Maddow. All that, and the fact that the second debate takes place just one day shy of the 50th anniversary of the Stonewall riots, makes the odds pretty good that LGBT-specific issues will come up during the June 26 and 27 forums.
Several Democratic candidates have been prominently showcasing their support and commitment to the LGBT community all month — speaking at Pride celebrations, making statements in recognition of the third anniversary of the mass shooting at the Orlando, Florida LGBT nightclub Pulse, and — in a few cases — announcing very specific priorities for how they will tackle the needs of the LGBT community should they be elected president.
Senator Kirsten Gillibrand (D-New York) was the first to release a plan, introducing her "LGBTQ policy agenda" May 31. The 30-point proposal calls for signing the Equality Act immediately upon passage. The act, which the House passed last month, seeks to prohibit discrimination based on sexual orientation and gender identity in public accommodations, employment, housing, and other areas. It faces an unlikely vote in the Senate.
Gillibrand's proposal also calls for directing the Department of Justice to treat sexual orientation and gender identity as a protected minority under non-discrimination laws, ending President Donald Trump's ban on transgender service members, "permanently codify[ing] marriage equality as the law of the land," prohibiting federal funds to child welfare agencies that discriminate based on sexual orientation and gender identity, addressing the high suicide rate among LGBTQ youth, ensuring protection of LGBTQ youth under Title IX, and supporting a national ban on conversation therapy.
Gillibrand has also gone all out for the LGBT vote in Iowa this month, speaking at the Pride rally and working behind the bar at an LGBT watering hole in Des Moines, and arm wrestling a 20-year-old lesbian in Ames.
Former Congressman Beto O'Rourke (D-Texas) issued a 33-point "LGBTQ + Equality" plan June 12. While about half of O'Rourke's points are similar to Gillibrand's (such as support for the Equality Act, ensuring federal funds do not support discrimination in foster care, and banning conversion therapy), quite a few are unique. For instance, O'Rourke calls for creating an interagency task force whose goal is to end "discrimination in federal programs and actions." He said he would appoint judges and executive branch officials "who have a demonstrated record of supporting the full civil rights of every person." And he would "revitalize" the White House Advisory Council on HIV.
O'Rourke also paid special attention to LGBT voters this month, holding an LGBTQIA town hall in San Antonio, and running in a two-mile LGBT memorial run in New York City and a 5K Pride Fun Run in Des Moines.
Former Vice President Joe Biden, who is leading all current polls of Democratic presidential nomination hopefuls, spoke before a Human Rights Campaign dinner in June, sharing at length his understanding of discrimination against LGBT people and the need to do more.
"For all the hard-won progress you have made, for as much as we can celebrate how much better things have gotten, this fight — as you know — is not nearly over," said Biden. While he didn't unveil a plan, Biden did venture one promise: supporting the Equality Act.
"I guarantee you that, if I get elected president, it will be the first thing that I ask to be done," said Biden. This came three months after Biden re-couched his assessment of Vice President Mike Pence as a "decent guy" after LGBT leaders and activists reminded him that Pence has a long record of disparaging LGBT people in words and deeds. "You're right," he posted on Twitter, "... there is nothing decent about being anti-LGBTQ rights. ..."
Senator Bernie Sanders (I-Vermont), the second-place holder so far in Democratic polling, includes the "Fight for LGBTQ Equality" as one of 25 issue pages on his campaign website, right beneath the "Fight for Women's Rights." The LGBTQ page says "We must:" and then lists a number of actions, including passing the Equality Act, health insurance without discrimination, and "Strongly oppose any legislation that purports to 'protect' religious liberty at the expense of others' rights."
The big debates
Out of 23 Democratic presidential candidates, only three did not meet the criteria set by the Democratic National Committee to qualify for next week's national televised debates. They are Congressman Seth Moulton of Massachusetts, Governor Steve Bullock of Montana, and Mayor Wayne Messam of Miramar, Florida. That does not mean that their campaigns are over; simply that they did not reach a threshold of 1% support in at least three national polls or record campaign contributions from at least 65,000 people.
The 20 candidates who did qualify to participate were split equally between the two dates, in random order (not based on money raised or current polling status). NBC announced Friday who will appear when. Buttigieg will appear on the second night's stage, along with Biden; Sanders; Senator Kamala Harris (D-California), who has been trading places frequently with Buttigieg for fourth place; and Gillibrand, who has been polling at only 1% and has not been among the top 10 favorites yet.
The first night's debate will include Senator Elizabeth Warren (Massachusetts), who is holding onto third place in recent polls, and O'Rourke, who has been making the top 10 but with only about 4% of the vote.
One presidential candidate whose efforts to make some kind of gesture toward the LGBT community this month seemed to fall flat was Trump. On May 31, he posted a message on Twitter saying, "As we celebrate LGBT Pride Month and recognize the outstanding contributions LGBT people have made to our great Nation, let us also stand in solidarity with the many LGBT people who live in dozens of countries worldwide that punish, imprison, or even execute individuals ... on the basis of their sexual orientation. My Administration has launched a global campaign to decriminalize homosexuality and invite all nations to join us in this effort!"
Some respondents on Twitter reminded readers that Trump and his appointees have systematically moved to undermine equal rights for LGBT people in virtually every department since he took office. And Trump himself has befriended, and spoken highly of, the leaders of several countries which are notoriously hostile to LGBT people, such as Russia and Saudi Arabia.
Chad Griffin, president of the Human Rights Campaign, called Trump's Twitter posting "gross hypocrisy, with an emphasis on gross."
"You can't celebrate Pride and constantly undermine our rights," said Griffin.
Democratic presidential candidate Beto O'Rourke. Photo: Rick Gerharter
Kirsten Gillibrand was the first of the Democratic presidential candidates to release an LGBT plan. Photo: Rick Gerharter
Comments on Facebook