SF attorney files claim with feds over trans woman's death
Wednesday Jun 12, 2019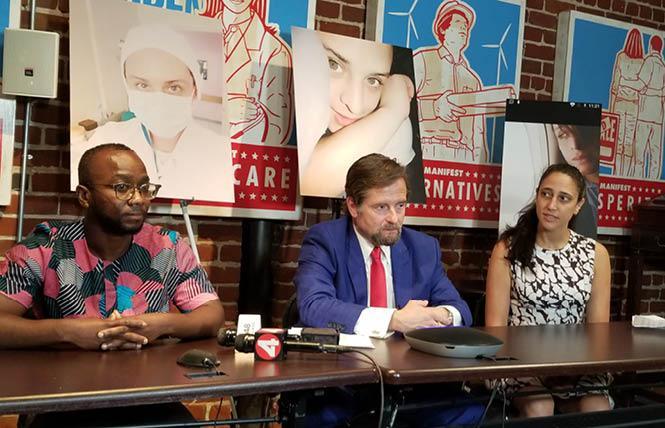 Christopher Dolan of the Dolan Law firm announced in a news conference Wednesday that his firm had been retained to represent Ana Patricia Leon De Barrieutos and Valeria Stephany Barrieutos, the mother and sister of Johana Medina Leon, a recently deceased 25-year-old trans woman from El Salvador who had come to the U.S. border seeking asylum.
The case has been filed as a notice of wrongful death and survival action claim with the U.S. Department of Homeland Security for damages under the Federal Tort Claim Act pertaining to the death of Medina Leon.
The name of the deceased has been variously reported as Johana Medina, Johana Medina Leon, and her deadname. The inclusion of Leon here is used to denote her familial connection to her mother, whose name it is.
The news conference focused on the injustice of Medina Leon's death and the ongoing wrongdoing on behalf of the Department of Homeland Security and Immigrations and Customs Enforcement, both of which are named as recipients of the notice. Dolan was joined by Lynly Egyes, legal director for the Transgender Law Center, and Ola Osaze, national organizer for the Black LGBTQIA+ Migrant Project.
Dolan detailed the timeline of Medina Leon's suffering before her death, based on lengthy conversations she had with her family.
"Johana was a nurse. She knew that she was becoming critically ill. She requested treatment from the government, treatment that she should have been given," Dolan said. "The government failed to provide her treatment, so she actually begged for water, sugar, and salt to make her own IV and give herself the fluids that she needed. And then that was denied.
"At one point, she became so ill that she asked to be deported, to be sent away from the United States to another country where she could receive medical treatment," Dolan added. "That, also, was denied to her. On May 23 or 24, she was found unconscious. At that point, ICE decided to do something. What they did was transport her to a hospital where she was left. Remarkably, on that same day so as to absolve themselves of responsibility, she was granted her temporary status and released from ICE custody. The nature of this action is to hold the United States government responsible for the deprivation of Johana's civil rights. Her human rights."
Egyes brought up the pattern of behavior that has led to the deaths and mistreatment of other transgender detainees, naming Roxsana Hernandez LINK and at least six unnamed children reported to have died in ICE custody owing to their practices that "knowingly subject people to conditions that resulted in the loss of life," Egyes said.
"If there had been any meaningful oversight and accountability after Roxsana died, we would not be mourning Johana's death. We will continue to pursue justice for Roxsana and justice for Johana by holding accountable all of the agencies and private companies responsible for their deaths, and to shine a light on the horrors of detention," Egyes concluded.
Osaze spoke from personal experience in Texas, where he worked with queer and transgender detainees at the Otero County Processing Center outside El Paso.
"We've seen black trans migrants immediately put into detention when seeking asylum, even when there is insurmountable evidence as to what they've experienced in their home countries as a result of their gender identity and sexual orientation. The conditions created by this administration have added to our vulnerability and shortened our lives. I place the blame for Roxsana's death, for Johana's death, squarely in the hands of the U.S. government," Osaze said.
"I place the blame for the deaths of black trans women around the country in the hands of the U.S. government. I accuse the U.S. government of placing crosshairs on our backs, as black and brown trans people, either through the eradication of laws that guarantee us our rights, or through creation of unsafe conditions where we are attacked in the street. Where we are denied medical attention in detention centers. This is a systemic attack on black and brown trans people in this country that the administration is orchestrating," Osaze added.
When asked by the Bay Area Reporter about the ideal outcome of this lawsuit, Dolan was specific.
"What we hope is that the government will be held responsible for its actions and inactions," he said. "What we hope to have first is the disclosure of all the facts and the uncovering of all the lies. When trying to get information from homeland security, from ICE, and other organizations that enforce immigration policy, the only way we can get this information with through the courts. Look at this administration. It's denying subpoenas from Congress. They are not responding to requests from individuals for information when they're denying at the highest levels the right of the government itself to obtain information."
Egyes spoke up, adding a more systemic goal in detention at the border and elsewhere.
"We need to be ending trans detention," Egyes said. "Trans people should not be held in detention. There is no reason for it. We know that LGBT people make up less than 2% of the population, but experience 12% of the physical and sexual assaults. That's over two hundred times more likely to be sexually or physically assaulted if you're LGBT. Trans people cannot be held safely in detention, and we just need to end trans detention."
Egyes also responded to a question about the conditions at Otero, and whether Medina Leon's experience was typical of treatment of detainees there.
"Many people aren't able to meet with counsel," she said. "In immigration, there are a lot of small hearings called master calendar hearings. For most people, a lot of these hearings can be done via phone. It's not odd; most judges allow it. But judges that are before the Otero facility have not allowed people to do these small hearings via phone. So that means any attorney who wants to help someone has to go in maybe every two to three weeks, fly into El Paso, to actually represent a person, for a hearing that might last less than five minutes.
"These barriers have been set up so that people do not have access to counsel or to medical care. And they often get threatened with solitary confinement if they do anything that makes someone upset. Repeatedly asking for medical care can put someone in solitary confinement. Even just speaking up and asserting your rights can put someone in solitary confinement," Egyes added.
The Dolan firm is seeking damages in the amount of $10 million for Medina Leon's family. Under the Federal Tort Claim Act, the federal government has 60 days to respond to this notice before the firm can take legal action and file a formal complaint.
The Department of Homeland Security did not immediately respond to a request for comment.
Comments on Facebook