Housing dominates SF D5 supe race
Wednesday May 22, 2019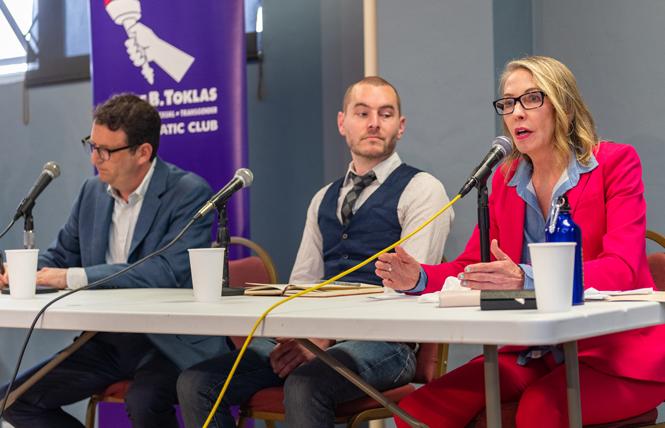 With Mayor London Breed facing little opposition, so far, in her bid for a full four-year term this November, the race for the District 5 supervisor seat has become a proxy fight over the city's housing and homeless policies.
That was evident during the recent debate between three candidates seeking the seat hosted by the Alice B. Toklas LGBT Democratic Club. Dominating the 90-minute May 13 forum were questions about the astronomical price tag for homes in the city and sky-high apartment rents, plus the inability of city officials to keep people housed, with the city reporting last week a 17% jump in homeless individuals since 2017.
Last July, Breed appointed Supervisor Vallie Brown to her former seat representing the Western Addition and Haight-Ashbury neighborhoods after being elected to Room 200 in City Hall. Brown, 62, is now seeking to serve out the remainder of Breed's term through 2020.
Her main challenger is tenants rights activist Dean Preston, 49, a self-described democratic socialist who founded the advocacy group Tenants Together and narrowly lost to Breed in 2016. The more progressive Harvey Milk LGBTQ Democratic Club is expected to early endorse him when it meets Tuesday, May 28.
Also running are Ryan Solomon, a gay man who is a bartender at the Castro district bar Badlands, and film producer Nomvula O'Meara, who did not take part in the Alice debate. Whoever wins in the fall will need to run for a full four-year term in 2020.
How the city can build more affordable housing, particularly for the middle class, and who is best equipped to open a navigation center for homeless individuals in the district were the key topics of discussion during the debate, moderated by Alice club Co-Chair David Fujimoto.
While Brown and Preston sparred throughout the forum, Preston was also critical of Breed. He was pointed in his criticism of the mayor for not backing last year's Proposition C, which taxes large corporations in order to fund housing programs. It passed but failed to receive the 66 percent threshold needed to avoid legal challenges, which has stalled its implementation.
Although Breed has moved to use other funds to back the measure's goals, Preston blamed her opposition and that from other moderates for why it fell short of a two-thirds majority vote. And he took a swipe at Brown, saying if he were supervisor he would be leading the charge to place on this year's ballot a measure identical to Prop C in order to see it reach that threshold.
"I'm running for supervisor because the status quo in City Hall is just not working," said Preston. "We have the least affordable city in the entire country, and staggering inequality."
Brown, who formerly worked as a legislative aide to Breed, supported Prop C last year. She pointed to Breed's placing a $500 million housing bond on the November ballot, which she supports, as just one example of how City Hall leaders are working to address the need for more affordable housing.
Since being sworn in last summer, Brown pointed to her continued advocacy to turn a now-vacant McDonald's across from the Stanyan Street entrance into Golden Gate Park into 100% affordable housing. It is a project she has championed for years, she noted, and one of five she is backing in her district.
"And we don't have the money to build them. And so we have to do things that changes that," she said. "We have to have the money to build housing."
Yet, Preston argued the mayor and supervisors should be working to pass a $1 billion housing bond this year due to the significant housing crisis the city is facing. And he faulted Brown for not securing a site yet to open a Navigation Center in the district, pointing to how District 9 Supervisor Hillary Ronen was able to do so within her first year in office.
"Not to say it's easy, right, but at a certain point, the site needs to be identified and announced. Right? The neighbors need to be talked to, the community meetings need to happen, and we need to move forward," said Preston, who did not identify where he would open one. "I have not seen any of that happen under the appointed incumbent."
Brown, a longtime resident and community activist in the district, responded that she has been diligently looking for a suitable place to open a Navigation Center. The facilities are used to move entire groups of homeless people and their pets into temporary housing.
"I've been in office for eight months. So give me a few months," responded Brown. "This is a priority for me. I mean, I've been talking about it for years."
As for the bond measure, Brown said she "would love to do $1 billion also," but it needs a two-thirds vote to pass, and following the results of Prop C, she and other city leaders felt they would be more successful starting with a $500 million housing bond.
"We can always do another bond, I just want to start something now," she said.
While in support of opening a Navigation Center and passing a housing bond, Solomon, 34, would prioritize funding for a mental health care facility that offers both inpatient and outpatient care. It stems from his being stabbed last year by a homeless man, which led him to run for supervisor.
"What happened to me should not ever be allowed to happen to anyone else," said Solomon. "And it is our duty as the members and as the supervisors in the city itself to make sure that all of our citizens are taken care for."
Comments on Facebook