Burrito Project keeps the food coming
Wednesday May 22, 2019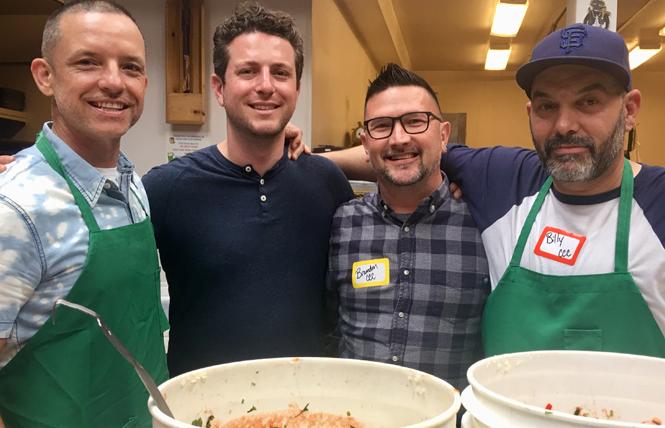 With more than 15,000 burritos delivered to people living on the street, San Francisco's Burrito Project recently celebrated its third anniversary.
At its most recent gathering April 29, employees from Levi Strauss and Co. participated in the monthly event, where volunteers come together to cook, assemble, and distribute burritos to people living on the street, with the company underwriting the cost of the food.
The corporate tie-in came about through connections in San Francisco's LGBT sober community, where Levi Strauss senior graphic designer Marc Sanchis got to know Billy Lemon, executive director of the Castro Country Club, while serving on the club's advisory board.
Lemon, a gay man and a regular volunteer at the Burrito Project, enthusiastically backs the program and suggested the company become a community partner and help provide funds and volunteers for it.
"The way I see it, nobody should go hungry in one of the wealthiest cities in the country," Lemon wrote in an email to the Bay Area Reporter. "Anything I can do to help this problem I am going to do. The Castro Country Club and corporations like Levi Strauss are committed to community building. Partnerships are the first step in solving problems."
The local Burrito Project, one of 12 in cities across the country, has grown by leaps and bounds since local chef Jimmy Ryan brought the concept to San Francisco's Martin de Poores House of Hospitality, which provides a commercial kitchen.
Martin de Poores, or Martin's, as it is affectionately known, is an intentional community that serves meals and provides other services to the needy and homeless at its headquarters at 225 Potrero Avenue.
Brandon Stanton, manager of the country club and a longtime volunteer at Martin's, wrote in an email, "A part of the program of recovery is being of service to others. The Castro Country Club has drawn on our fellows' passion for service to create ... projects like the Burrito Project to lend a helping hand to other worthy organizations in our community."
Sanchis, a gay man, explained his interest in the project.
"Billy and Brandon have been such an inspiration to me to try to be of service to my community. I'm jumping on their bandwagon," said Sanchis, referring to Lemon and Stanton.
"I'm fortunate to be working for a company that is very supportive of all kinds of causes, locally and nationally," he said.
Last year, Levi's donated $5,000 to the Castro Country Club, he added.
"The Country Club," said Sanchis, "has helped so many people in so many ways."
One of the Burrito Project's lead organizers, Eric Tuvel, said the volunteer effort attracted 500 people last year.
Volunteers begin to arrive at 4 p.m., and, after donning aprons and hairnets, are put to work cooking. By 5, a line forms to assemble, fold, and wrap the homemade burritos. The final task each evening is coordinating the delivery of the burritos to locations nearby where people are known to be living on the street.
Tuvel, who formerly worked at the San Francisco Bicycle Coalition, heard about the project through a bicycle group email list and came to help with deliveries. He "was immediately hooked" on the project, he wrote in an email.
Thanks to social media, volunteering with the Burrito Project has increased dramatically, to the point where slots for the delivery squad fill up within days of issuing an announcement, said Tuvel, a straight ally.
"I think the simplicity of the project really speaks to people," he wrote. "Make a burrito and deliver it to someone who is hungry. Many people walk by people on the street who are hungry or marginally housed and they want to give them some food. Burrito Project SF is giving people a way to do that and start a conversation with someone on the street."
Individuals or organizations interested in donating time or money can contact the Burrito Project at info@burritoproject.org.
Comments on Facebook