News Briefs: SF Pride to hold golf tourney benefit
Wednesday May 15, 2019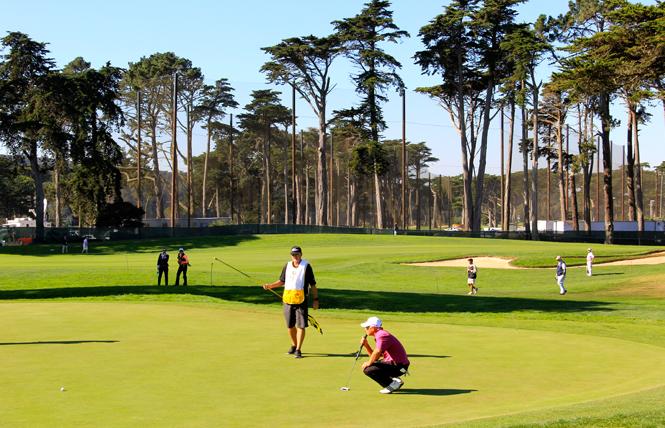 The inaugural San Francisco Pride Pro-Am Golf Tournament will take place Wednesday, June 26, at 1 p.m. at TPC Harding Park in the city.
The fundraiser for the San Francisco LGBT Pride Celebration Committee is a partnership between it, the Northern California Professional Golfers Association, First Tee of San Francisco, and the San Francisco Recreation and Parks Department.
In a news release, SF Pride officials stated that they will be bringing together the LGBT community, allies, and friends in the spirit of fellowship and equality.
"We feel that visibility is key to our ongoing progress as a community, and this opportunity is an important first step that we hope will grow into larger strides with a respected sporting institution such as the PGA," SF Pride board President Jacquelene Bishop said in the release.
Participants can register individually or with a complete foursome. Each foursome will be joined by a local PGA professional. Those who sign up individually will be connected with others to complete the group.
Entry is $250 per amateur. The fee includes a donation to SF Pride, golf, cart, box lunch, and a champagne toast and light hors d'oeuvres after golf.
Space is limited. For more information, and to register, visit https://bit.ly/2VcOEJv.
SF maritime park holding docent training
San Francisco Maritime National Historical Park will offer a free training course Tuesday, May 28, from 9 a.m. to 12:30 p.m. for those interested in joining the park's volunteer interpretive docent program.
According to a news release, the class will introduce participants to the San Francisco Maritime Museum Building, its artists, art, and architecture. Docents will learn about this unique Works Progress Administration structure through lectures and tours by National Park Service staff.
Throughout the year, docents will also have the opportunity to attend additional free training sessions about maritime history, 19th and 20th century historic ships, Park Service 21st century interpretation, audience centered interpretation, first aid, and situational awareness.
Interpretative docents provide a public service and share their knowledge with park visitors through educational and interpretative programs. Docents work indoors and outdoors, at the visitor center, at the maritime museum, and aboard the fleet of National Historic Landmark vessels.
The docents are required to serve at least 10 hours per month, and to make a commitment of at least one year to the park's docent program. Scheduling is flexible and docents can serve any day of the week during park hours.
Space for the upcoming training is limited. Applicants should contact Lou Salas Sian, docent coordinator, at lou_sian@nps.gov, or volunteer manager Terry Dorman at terry_dorman@nps.gov, for an interview and to reserve a seat.
San Francisco Maritime National Historical Park is located at the west end of Fisherman's Wharf. For more information, visit www.nps.gov/safr or call (415) 447-5000.
Queering psychedelics confab coming to SF
As the so-called psychedelic renaissance has entered mainstream interest and regulatory legitimacy, a two-day conference, Queering Psychedelics, will take place June 1-2 at Brava Theater Center, 2781 24th Street in San Francisco.
The conference is part of Chacruna's Women, Gender Diversity, and Sexual Minorities speaker series. It will highlight the voices of queer visionaries within the psychedelic community as well as examine the history of psychedelics from queer and nonbinary perspectives.
Speakers include Kanyon Sayers-Roods, who will provide an indigenous perspective on the spiritual ecology of kinship, land, and responsibility; Erik Davis, who will provide a brief history of queer psychedelia; and Claudia J. Ford, who will talk about gendered knowledge and the decolonization of entheogenic plant medicines.
Organizers said that continuing education credit for psychologists will be provided by the Spiritual Competency Resource Center.
Registration for the conference is $180, with a one-day pass available for $100. For more information, visit https://chacruna.net/queering-psychedelics/.
Comments on Facebook