Business Briefs: Castro business group to welcome new leader
Wednesday Mar 13, 2019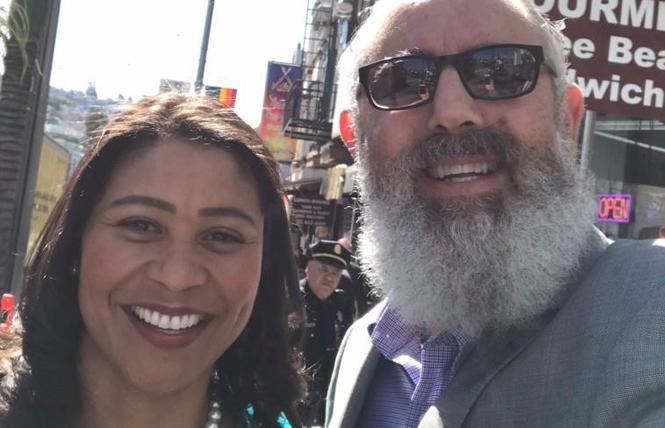 The Castro Merchants is set to elect real estate agent Masood Samereie as its next president when it meets April 4. He has been selling property in the city's LGBT neighborhood since 2003.
A co-owner of Aria Properties since 2012, Samereie will succeed Daniel Bergerac, who has served in the position since 2014. After five years at the helm of the business association, Bergerac feels it is time for new leadership to take over.
"I think it is good for organizations to get a change in leadership," he told the Bay Area Reporter. "After five years I think it is a good time to step down. I will still be involved in the community."
Bergerac, 57, a gay man who owns Mudpuppy's Tub and Scrub dog-washing service on the 500 block of Castro Street, will continue to serve on the Castro Merchants board as immediate past president. He is also heading up the effort to renew the Castro/Upper Market Community Benefit District. The special use district, funded by a tax on property owners in the area, needs to be re-chartered next year.
Samereie, 55, is a straight ally who was born in Iran and whose family left before the country's revolution in 1978. Due to its history since then, Samereie considers himself to be Persian rather than being of Iranian descent.
He now lives in San Mateo but is looking to move into the Castro, where his real estate company is located on 18th Street. The same year he launched his own firm with business partner John Giusti, Samereie joined the board of Castro Merchants.
He feels he has gained enough experience since then to lead the business group for at least the next year, as its presidents are elected to 12-month terms every April.
"I've seen how it has evolved to what we have become now. Since someone had to step up to the plate, I agreed to run for president," said Samereie, who is unopposed for the position.
The change in leadership comes as Castro Merchants is working with gay District 8 Supervisor Rafael Mandelman and other neighborhood groups to adopt zoning reforms aimed at making it easier for small businesses, art studios, and nonprofits to open in ground floor storefronts along upper Market Street. With the construction of a number of mixed-use buildings along the corridor, with housing over sidewalk-fronting retail spaces, as well as longtime merchants shuttering their doors, such as Harvest Urban Market last year and eatery Chow this week, there has been a glut of vacancies in the gay commercial district.
Over his tenure as Castro Merchants president, Bergerac worked with the CBD and other neighborhood groups on a retail strategy to help attract new businesses to the area. He has also kept an open mind when it comes to supporting certain formula retailers looking to open in the area rather than opposing all such businesses.
Mandelman joked at the business groups' March 7 meeting that "Bergerac's reign of terror" was coming to an end. He added that he has "been a perfect partner" since he became the supervisor last June.
Barry's Bootcamp to open Castro location Saturday
After 18 months of first slogging through the city's permit process and then overseeing a five-month major rebuild of its upper Market Street space, Barry's Bootcamp will be activating a major vacant retail space in the Castro when it opens its doors this Saturday, March 16. It is hosting an invite-only party Thursday night to celebrate.
It is the fitness chains fourth gym in the city. The 8,400 square foot ground floor storefront at 2280 Market Street had previously been a CVS pharmacy.
The design of the space is said to be the company's most glamorous fitness studio to date and the largest studio in the Bay Area. In an effort to pay homage to the Castro neighborhood, features include Barry's signature chevron logo sculpted from a disco ball and decadent gold ceilings. In addition to full-service men's and women's locker rooms there is also a gender-neutral locker room.
While a straight ownership group oversees the San Francisco locations, gay West Hollywood resident Barry Jay launched Barry's Bootcamp in 1998. The company has since expanded to having 50 gyms worldwide.
As of this weekend, the Castro location will be open 365 days a year and its hours of operation will vary during the week. It is in the process of acquiring a permit to install tables and chairs on the sidewalk in front of its windows to help activate its block. As it rolls out its class offerings, the location expects to have 500 people a day coming in and out of it.
"We will create a lot of life and activity in a space that has been vacant for a long time," Barry's managing partner Adam Shane, who lives nearby with his wife and newborn child, told the Castro Merchants this month.
To learn more about the classes offered at the Castro location, such as times and prices, visit https://www.barrysbootcamp.com/studio/castro/.
Airline to feature Milk tail fin
While he is keeping the name of the airline a secret, Stuart Milk revealed this week that a transcontinental carrier that flies out of San Francisco International Airport will be featuring his gay uncle, the late supervisor Harvey Milk, on the tail fin of one of its planes this year.
Stuart Milk, who is gay himself and oversees a foundation his family co-founded to honor his famous relative, disclosed the aviation tribute for the global LGBT icon during a contentious hearing Monday morning at City Hall. It focused on complaints that SFO officials are mishandling the signage for renaming Terminal 1 as the Harvey Milk Terminal.
The honor marks the first time an airport facility has been named for an LGBT figure, and community leaders want to ensure the signs adequately display Milk's name.
In an interview with the B.A.R. after the hearing, Stuart Milk would only say that the airline in question has honored a number of human rights leaders from around the world by displaying their images on the tail fins of its planes. He said a formal announcement should come Saturday, March 30.
"The plane will travel to many countries where it is illegal to be LGBT. For the Milk foundation it will be very meaningful," he said.
Norwegian Airlines has a tail fin heroes program that has seen the visages of several LGBT icons, such as the late Queen frontman Freddie Mercury, actress Greta Garbo, and author Oscar Wilde, grace its planes. A spokesperson for the company would not confirm to the B.A.R. this week if Harvey Milk will be added to the list.
Got a tip on LGBT business news? Call Matthew S. Bajko at (415) 829-8836 or e-mail m.bajko@ebar.com.
UPDATED 3/14/2019 to indicate that Barry's Bootcamp's hours of operation will fluctuate by the day.
Comments on Facebook