Political Notebook: Yeager rules out Senate run to helm LGBT foundation
Wednesday Mar 13, 2019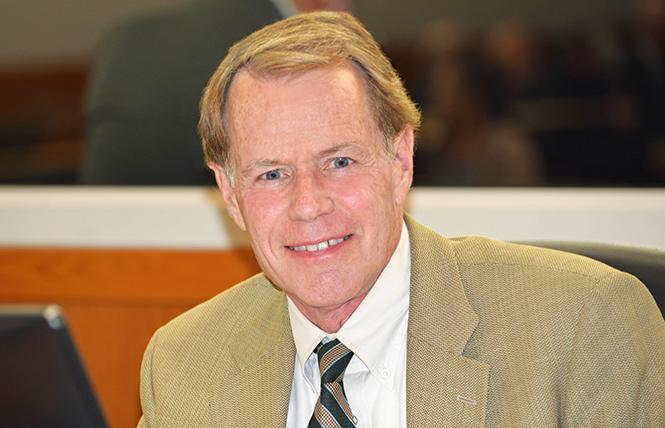 Gay former Santa Clara County supervisor Ken Yeager has ruled out seeking a state Senate seat in 2020 in order to helm and grow a foundation focused on the needs of the South Bay's LGBT community.
Yeager, who was termed out of office last year, had been considering a bid for the state Senate's District 15 seat. Senator Jim Beall (D-San Jose) is termed out in 2020, leaving his Silicon Valley seat open.
In order to seek the seat, Yeager would have had to move into Beall's district. His San Jose home is currently within the boundary of Senator Bob Wieckowski's (D-Fremont) 10th Senate District.
While Yeager was open to relocating, he has decided instead to become the first executive director of the . It is the philanthropic nonprofit arm of the Bay Area Municipal Elections Committee, which Yeager co-founded in 1984 with an eye toward electing out people to public office in the South Bay and California's central coast.
Yeager became the first to do so in Santa Clara County in 1992 by winning a seat on the board of the San Jose-Evergreen Community College District. He then became the first out person elected to the San Jose City Council and later earned the same honor on the county board.
The foundation is set to announce Yeager's hiring Wednesday, March 13, his first official day in the job.
"We are very excited to have Supervisor Yeager on board," stated foundation board president James Gonzales, the immediate past president of BAYMEC. "We see it as a continuation of the great job he has been doing in the community over the past 35 years. Frankly, we can't think of anyone who knows these issues as well as he does."
In an interview Tuesday with the Bay Area Reporter, Yeager said he could still seek legislative office at some point. Depending on how district lines are drawn following the 2020 census, he could find himself living in either a state Assembly or Senate district where the incumbent is termed out of office or running for a higher office.
"For me, the timing just wasn't right," said Yeager, 66, who also opted against running for a state Assembly seat in 2012.
Because neither the San Jose City Council nor the county board has an out LGBT person serving on it, Yeager sees running the foundation as a way to ensure the myriad LGBT projects he launched and sought funding for while in public office remain in place. Examples include the recently opened transgender health center and LGBT homeless shelter, as well as the ongoing talks to construct housing for LGBT seniors in downtown San Jose.
"I don't preclude running for office in the future. But I think, for now, I want to make sure all the work I have done over the last 30 years is continued," said Yeager. "The county has been on the forefront of so many innovative projects. And now that we don't have an openly gay person serving on the Board of Supervisors or City Council, I felt an obligation that we put things in place so we continue going forward and don't go back."
The four-year-old BAYMEC foundation currently has a budget of $6,000, said Yeager, and thus his compensation has yet to be determined. One of his main goals will be to seek out donations, grants, and other financial support to bolster the foundation's coffers.
"It has never really been active," said Yeager. "I saw it as sort of an avenue to work on many issues. It really is recreating it in a much more advocacy role than it ever had."
He doesn't see that fundraising effort as competing with the Billy DeFrank LGBT Community Center in downtown San Jose or the county's Office of LGBTQ Affairs, which Yeager helped create, as they focus more on health and social services while the BAYMEC foundation works on political and education activities.
"I figure there are a lot of possibilities out there. The first step is to become executive director," said Yeager, who will continue to teach a local government course at San Jose State University. "Then I will see what programs I can initiate and what activities I can do. In a way it feels like starting my own business."
His decision to eschew a Senate bid next year complicates efforts to recruit LGBT people to seek legislative seats in Sacramento in order to expand the membership of the Legislative LGBT Caucus. Several of its current seven members will be leaving office next year, with the others termed out of office in coming years.
Gay San Francisco Democratic Party Chair David Campos, who works for Santa Clara County as a deputy county executive, told the B.A.R. that he and many others would like to see Yeager elected to higher office one day.
"But I am also respectful of his personal decision," said Campos. "I know whatever he does he is going to continue to do great things for the community. I am happy he is doing the right thing for himself."
Lesbian South Bay leader Wiggsy Sivertsen, who co-founded BAYMEC with Yeager, added, "Ken is the one person who can effectively bridge all the community organizations and leaders to city and county services. I'm glad we're not losing him to Sacramento, at least not for the time being."
Web Extra: For more queer political news, be sure to check http://www.ebar.com Monday mornings for Political Notes, the notebook's online companion. This week's column reported on the first congressional advocacy day on LGBT aging issues.
Keep abreast of the latest LGBT political news by following the Political Notebook on Twitter @ http://twitter.com/politicalnotes .
Got a tip on LGBT politics? Call Matthew S. Bajko at (415) 829-8836 or e-mail m.bajko@ebar.com.
Comments on Facebook