Trans anti-violence group ramps up with city grant
Wednesday Mar 6, 2019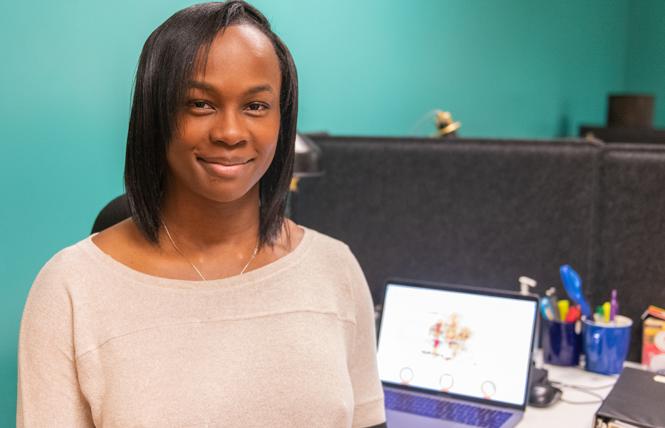 In the aftermath of the slaying of Taja Gabrielle de Jesus, a transgender woman, just over four years ago in San Francisco, a coalition established in her honor has received a city grant to help fight against trans violence.
The Trans Activist for Justice and Accountability Coalition, or TAJA for short, also provides resources and support to the trans community.
Thanks to a $150,000 two-year grant from the Mayor's Office of Housing and Community Development that was awarded last fall, TAJA plans to create a Safe Housing Campaign, anti-violence and public safety projects, and expand its staff.
"Receiving this grant lets the community know that the government is really holding up its part and that they actually care," said Akira Jackson, a transgender woman of color and director of TAJA. "It shows that the [trans] community is worth this kind of investment."
The Office of Transgender Initiatives worked with the Board of Supervisors to dedicate ad-back funding for trans violence prevention to TAJA. Clair Farley, a transgender woman and director of the trans office, said it will be working one-on-one with the coalition to implement all aspects of the projects funded by the grant. The grant was awarded last October.
In a statement, Mayor London Breed called the work done by the coalition "crucial."
"The members of San Francisco's transgender community experience homelessness, housing instability, and violence at rates higher than virtually any other population in the city," the mayor stated. "The work that the TAJA Coalition does is crucial in helping our trans community who has given so much to our city.
"The program will offer housing navigation and stabilization services while training program staff to create safe and inclusive spaces," Breed added.
Community survey
One of the first components of the Safe Housing Campaign is a community survey designed to identify existing barriers to safe, affordable housing in San Francisco for trans people, particularly trans women of color.
"We are designing a survey instrument to assess transgender women in particular and gender-nonbinary people who are marginally housed, homeless, or who have been marginally housed or homeless," Jackson, 32, said in an interview earlier this year.
The data from the survey, which has now started and will include about 60 participants, will help TAJA and the Office of Transgender Initiatives develop and implement a training program for staff at Navigation Centers, homeless shelters, single-room-occupancy hotels, and other housing and social services organizations. Though it will be informed by survey data, the trainings will also include cultural competency for staff and employees.
"We want to make sure they are culturally competent and being trans-welcoming housing organizations," said Jackson, who has led TAJA for about a year and a half.
De Jesus, for whom the coalition is named, was found stabbed in her home February 1, 2015. The next day, the suspect in the case, James Hayes, was found hanged in a storage unit on Third Street, a few blocks from de Jesus' apartment. At the time, De Jesus' friends told the Bay Area Reporter that she was having problems with a boyfriend, but didn't know if Hayes was that person.
Jackson also has experienced domestic violence. In 2011, she took a plea deal and was sentenced to four years in prison for fatally stabbing her boyfriend, Alan Gray, 56, of Walnut Creek. According to media reports at the time, Jackson's attorney said Gray had been armed with a baseball bat during the fight and hit Jackson with it.
Originally from Detroit, Jackson moved to the Bay Area looking for acceptance, something she didn't have from her family at the time, she told the B.A.R. in an emailed response to questions about the incident. Struggling to find a job, she turned to sex work for her survival.
"I wanted to change my life and become what I believed was normal," she wrote. "I figured that in order for me to achieve that was through employment, higher education, and being in a relationship."
From there she entered a relationship in which she eventually suffered physical and emotional abuse, she wrote.
"I stayed in that situation because I thought that is what being normal was," she wrote. "I believe that trans women are more reluctant to walk away from unhealthy relationships because we feel that we do not want to abandon our partner because we know what that feels like."
She also added, "It's hard to walk away from an unhealthy relationship as a trans woman in a world that constantly devalues trans people and trans women and tells us that we are unlovable."
After being released from prison, Jackson said, as a black trans woman and a convicted felon, getting a job was nearly impossible. She enrolled in a residential treatment program because she had no income and most housing programs perform background checks. There she was forced to be housed with men. She experienced discrimination, had her womanhood constantly invalidated, and experienced sexual violence, she told the B.A.R.
However, she eventually found employment. She worked as a jobs administrative aide for individuals returning from incarceration three months after being released and then went on to work as a research assistant at UCSF's Center of Excellence for Transgender Health coordinating community-based research studies.
She wrote that her past has informed the work she does today at TAJA, which has connected trans women to support services, including housing and employment, through facilitating support groups while the women were incarcerated.
Additionally, TAJA is currently working with UCSF on Girlfriends Connect, a study on transgender women that are re-entering the community after incarceration.
"We may come from different cultural backgrounds, yet we are united and driven by our shared experiences," she wrote. "Sadly, those experiences that bring us together are traumatic. I want to let my sisters know that we have community here, we are strong, and we are resilient."
Safe housing
Safe housing continues to be a main concern for trans advocates.
"One in five trans community members experience homelessness throughout their lifetime," said Farley. "Housing is consistently the most pressing issue for the trans community. The training of shelter staff and housing programs is to help increase more trans inclusion in existing programs that are often not safe or accessible to the community."
The first pilot training is scheduled for March. The grant proposal states that five organizations will undergo training. The trainings, Farley said, will address the use of correct gender pronouns, bathroom access, shower facilities, and more. Before the trainings begin, TAJA conducted focus groups in January to help determine the type of information to collect in the survey. Completion of the survey is expected by August, at which point the information will be widely disseminated.
"The survey will help us develop a model that can be used to help other communities," Jackson said. "We want this to make housing more accessible to trans people not just in the Bay Area."
Another component of the Safe Housing Campaign is to establish a referral system with various organizations to help link transgender people to housing assistance services. The grant proposal states that TAJA will, "establish formalized partnership agreements with trained organizations for housing and social support services."
After more deeply understanding the trans community's housing needs using the survey data, TAJA will design housing clinics open to the public. The grant money will allow TAJA to hold monthly housing clinics where trans people can get one-on-one help with housing navigation, case management, and referrals to existing housing programs.
"At the clinics they talk about housing subsidies and vouchers," Farley said. "Oftentimes there are resources available, but people don't know how to access them."
The grant will also provide TAJA the opportunity to participate in the National Transgender Health Summit in April at the Oakland Marriott City Center. In partnership with UCSF's Center of Excellence for Transgender Health, TAJA will provide a forum for trans and gender-diverse people to engage in a two-day series of workshops and discussions at the summit. The workshops will allow trans people to explore topics such as restorative justice as a transformative and violence prevention tool, self-defense and de-escalation skills, professional development, deepening and strengthening trans community networks, and increasing leadership skills for effective community mobilization and coalition building.
To help promote safety and acceptance for trans people in local communities, the grant money will be used to develop a citywide, trans community-driven, and informed anti-violence media campaign. TAJA will conduct quarterly leadership retreats that will include coalition members, executive board members, and other stakeholders. A strategic plan for the creation of the media campaign will be created at the retreats.
Two part-time employees will be hired as a result of the grant. TAJA currently has only one employee, Jackson, and is not officially a nonprofit. Its fiscal sponsor is St. James Infirmary. The two organizations also share an office on Polk Street. TAJA has an annual budget of $130,000 and Jackson's salary is $64,000 for the first year of the grant cycle.
As a part of the grant proposal, TAJA partnered with El/La Para TransLatinas, a San Francisco nonprofit dedicated to advocating for transgender Latinas' rights and providing community services. El/La was awarded $50,000 from the Mayor's Office of Transgender Initiatives. That money will be used to bolster program development, leadership and staff trainings, and create a database used to track participant activities and program impact.
The first step for El/La will be to hold a program planning summit to aid in implementing recommendations from the 2017 El/La Community Needs Assessment, as well as the nonprofit's three to five year strategic plan.
In an effort to support a culture shift to become more data driven, "El/la is implementing [results based accountability], as our data tracking and evaluation process. Staff are and will continue to be trained on RBA," states the grant proposal.
Lastly, staff training will be conducted to improve technology skills, fluency in English, and, for the two co-executive directors, skill building surrounding budgets, reports, compliance, and leadership.
For both organizations, the grant money will enable them to carry out their mission, to end violence against trans people and provide them with resources to live an equitable and safe life, officials said.
"The fact is that there is so much stigma and oppression for trans women as youth, they often end up homeless," Jackson said. "They don't feel safe to go to school, to get an education, and are often not aware of the resources available to them. Putting those barriers in the way perpetuates violence. We are here to make sure everything is equitable and to address these issues."
The 2015 LGBTQI Violence Prevention Needs Assessment reported that trans women of color are up to seven times more likely to feel unsafe in their daily lives than cisgender people, and they experience pervasive concerns about the lack of access to housing, basic health and support services, and safe spaces to gather and socialize.
Farley added, "TAJA Coalition has really represented their commitment to addressing the violence that trans women of color and people of color experience in the past. We really felt like awarding them this grant to foster their new programs and services that are really informed by the communities most impacted by homelessness and violence that we see."
El/La Para TransLatinas and the Mayor's Office of Housing and Community Development did not respond to requests for comment.
Contact the reporter at a.madison@ebar.com.
Comments on Facebook