Local Methodists react to 'traditional' vote
Wednesday Mar 6, 2019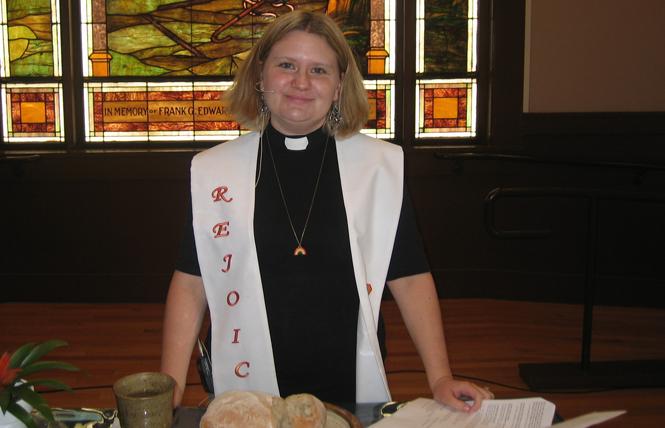 Local Methodists have reacted with sadness, confusion, and outrage, as well as uncertainty about the future of their church, after delegates from around the world voted to maintain the denomination's ban on LGBT clergy and same-sex marriage.
Those at a special meeting in St. Louis voted 438-384 (53 percent) February 26 for the Traditional Plan, which maintains bans on LGBTQ ordination and marriage and strengthens enforcement of those prohibitions.
These issues have been disputed at every General Conference, which makes decisions for the denomination, since 1972, when homosexuality was deemed incompatible with Christian teaching and self-avowed practicing homosexuals denied becoming ministers.
When the issues were raised again at the 2016 General Convention with yet another stalemate, an appointed Commission on a Way Forward was formed to create proposals to break the deadlock. The Council of Bishops late last year had recommended the One Church Plan, which would have allowed individual churches and conferences to decide whether to ordain and marry LGBTQ members. That was rejected last week.
Unlike the other mainline Protestant denominations, the United Methodist Church is global. Almost one-third of the 12 million members resides in Africa and vehemently opposes homosexuality. Just 58 percent of the delegates in St. Louis were from the U.S., with two-thirds supporting the One Church Plan.
Methodists as a whole are the most conservative mainline Protestants, so the One Church Plan faced an uphill battle from the start as Methodism moves away from its American liberalism to a global conservative orthodoxy.
The Traditional Plan ends loopholes that allowed some LGBTQ people to be ordained and some bishops allowing it to happen. In addition, any minister who performs a same-sex wedding will be suspended for a year without salary and if they do it again, removed from ministry. The special session, perhaps realizing that as a result of this decision, churches may decide to leave the denomination, allows them to do so by the end of 2023 and retain their buildings and properties.
Reaction
Karen Hanrahan, Glide Memorial Church's president and CEO, spoke to the Bay Area Reporter in a phone interview. Glide has long been part of the Reconciling Ministries Network, with a significant portion of the congregation being LGBTQ.
"I was deeply saddened by the decision that told an entire group of human beings that they are not loved by God and they should be punished and disciplined for being who they are," she said. "There are many in the UMC who voted against this plan, but over all it's a moment of sadness for everyone involved."
Glide is involved in a legal dispute with the Methodist Church, unrelated to the LGBTQ issue, and may be ending its connection to the national organization, so church lawyers are diving deep into what the exit plan, passed in the general session, might mean for them.
"The Traditional Plan goes against everything that Glide stands for. Our founder, Cecil Williams, was conducting gay marriages when it was truly a radical act, being one of the first ministers in the nation to be doing that," Hanrahan said. "This vote feels like the UMC is going backward in time, as there has been so much progress on LGBTQ issues in this country. It's like what's happening on a national level, a microcosm where these forces of fear and divisiveness are really raising their ugly heads, with the forces of discrimination winning the day in the Methodist Church."
Bishop Karen Oliveto once served as a minister at Glide, but in September 2016 became the first openly lesbian bishop of UMC's Rocky Mountain and Yellowstone conferences. She shared her concerns in an email with the B.A.R.
"It was a devastating vote that has caused tremendous trauma throughout our global church," she wrote. "By 54 votes out of 822, the delegates vote in a plan that was ruled largely unconstitutional not once, but twice, by our Judicial Council (the denomination's Supreme Court equivalent). Even now it is unsure whether it is constitutional and if the vote will stand.
"But the harm that vote has caused to LGBTQ persons, families, and loved ones is huge," Oliveto added. "This is not who we are as United Methodists. We are not biblical literalists. We have always had a 'big tent' theology where conservatives, centrists, and progressives have sat together in the same pew, holding many disagreements, but found unity through mutual love and shared mission."
Oliveto doesn't feel personally imperiled by the decision, because the delegates voted to send the Traditional Plan back to the Judicial Council in April, so the plan, or large parts of it, may still be declared unconstitutional. Regardless, the plan or whatever remains of it, doesn't take effect until January 1, 2020.
As to the possibility of schism, Oliveto remains unsettled. "The majority of United Methodists in the United States support LGBTQ rights," she said. "There are many who will simply not remain in a church where loved ones are not welcomed. I think that something new may be rising up from the pain."
Sadie Stone, 34, is pastor of Bethany United Methodist Church in Noe Valley, which is also part of the Reconciling Ministries Network. She identifies as straight. She was set to attend the general session but the death of a congregant precluded her participation.
She spoke with the B.A.R. about her response to the vote. "My immediate reaction was one of great sadness and disappointment," she said. "I serve a church that has decades worth of radical inclusion, especially to the LGBTQIA community, and over half of our worshipping congregation identifies as part of that community. I understand how deep the hurt can be to all those who are part of this radically inclusive church, when it is not represented by the larger body, and when harmful and hurtful language is used."
She added that she's checking in with her congregation for prayer and processing of the recent vote.
Like Oliveto, Stone said it is too early to comment on the possibility of any schism until the Judicial Council rules on the plan in April.
"What I can say is that our region of the church, the western jurisdiction (as does the bishop) remains committed to full inclusion in the church," Stone said. "We have been fully inclusive in our California-Nevada annual conference to all members of the LGBTQIA community, and our commitment to that is only strengthened by this ruling.
"I also want to comment that we are a global church," she added. "With United Methodist siblings around the world, I know that we have members of our church body who are for full inclusion everywhere. I've marched in the streets with fully inclusive United Methodists in the Philippines. We are privileged in this country, that while our laws and protections in the United States are not perfect for the LGBTQIA community, they do exist. This is not true globally, where it is still against the law and punishable by imprisonment or death in many places."
At a March 3 Sunday worship celebration, Stone said in her sermon, "Home is where my church is. Yet because of the general conference, I felt my home was threatened. By a margin of 54 votes, the dogmatic, regressive, harmful, unconstitutional Traditional Plan passed, so watching the disappointment, sadness, and grief, the institutional church didn't live up to the gospel message of Jesus Christ.
"The vote is a reminder of the work we do here, as this is a place people go where they need church or are struggling with their own church," she said. "How can we be a beacon of hope, of something new, becoming what the church should look like: all-welcoming without exception? I will continue to resist any rule or dogma to discriminate. When I think of where we go from here, I recall the question we are often asked, why do we stay in a church that doesn't welcome us, and respond, why do we grant them power to say who or what church is?"
Some people in the congregation couldn't give their reaction to the vote because it was still too painful. However, Jeff Friant, a gay man, said, "It was disappointing but I'm very hopeful. We have a lot of work to do in opening people's minds to be true Christians and learning to love each other. My ideal is that we stay together by keep influencing and trying to change the institution that already exists versus separating, which would be a missed opportunity to change minds and hearts."
Steve Bauer, 65, noted he has been involved with gay Christian organizations for 30 years.
"This service is a good reminder that we have hope, that it will still take more time," Bauer, who is gay, said. "It's amazing that only 6 percent could make that kind of decision for the whole rest of the body. We're still going to suffer for a few more years before the church recognizes that their beliefs are false and all gay people can be full participants. While many will feel some pain here, I don't think Bethany will secede because our Western Regional Conference is both progressive and supportive, so we don't need to go anywhere else."
Comments on Facebook