'Chickaboom!, the 2020 album by Tami Neilson, the self-described "hot rockin' lady of country, rockabilly and soul," Reigning queen of hip-hop soul Mary J. Blige's new remixes and other women musicians are bringing new and classic sounds.
Viewing 1 thru 12 of 149 Stories
From dazzling debuts (Izzy Heltai, Katie Pruitt) to familiar faces (Bob Mould, Indigo Girls), in 2020, musicians produced a treasure trove of awesome audibles.
Despite the absence of live concerts, LGBT musicians around the country have managed to release new music. Here is the first part of two Best of 2020 music mentions, including a few who came out of their musical closets.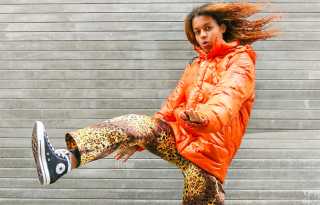 You can hear the inspiration of the spoken word scene in the songs on Happy Birthday (Merge) by D.C.'s Sneaks (aka Eva Moolchan). Ace of Cups, Yelle and other women-led bands' new music are reviewed.
'The Meaning of Mariah Carey' is The New York Times best-seller of the life and career of a truly influential artist and entertainer, the autobiography of one of the most talented, hardworking, compelling, witty, and transcendent African-American artists.
Whether you're safely home alone, or socially distanced with family or friends, this is a most unusual holiday. So, for Christmas week, Eve and Day, enjoy a most unusual holiday music playlist.
After a few years away from music, singer-musician Colton Ford has returned with new songs and new perspectives on art, life and yes, politics.
Smooth jazz superstar Dave Koz has a new album and a fresh take on the holidays with a one-night 'Greatest Hits of Christmas ' concert online.
The Queen of Bounce will share stories from his new book, 'God Save the Queen Diva.' The New Orleans musician and reality show star will chat with hosts of bookstores nationwide, from Philadelphia, to Tulsa, Austin, Fairfield and Los Angeles.
Miss Faye Caro will perform with Poet Avotcja & Youth A Cappella Ensemble Vocal Rush, in a concert celebrating Black LGBTQ+ music pioneers like Billy Strayhorn, Little Richard and Sylvester.
People expressed shock and sadness when it was announced on Facebook that transgender performer Bambi Lake had been diagnosed with cancer and was receiving treatment at Zuckerberg General Hospital. She died on November 4.
June Millington is the very definition of a living music legend. A founding member of celebrated '70s all-female rock band Fanny, Millington and her bandmates, including sister Jean, paved the way for everyone from the Runaways to the Go-Go's.
While live concerts are mostly still on hold, LGBT and nonbinary musicians continue to release music at a steady pace. Whether you're into folk-rock, dance grooves or R&B hip hop blends, these twelve queer artists and allies are making music for any mood.
Viewing 1 thru 12 of 149 Stories