Pride is about being authentic: Leather contingent kinks up the annual march
Tuesday Jul 2, 2019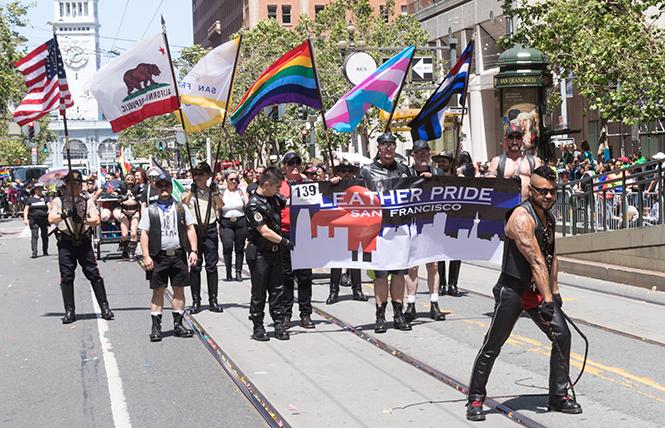 I was watching a video on The Atlantic's online channel titled Bridging the LGBTQ Generation Gap, in which filmmaker Ivan Cash brought pairs of LGBTQ people of contrasting ages together for discussions exploring their similarities and differences. It's a beautiful piece I recommend viewing.

One young woman in the documentary talked about what pride meant to her and her words resonated with me.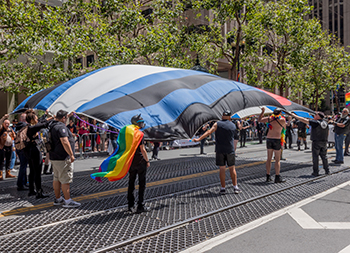 "For me, I think pride means being the authentic version of myself, all the time. And also, owning the fact that who I am is going to change, and evolve, always."
That's a good a summation of what prides means to me too, not just being your authentic LGBTQ self, but also being exactly the kinkster you want to be.

As I marched with the Leather Contingent in the Pride Parade, a friend was scanning the marchers and hordes of cheering onlookers. He remarked how wonderful it was that at a time when elements in our country have fallen prey to a right-wing cesspool of hatred and bigotry, thousands of marchers and revelers were unabashedly proclaiming that they refused to be marginalized anymore. They refused to allow hatred to win.

LGBTQ people from all walks of life, including us kinksters, walked down Market Street — joyful, proud and determined to continue to stake our claim to a happy and equal life.

Every leather person and kinkster marching exuded a sense of being their authentic selves, out loud, in public, and alongside all the LGBTQ factions represented in the parade, declaring we're here, we're queer, we're kinky, get used to it.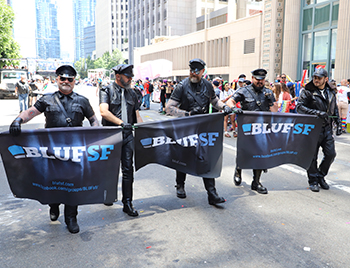 Pride is about being one's authentic self. Pride is about embracing that authenticity with the realization that who we are changes over time. It's through such change that we grow and evolve. As we change and evolve, so does the entire kink scene. Every iteration of kink culture gives us one more way for us to discover our true erotic identities.

Pride equals authenticity. True authenticity thrives amid change.

Reflecting on the entire past week of leather and kink happenings, there was tremendous pride witnessed — a true celebration of the authentic. The week was awash in various ways us kinksters took pride in our ever-evolving authenticity.

Talking kink at local events
Amp Somers and Stephan Ferris presented a brilliant talk at San Francisco Leathermen's Discussion Group titled LDG Presents: F*ck Your Community Standards about the horrific online censorship taking place in the wake of the SESTA/FOSTA law. Search for it on YouTube and check it out. We can't be our authentic selves if we can't use online platforms to do so.

There were play parties at SF Catalyst, Blow Buddies and elsewhere that gave LGBTQ kinksters the opportunity to indulge their proclivities in the flesh. We can't be our authentic selves unless given the spaces in which to do so.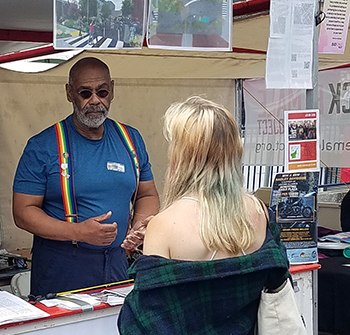 The SF Eagle launched a new monthly leather and fetish party called Rogue. The Eagle, along with so many other local venues, continues to offer those who identify and play on the edges of norms a place to commune. We can't be our authentic selves unless we have opportunities to gather and socialize in real time.

For the first time, the newly formed Leather and LGBTQ Cultural District had an information booth at the Pride Festival. The District has many goals, one of which is to add to the resources that keep our spaces open and active so we can be our authentic kinky selves.

Longtime leather community champions Donna Sachet and Gary Virginia hosted their annual SF Pride Brunch at the grand ballroom of the Westin St. Francis. Proceeds benefit Positive Resource Center. We can't be our authentic selves unless we raise the needed money to fund our important institutions.

Speaking of Positive Resource Center, another of their fundraising arms with roots in the leather community, the Bare Chest Calendar, celebrated the investiture of their 2020 calendar men at The Powerhouse bar. The men receiving their official Calendar vests expressed their authenticity while helping others.

A lot more went on this past Pride Week, both directly involving the kink communities and those LGBTQ events that embraced the kinky among us. Each event gave credence to the statement that pride is about the authentic versions of ourselves while embracing the inevitable change in ourselves and our communities that keep them alive and vibrant.

Let's take this time to be proud of our authentic selves. If any of us aren't fully living and expressing our authentic selves, let's work harder to do just that. And when inevitable change happens, let's honor it, because the authentic kinky self we know today is likely to be a somewhat different person tomorrow.
That's how we grow and evolve.

Let's keep the energy of Pride with us all year as we make the world better for us kinksters and everyone else within our sphere.

Race Bannon is a local author, blogger and activist. www.bannon.com
Comments on Facebook