Off to the market we go: International Mr. Leather explored
Wednesday Jun 5, 2019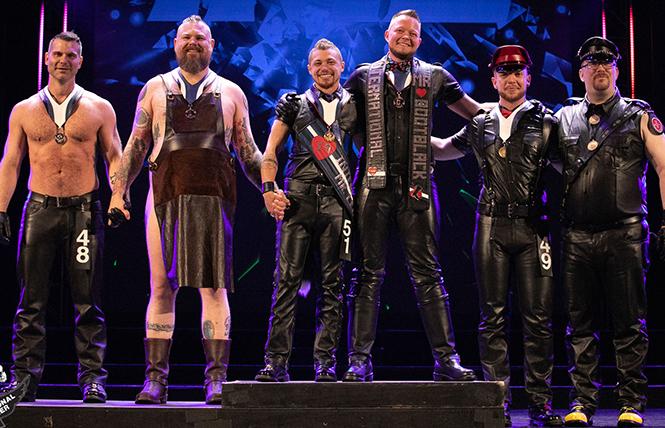 Every year for decades men have descended on Chicago over the Memorial Day weekend for an annual leather pilgrimage otherwise known as International Mr. Leather (IML), as did I this past week.

One of the little talked-about but main draws of the IML weekend is the immense leather and kink vendor market, which appears from the mist each year like Brigadoon to become the world's largest kink market of its kind for a few days.
Not only is the market big in terms of attendance, it's also one of the most popular aspects of IML.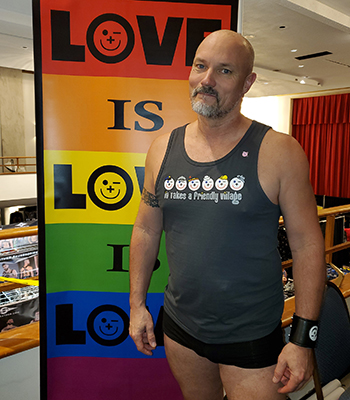 A healthy segment of people watch or participate in the IML or International Mr. Bootblack (IMBB) competitions. Others kick up their heels at one of the many dances. Many join a host of sex and play parties. Various social and sex gatherings happen, both formal and ad hoc. And the host hotel and bars are teeming with the kinky masses.

But it seems that virtually everyone at some point over the weekend crosses the transom of the vendor market doorway during the weekend's daytime hours.

This year there were 58 vendors from around the world selling just about every type of fetish garb and sex gear one might imagine. In addition to retailers there were also clubs, event producers, and nonprofits represented.

Walking around the vendor market is a rite of passage for those who attend IML. Yes, they sell a lot of great stuff and promote great organizations and projects, but it's also a main daytime cruising and socializing venue.

If you've never been, think of it as an immense leather bar with pop-up stores, big and small, scattered throughout. It's a sight to behold.

Since the market is such a big IML attraction, I thought I'd focus here a bit on that aspect of the event. Often the coverage of big leather or kink weekends that happen to include a contest are covered as if the contest is all that takes place. It distorts one's perception if you haven't attended such an event.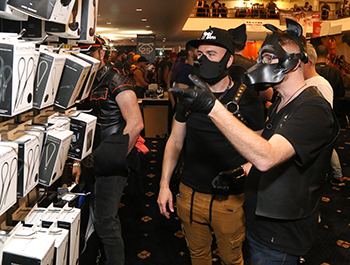 One afternoon over the weekend I walked around the market talking to a wide variety of people. Some were vendors. Some were there to shop. Some were there to simply socialize and cruise.
Among them I spoke with Dave Watt, founder of the Mr. Friendly Campaign, one of the nonprofits set up in the vendor market. Mr. Friendly works to help fight HIV stigma in friendly ways. I asked him why his organization keeps coming back to the IML vendor market.

"We're making connections with people around the world. Our mission is to fight stigma of HIV, but also raise awareness about causes such as repealing SESTA-FOSTA, and I'm learning so much from people all over the world that we need to band together to be there for each other and for our community."

I asked Dave why he thinks so many people at IML attend the vendor market.

"I think people are looking for the next thing. It could be something that helps them express themselves. When I see someone come to the booth and they see a Friendly pig t-shirt, that helps them initiate the conversation they want to have.'

When I asked people why they attend the vendor market at IML, I got a variety of reasons. Sure, the shopping for leather, gear and toys is unparalleled anywhere in the world, but I was not surprised when so many told me they hang out in the vendor market because it essentially becomes the biggest and best leather bar in the world for a few days; the cruising, bumping into old friends, making new friends. The multiple booths are a big draw, but they also serve as a background for one of the best kinky socializing spaces to exist anywhere in the world.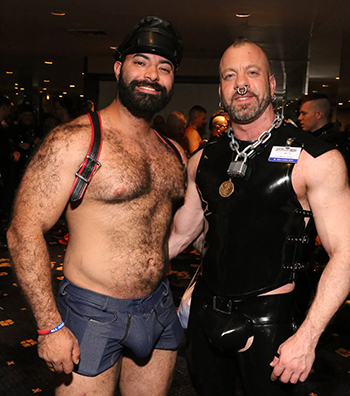 The Contest
I can't write about IML without mentioning the contest itself. The resulting titleholders are often the traveling, outward faces of IML throughout the year.

While you'll see a lot more people attend the vendor market overall than the IML and IMBB competition, the contest is still considered the weekend's centerpiece and it continues to be one of the popular aspects of the IML weekend.

This year there were a whopping 68 men vying for the IML title and four men hoping to win IMBB. As I sat in the audience during the Finals on Sunday night, I was impressed by the diversity of men, kinks and identities represented on the stage. It was a sexy bunch of guys.

Once again this year, Bay Area local Thib Guicherd-Callin served as the contest emcee. He did a masterful job of keeping the proceedings moving along quickly, not an easy thing to do with so many contestants.

With the judges' votes tallied, atop the IML podium to become International Mr. Leather 2019 was Jack Thompson from Baltimore, MD. First Runner-Up was San Francisco local and Mr. Daddy's Leather 2019, Jawn Marques. Second Runner-Up was Fionn Scott from Dublin, Ireland.

Winning International Mr. Bootblack 2019 was Kriszly de Hond from Zaandam Noord, Holland. First Runner-Up was Geoff Millard from Baltimore, MD. Second Runner-Up was Sparkie from Waukesha, WI.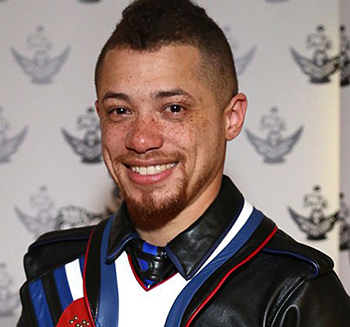 Controversy
It seems no big leather event can take place these days without at least some controversy. This IML was no exception. Within moments of Jack Thompson winning IML, social media had a smattering of negative posts because Jack is a trans man.

It's not the first time a trans man has won IML and it was controversial back then. This time the contrary voices were fewer than last time and the communal pushback in support of Jack was larger. I consider this a good sign that times are changing for the better.

But contrary voices were certainly present. One that garnered the most attention was a Facebook post by Craig MrCode, the now-former President of the Southeast Conference of Clubs (SECC). After his post about Thompson's win was overwhelmingly deemed transphobic, he was ousted from the presidency of the organization.

Let the swift action of the SECC serve as notice to anyone who has a problem with a trans man winning IML. This is 2019. The world is moving on to fully embrace trans folk as the gender with which they identify. If that bothers you, you might want to leave the leather world, because the vast majority of us are quite fine standing alongside our trans siblings. Peace.


Race Bannon is a local author, blogger and activist. www.bannon.com

See Leather events and previous columns at https://www.ebar.com/bartab/leather-kink
Comments on Facebook