What would queer San Francisco be without our nocturnal animals, the revelers and entertainers and service stars? Let's raise a glass (make it a double), to this year's Nightlife People Bestie winners.
In addition to Imperial Council events around the Bay Area through the weekend, Coronation 55, titled 'Disco in the Jungle,' held Feb. 22 at the Park Central Hotel, concluded with the crowning of new Empress Mimi Osa and Emperor William Bulkley.
Coronation 55, titled 'Disco in the Jungle,' held Saturday February 22 at the Park Central Hotel, brought out a festive array of fabulous Royal queens in gowns, daring drag, and some amusing jungle-themed couture.
"I remember the first time I marched with a contingent. It was pure magic, stepping off the curb and planting my foot onto Market Street." Philanthropist and event creator Juanita MORE! shares her history of popular Pride party-fundraisers.
Oscar fans enjoyed watching the annual academy Awards as patrons of Academy of Friends, this year held at The Commonwealth Club's theatre, reception area and rooftop.
This year marks the 10th annual Bay Area Reporter readers' poll, the Besties, and voting begins Thursday, January 30.
To celebrate four decades of glamorous fundraisers, the Academy of Friends welcomes patrons at their annual Oscars-viewing party at a fabulous new location, and with a Ruby Red theme.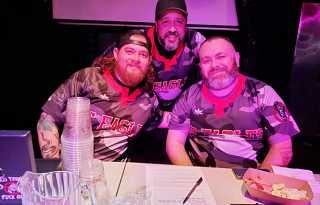 Ask a local San Francisco leather person what they're doing on a Sunday afternoon and you'll often here them say they're going to the beer bust. That typically means the weekly Sunday SF Eagle beer bust.
Nightlife icon and community activist Juanita MORE! shares her thoughts on 2019's ups and down, and projects to look forward to in 2020.
The Richmond/Ermet Aid Foundation's 18th annual holiday benefit concert included stellar performances by Sheryl Lee Ralph, Lisa Vroman, David Hernandez, Shawn Ryan, Kim Nalley, Steve Knill and more.
The San Francisco AIDS Foundation's eleventh annual Santa Skivvies Run drew participants out in festive holiday undergear on December 9 for the brisk short run fundraiser around the Castro.
Sheryl Lee Ralph burst into international fame on Broadway as Dreamgirls' original Deena Jones, and she returns to San Francisco to perform with other stars in the annual Help Is On the Way for the Holidays benefit concert on December 9.