Amid the pandemic crisis, Frameline wraps up its fundraiser, screens films and documentaries, and announced the hiring of its new Director of Distribution and Educational Programming.
In a battle of simultaneous streaming events, GLAAD's Together in Pride: You are Not Alone and Broadway.com's Take Me to the World: A Sondheim 90th Birthday Celebration both won the war of raising needed funds while keeping us entertained.
Enjoy the wonderful array of arts, nightlife and community events online, many of them also worthy fundraisers.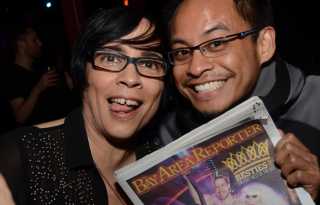 San Francisco is one of 11 US cities that is fortunate to have a legacy LGBT publication by us, for us, and about us. Help preserve the BAR as an historic and important community institution for the future.
Nightlife and community gatherings are a big part of queer culture, but all that has gone away. Undaunted, many of the Bay Area's most beloved performers, party promoters and events producers have found a new way to bring their magic to the masses.
What would queer San Francisco be without our nocturnal animals, the revelers and entertainers and service stars? Let's raise a glass (make it a double), to this year's Nightlife People Bestie winners.
In addition to Imperial Council events around the Bay Area through the weekend, Coronation 55, titled 'Disco in the Jungle,' held Feb. 22 at the Park Central Hotel, concluded with the crowning of new Empress Mimi Osa and Emperor William Bulkley.
Coronation 55, titled 'Disco in the Jungle,' held Saturday February 22 at the Park Central Hotel, brought out a festive array of fabulous Royal queens in gowns, daring drag, and some amusing jungle-themed couture.
'INSIDE PRIDE', the official magazine of San Francisco Pride is now accepting space reservations.
"I remember the first time I marched with a contingent. It was pure magic, stepping off the curb and planting my foot onto Market Street." Philanthropist and event creator Juanita MORE! shares her history of popular Pride party-fundraisers.
Oscar fans enjoyed watching the annual academy Awards as patrons of Academy of Friends, this year held at The Commonwealth Club's theatre, reception area and rooftop.
This year marks the 10th annual Bay Area Reporter readers' poll, the Besties, and voting begins Thursday, January 30.