The recent news of the two-year lease extension to historic LGBTQ bar The Stud had fans cheering. To help pay their rent and bills, the bar's collective owners are competing in a $50,000 grant opportunity funded by Federal Express.
One of the annual projects of the San Francisco Bay Area Leather Alliance is producing the Leather Alliance Weekend, which took place February 28 through March 3. The weekend included the San Francisco Bootblack and Mr. San Francisco Leather 2019 contest.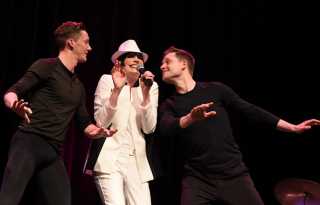 Cast members from the touring production of the classic musical Hello, Dolly! took to Brava Theater's stage at One Night Only, the latest Richmond/Ermet Aid Foundation fundraiser for local nonprofits.
The 91st annual Academy Awards were only part of the show at the Academy of Friends' gala party at City View Metron. The nautically-themed fete included a few mermaids amid the gold Oscar guys.
Oscar night is one of the holier nights on the LGBTQ calendar, and there are plenty of ways to celebrate the big night. Even with this year's controversies over choosing a host (who isn't a homophobic jerk) might dissuade former fans from viewing.
We Are One, a Dec. 14 fundraiser for victims of California wildfires, was cohosted by Emperor Leandro Gonzales, Empress Pollo Del Mar, the Imperial Council and the Rainbow World Fund.
The stars shone brightly at the Richmond/Ermet Aid Foundation's annual holiday-themed benefit concert held Dec. 10 at the Marines' Memorial Theatre.
World AIDS day annual local commemorations included the annual Light in the Grove, the gala fundraiser held at the National AIDS Memorial Grove.
On Nov 9 at SoMa nightclub Halcyon (314 11th St.), the 30th annual Real Bad party presenters, Grass Roots Gay Rights Fund, hosted their wrap-up party and check presentation.
The sold-out third annual Mr. International Freedom contest, held at Oasis on Octover 17, raised funds for the LGBT Asylum Project.
The Richmond/Ermet Aid Foundation's One Night Only benefit concert, held September 24 at Marines' Memorial Theater, featured cast members from the visiting Broadway tour productions of both 'The Phantom of the Opera' and 'On Your Feet.'
The Gay & Lesbian Alliance Against Defamation's annual awards gala, held at the Hyatt Regency (5 Embarcadero Center) on September 15, included local and national luminaries.