GLAAD Awards @ Hyatt Regency
Wednesday Oct 2, 2019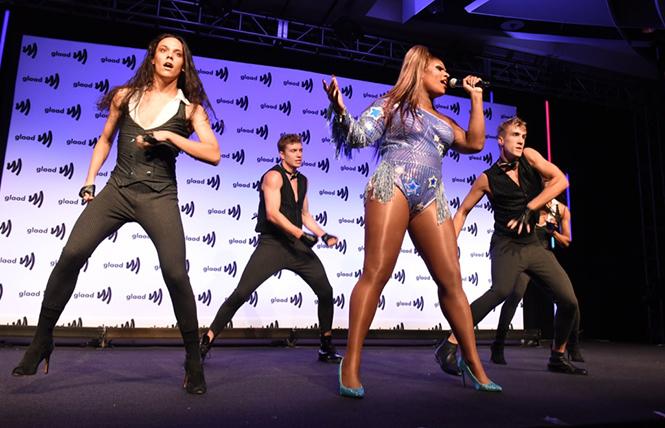 Cast members from the hit CBC series Schitt's Creek, along with other stars, were in attendance at the San Francisco edition of the annual GLAAD Awards.

The Gay & Lesbian Alliance Against Defamation presents awards to straight allies and LGBTQ celebrities and activists. Dan Levy, the out gay creator of Schitt's Creek, received the Davidson/Valentini Award award, with fellow cast members Emily Hampshire, Sarah Levy, Annie Murphy, and Noah Reid attending.

Singer Paula Abdul charmed in a cream chiffon gown, and received the Ariadne Getty Ally Award from figure skater-author Adam Rippon.

Business executive Ali Rosenthal was also honored, RuPaul's Drag Race star Peppermint wowed with a group song and dance number, and adorable singer-actor Garrett Clayton performed a musical medley.

Patrons (including Heklina and Juanita MORE!) enjoyed drinks, auctions and dinner at the elegant night. http://www.glaad.org

See more nightlife photos on BARtab's Facebook page, www.facebook.com/lgbtsf.nightlife.

For more of Steven Underhill's photos, visit www.StevenUnderhill.com.
Comments on Facebook