Peaches Christ hosts Q&A with Barry Bostwick, Nell Campbell and Patricia Quinn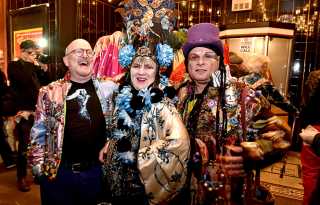 The 50th anniversary of The Cockettes was celebrated at the Victoria Theatre on Jan. 4 with hours of numbers from original Cockettes musicals, and other songs.
Nightlife icon and community activist Juanita MORE! shares her thoughts on 2019's ups and down, and projects to look forward to in 2020.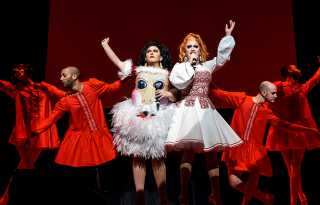 Drag superstars BenDeLaCreme and Jinkx Monsoon will join forces onstage on December 28 at the Victoria Theater for a post-Christmas Christmas show. The show is part of a national and UK tour.
The tenth annual Drag Queens on Ice, held on December 5 at the Safeway Holiday Ice Rink in SF's Union Square, included talents in celebrating a decade of iced queen fun.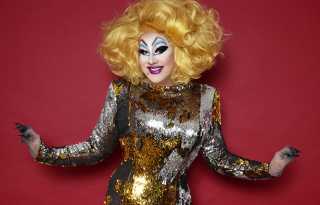 On December 14, drag superstar Peaches Christ brings her own unique take on Joe Dante's 'Gremlins' in what promises to be a wild and wacky drag extravaganza, titled 'Femlins.'
Found treasure that tells the tale of personal history is a story that has been repeated many times. When some silkscreens of drag performer Doris Fish were discovered, a lost legacy became reborn.
Cirque du Runway, the Gay Asian Pacific Alliance Foundation's 31st annual pageant and fundraiser, showcased a festive array of drag and male talents at the Herbst Theater on August 24.
What is a drag performer or performance worth? The question is at the heart of a movement, still in its infancy, to set a minimum booking fee for drag queens and kings in the Bay Area.
San Francisco's annual Drag King Contest returns to Oasis on August 4 for its 24th year, with a grand celebration of fantasy, thrones and bones.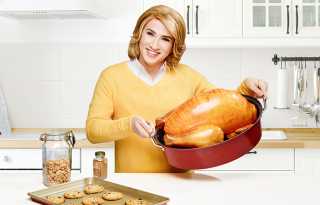 Comic actor Ryan Raftery's one-man musical, 'The Rise and Fall (and Rise) of Martha Stewart' brings recipes and song parodies to Feinstein's.
The Sisters of Perpetual Indulgence celebrated Pride in the Westfield San Francisco Center on Friday June 28 with a happy hour disco party at Bespoke.