Like what you see? See what you like? Along with new nights, we bid a fond farewell to a popular drag night. Vote for your favorites places, people, businesses and nightlife stuff in our annual Besties Readers Survey!
This year marks the 10th annual Bay Area Reporter readers' poll, the Besties, and voting begins Thursday, January 30.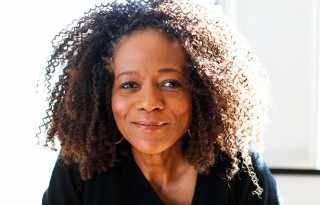 Jazz chanteuse Paula West will perform the first of nine shows at Feinstein's At the Nikko beginning February 6. The fact that her run at Feinstein's is stretched out over an extended period is a tribute to West's popularity with audiences.
The Edwardian Ball returns for its 20th anniversary. The two-day extravaganza, which takes place at The Regency Ballroom, promises to be a fusion and a celebration of art, music, theater, fashion, technology, and of the creations of the late Edward Gorey.
When Broadway star Kate Baldwin ('Finian's Rainbow,' 'Hello Dolly!') takes the stage at Feinstein's at the Nikko next weekend, you'll notice something unusual. The two-time Tony nominee's music director and accompanist is a woman, Georgia Stitt.
Tim Lewis has been making music and defining the visual landscape of San Francisco for over forty years. There have been peaks during this period when he was playing as many as three gigs a night, and lows where it has been weeks before performances.
Tony-nominated Broadway star and cabaret legend Sharon McNight returns to San Francisco, a city she once called home. The diva extraordinaire will be performing a very special show, Homecoming: The San Francisco Years, January 15 and 16 at Feinstein's.
Beach Blanket Babylon came to its last show on January 31, 2019, and California celebrities showed up in abundance.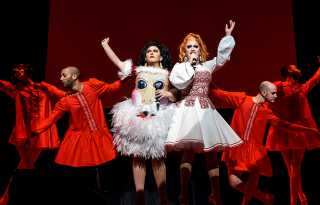 Drag superstars BenDeLaCreme and Jinkx Monsoon will join forces onstage on December 28 at the Victoria Theater for a post-Christmas Christmas show. The show is part of a national and UK tour.
Lea DeLaria brings her one-of-a-kind stage persona to Feinstein's at The Nikko (on Dec. 28 & 28), where she'll sing, tell jokes, and be her characteristically outrageous self.
On Saturday December 21, cabaret chanteuse Connie Champagne returns to Martuni's to perform a Christmas concert as the iconic Judy Garland. Playing Garland has been a big part of Champagne's singing career.
The Countess Katya Smirnoff-Skyy returns to Feinstein's at the Nikko on December 19 for a three-night stand in which she will usher in the holidays with songs, stories and strong cocktails designed to make your Yuletide gay.