Tom Reardon - His Honor the Cabaret Star
Wednesday May 15, 2019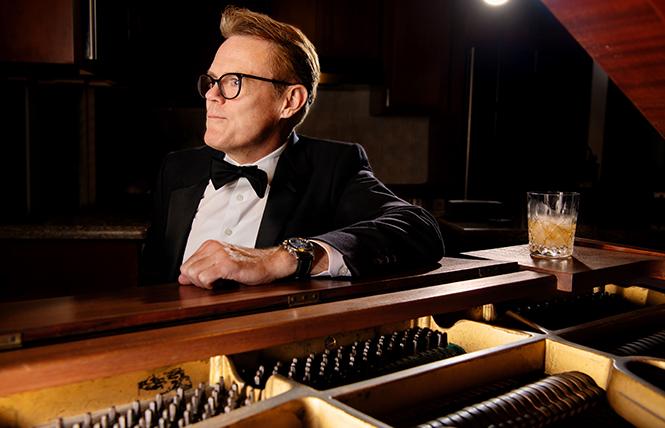 Tom Reardon returns to Feinstein's at The Nikko for his eighth show on May 16 and 17. The singer, who also performs in musical theater, will offer his usual eclectic mix of songs: everything from The Great American Songbook to Bob Dylan and Fleetwood Mac. Reardon calls his latest show, Throwin' A Ball Tonight. He says that the show doesn't have a theme, but rather will offer a nice collection of songs with some banter in between.
"I've got a lot of different styles, a lot of different composers, different feels, and I'll hopefully be cobbling it into a cohesive evening," Reardon tells Bay Area Reporter. "I'm always very concerned with that rather than with just doing fifteen songs that I like."
Mixing different styles of music has become part of Reardon's trademark. In the past he's performed songs by legendary Broadway composers Rodgers and Hart and Lady Gaga in the same show. He says that he loves the way different musical genres can speak to each other and become part of the audience's experience.
"I like to do pieces that are unexpected because I like people to hear a song again for the first time," he said. "This came up at my last show where I did the Don Henley song 'The Heart Of The Matter.' Several people said that they had never before listened to the words of that song. It's a relatively famous song by a relatively famous artist. They probably heard it a million times on the radio, but never listened to it."
Reardon pointed out that doing a Gershwin song combined with a Neil Young song makes both songs sound different.
"Hopefully this keeps the audience interested and keeps them guessing, engaged, thinking and reacting in unexpected ways," he said. "Sometimes you'll get an audible reaction, which you can't put a price on. You'll be singing one song, and then segue into a second song and you'll hear an audible sigh where you know that you just surprised people. It's an appreciative surprise, and you can hear it."
Reardon admits that the old standards have always held a special place in his heart. He's always loved what he calls "the old stuff."
But as he himself has gotten older, he's developed an appreciation for latter day folk music and '70s rock. Performing in cabaret has allowed him to put newer songs into his act, but he says that his first love has always been the standards, a love he inherited from his parents. When going to see shows himself, he would always choose Sinatra over Springsteen.
And while Sinatra is one of his inspirations, he says that he doesn't model himself after Ole Blue Eyes.
"I certainly enjoy Sinatra's taste in music, and the songs that he made popular, though I don't sing a lot of them," he said. "Probably because so many of his songs sound so iconic in his voice, that I don't know what I would lend to them. In my shows I would never do 'Fly Me To The Moon' or 'Strangers In The Night,' or any of the songs that are so identified with him. Who wants to hear that, when you can hear Frank Sinatra do it?"
Music isn't Reardon's only profession. He's also a judge in Alameda County Superior Court. He says that his day job is so serious, so intellectually rigorous and sometimes so stressful, that he wants his evenings to be nothing like his days. In court, he hears felony criminal trials, such as murders, carjackings, sexual assaults, child molestations, and robberies.
"I want my nights to be fun and creative," he said. "I don't like strife or stress, because I have enough of that during the day. That's why I try to surround myself with excellent musicians and delightful people. I deal with enough difficult people during the day, so who wants to do that at night as well?"
Sometimes fun things do happen as a result of his judgeship. A few years ago Reardon was greeted by members of one of his juries, who, after the case had closed, came to see him play the crazy dentist in the musical Little Shop Of Horrors. He's also had experiences where people walked into his courtroom and recognized him from the stage, as well as times when people in the theater recognized him from court.
"Once I had a juror ask me if I had been Harold Hill in The Music Man," he recalls. "I think they find it charming that I do both of these things."
Reardon admits that filling a cabaret room can be challenging, what with so many people staying home to watch Netflix and YouTube, but he loves the feel of a cabaret, and is grateful to have sold out many of his shows at Feinstein's.
"I love the cabaret setting," he says. "I love the small tables with the individual lights on the tables, and you can hear the tinkling of the ice in the glasses. That's just the height of elegance, performance, and connection with an audience. It's very special."
Tom Reardon: Thrown' a Ball Tonight, Thursday and Friday, May 16 and 17, 8pm at
Feinstein's At The Nikko. $50-$80 ($20 food/drink min.) Hotel Nikko, 222 Mason St.
www.feinsteinsatthenikko.com
Comments on Facebook