The queer-owned bar El Rio in San Francisco's Mission district is receiving financial help from the cable network Showtime and national LGBTQ advocacy organization the Human Rights Campaign to keep its doors open.
Visitors to the Castro district on Sunday Sept. 13 enjoyed outdoor dining, drinks and shopping at local stores. Safety and health precautions were heeded as patrons enjoyed themselves while supporting local businesses.
What is the future of local LGBT nightlife and how can businesses, employees and patrons continue to stay active in pandemic times? This and other questions were discussed in the first Queer Nightlife Fund talks series, held online, of course.
The San Francisco Planning Commission will hold a hearing next month to determine whether to require sound proofing for a housing project at 1560 Folsom Street — adjacent to the LGBTQ-themed bar and nightclub Oasis.
Good news for nightlife fans. Oasis, the popular SoMa nightclub, announced plans to re-open its rooftop bar on August 14, with proper social distancing rules in effect Fridays through Sundays. D'Arcy Drollinger is also now the sole owner of the nightclub.
The Castro nightclub Badlands at 4121 18th Street will not be reopening, according to a post on its Facebook page.
Moby Dick, the popular Castro district bar, is raising funds for employees and the owners' expenses in two online fundraisers.
The corporation that does business as The Mix, a Castro neighborhood bar, filed a cross-complaint last month against Lawrence "Larry" Metzger, who sued the corporation and two of its shareholders in October 2019.
Polly Polaroid was a presence for around two decades in the gay bars of San Francisco — and yet no one seemed to remember her story. She would make her rounds in the bars, saying "Photo to remember the evening?" to all patrons — and yet she disappeared an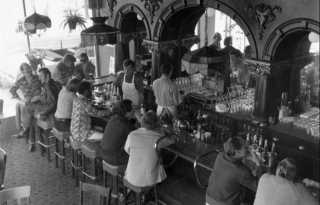 A Castro district institution for decades, the historic Twin Peaks Tavern is the subject of a 2019 documentary, to be screened as an online fundraiser July 10.
The town of Guerneville and the Russian River area are lovingly portrayed in Mark Abramson's latest, 'River Days, River Nights.' The memoir covers the period from 1976 through 1984, an era of considerable change for the region.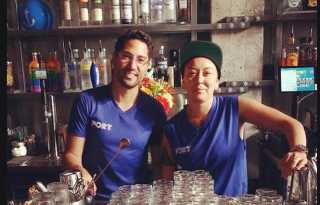 Need a bit of nightlife drinks and food in Oakland? The Port Bar offers To Go service every Tuesday, Friday and Saturday until they are allowed to move to the state's allowance for "Dine-In".