"Through the Windows," a new documentary about the historic Twin Peaks Tavern at the corner of Castro and 17th Sts., will premiere at this year's Frameline LGBTQ Film Festival (Castro Theatre, June 24, 1:30 p.m.).
Paranoia, red-baiting and homophobia swept across the United States in the early 1950s like a cold fire, and San Francisco was not exempt from its reach. The vile Joseph McCarthy and his toady Roy Cohn engaged the country in the Army-McCarthy hearings.
Don Cavallo, a multi-talented restaurateur, actor and singer was also one of the first writers for the Bay Area Reporter. He seized the scene in San Francisco and made it his own from his 20s on, including opening the Fickle Fox.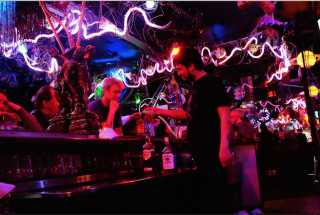 On Saturday April 13, the Hole in the Wall Saloon will celebrate its 25th anniversary with a party. The bar is best known for its colorful (some say surreal) decor, and for its rock music.
The Besties give us an opportunity to visit some longtime favorite watering holes, to visit some of the newer venues in town and unfortunately to note the passing of one venue.
They love the nightlife, they love to boogie. And this year, our creatures of the night like to mix it up. We've got all new winners in the bartending category, a ladies rout in the comedy club, and a wake-up call in the gogo guys competition.
From drag shows to dancing bears, game nights and beer busts, cubcakes, mangos and other treats, your choices for Best Nightlife Events truly represents a diverse menu of options.
Divas, the Polk district bar and nightclub that had long been a safe haven for the transgender community, will be closing its doors on March 30. The bar will celebrate its many years of service to the community with a closing night party.
Divas nightclub, one of the last vestiges from the days when Polk Street was a major gay and transgender hangout, will close its doors at the end of March.
Ann and Maxine Weldon from Bakersfield, performed in clubs beginning in the 1950s, and developed relationships with their gay audiences that came to benefit both the audience and the performers.
Boy Division, the monthly New Wave, goth, queer pop night, included groovy retro sounds, plus drag queens and puppets! The diverse crowd enjoyed a Dark Room drag show, and grooving to The Cure, Depeche Mode and other faves with DJ Xander at the Cat Club.
Lenny Mollet was a Grand Duke of the Ducal Court, the president of the Tavern Guild, and one of a generation of gay men who fought for a place of their own in the city. He owned a gay bar in San Francisco a decade and a half before the Stonewall riots.