B.A.R. Talks: Eighth panel shares stories of LGBT nightlife
Friday Dec 3, 2021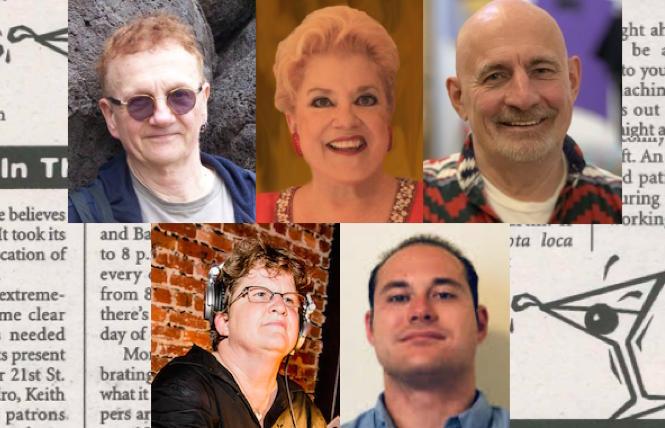 Join in for a trip down memory lane with many other gay bars of yore on December 9, when BARchive columnist Michael Flanagan and Arts & Nightlife Editor Jim Provenzano welcome author and former bartender Mark Abramson, veteran performer Sharon McKnight, DJ Page Hodel and Assistant News Editor John Ferrannini for an online chat about the historic connection between the Bay Area Reporter and its 50 years of writing about and being distributed in the many long-gone and still-thriving Bay Area LGBT bars.

Watch "B.A.R. Talks 8: The B.A.R. in the bars,'
Thursday, December 9, 6pm PT
on www.youtube.com/c/bayareareportersf
and www.facebook.com/BayAreaReporter

About the panelists:
Michael Flanagan is a reference librarian at Menlo Park and San Mateo Public libraries. He has been the reference assistant for the musician Diamanda Galas since 1987 and was president of the AIDS archival organization 'Documentation of AIDS Issues and Research' from 1987 through 1995 which provided materials for Group Material's 'AIDS Timeline' for the 1991 Whitney Biennial. He writes for the Bay Area Reporter and has work published in multiple scholarly periodicals. He has lectured at the Beat Museum, GLBT Historical Museum and Yerba Buena Center and done online programs on the LGBTQ history of San Mateo County for both Menlo Park and San Mateo libraries.

Minnesota-raised farmboy Mark Abramson has lived in San Francisco long enough to consider himself a native of the City by the Bay. He worked as a bartender and event coordinator for decades in various gay bars from the Russian River to Haight Street, Castro Street, and South of Market.

Mark and fellow bartender (the late) Jim Cvitanich produced mega-dance parties Pier Pressure and High Tea on the piers of San Francisco, as well as the yearly AIDS fundraiser, Men Behind Bars: The Bartenders' Folly. In addition to his seven-volume fictional Beach Reading mystery series, Mark is the author of six non-fiction books, including the two-volume Sex, Drugs & Disco: San Francisco Diaries from the pre-AIDS Era and the highly acclaimed AIDS memoir For My Brothers.
markabramson.net
Multi award-winning performer Sharon McNight has played from Moose Hall to Carnegie Hall, from San Francisco to Berlin. She began her career entertaining in the cabarets and gay bars of San Francisco in the late 1970s. In the mid-'80s she received a San Francisco Critics Circle award for her performance in "Nunsense" and was one of two straight women chosen as Grand Marshal of the 1986 S.F. Gay Day Parade for her dedication and fund raising efforts during the AIDS crisis.

Sharon made her Broadway debut in 1989 in "Starmites," received a Tony nomination for her performance, and is the recipient of the coveted Theatre World Award for "Outstanding Broadway Debut" and the Bistro Award presented and produced by Backstage.com for "commanding cabaret artistry." She has five solo recordings to her credit, Her recent laurels include two lifetime achievement awards: one from the Manhattan Association of Cabarets, and another from the Provincetown CabaretFest.
www.youtube.com/user/sharonmcn

Page Hodel is legendary in the San Francisco Bay Area as a fixture of its nightlife. For almost 40 years, she has been spinning music at nearly every San Francisco nightclub, gay and straight, as well as being an LGBT party promoter. Many people recall two of her legendary dance clubs, The Box and Club Q. Hodel is also an artist and cocreator of the Monday Hearts for Madalene project.

What began as a yearly tradition throwing her notorious birthday parties quickly led to a regular DJ booking at Amelia's, a popular Bay Area dance club at the time. It was during this time that her career as a disc jockey took flight, following with bookings at the Oasis as their resident weekend DJ, and virtually every major dance venue in San Francisco, as well as clubs in New York, Los Angeles, Seattle and Paris. Page's DJ career has taken her around the globe, including regular bookings in the 90's on Olivia Cruises as their resident disc jockey.

In 1987 her nightclub promotion career was born when Page started The Box and Club Q, two of San Francisco's legendary and longest running dance clubs. Page has won numerous awards and honors including many Cable Car Awards for San Francisco's Favorite DJ. Page has also won San Francisco's Bay Guardian awards for Best Dance Club for the Box, and Best DJ. Page has been selected by the Bay Area Reporter Besties two years in a row as best female DJ in Bay Area.
www.pagehodel.com

John Ferrannini has been an assistant news editor with the Bay Area Reporter since 2019. A graduate of Sacramento State University and a former nightlife worker, he resides in San Francisco with his boyfriend.
www.ebar.com

Jim Provenzano (panel producer) is the Arts & Nightlife Editor for the Bay Area Reporter. He is also the author of seven gay fiction novels and has worked as a journalist, editor, and photographer in LGBT media for three decades.
www.jimprovenzano.com

The panel will be viewable live, then archived, on the Bay Area Reporter's Facebook page, www.facebook.com/BayAreaReporter and the B.A.R.'s YouTube channel, www.youtube.com/c/bayareareportersf

Help keep the Bay Area Reporter going in these tough times. To support local, independent, LGBTQ journalism, consider becoming a BAR member.