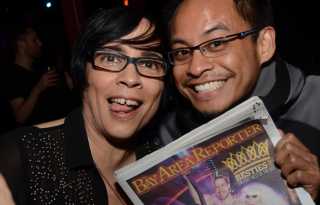 San Francisco is one of 11 US cities that is fortunate to have a legacy LGBT publication by us, for us, and about us. Help preserve the BAR as an historic and important community institution for the future.
The long illustrious life of the Mission bar Esta Noche, its recent closure and the more recent loss of Club BnB marks a loss of LGBTQ People of Color venues.
Charlotte Coleman's bars grew from the harassment of the 1950s. But the unintended consequence of losing a job was that she wasn't just a bar owner: she had such business acumen that some of her bars still exist till today.
"We used to go to jazz clubs after 2am and drink liquor out of coffee cups. Relations between blacks and whites were excellent. They were glad to have us out in the Fillmore. We were treated like queens, and I don't mean in that sense!"
This year marks the 10th annual Bay Area Reporter readers' poll, the Besties, and voting begins Thursday, January 30.
Tim Lewis has been making music and defining the visual landscape of San Francisco for over forty years. There have been peaks during this period when he was playing as many as three gigs a night, and lows where it has been weeks before performances.
On the list of things that made composer Harry Partch unique, sexuality is admittedly a minor factor. More unusually, he gave two talks on his music at Opus One, which was both a classical music bar and gay bar in North Beach.
Found treasure that tells the tale of personal history is a story that has been repeated many times. When some silkscreens of drag performer Doris Fish were discovered, a lost legacy became reborn.
One thing about Fe-Be's that most people know it is that it was the first leather bar on Folsom Street. If there is a second thing people know, it's that the bar was the place that the iconic "Leather David" was born. But there's more to the bar's story.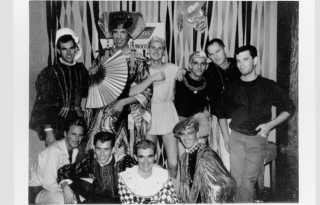 James "Robbie" Robinson visited San Francisco while stationed at Parks Air Force base in the East Bay in 1957. After being cruised on Market Street, the man led him to the Silver Dollar Bar. His visit began a gay journey in creating community.
Fourteen years after the original Detour Bar closed, mention of it evokes strong memories for patrons, especially after news of a new very different bar taking its name. Let's recall the sexy, cruisy original.
Unlike 1969's Stonewall, disturbances in San Francisco started over job rights. Because the disturbances spread and issues multiplied, they would eventually include at least three bars, including Oakland's White Horse.