Flower of old New York
Tuesday Mar 5, 2019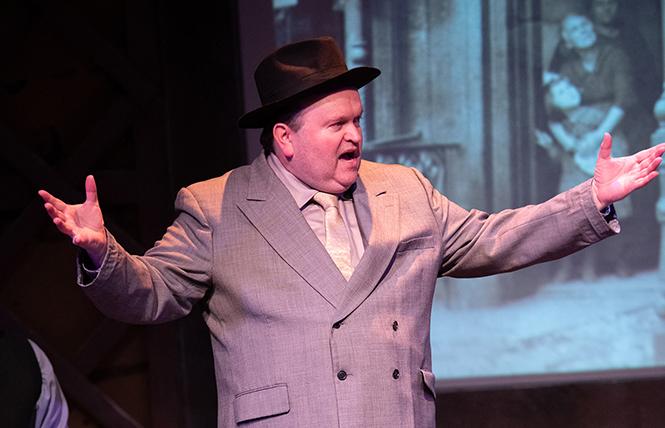 The Bay Area theatre group 42nd Street Moon is known for producing works from the history of American musical theatre — some popular and well-loved, some surprisingly obscure, some perhaps deservedly forgotten. They have struck veritable gold in their current offering, the 1959 Pulitzer Prize-winning Broadway musical "Fiorello!" Out There was happily in the house opening night at the Gateway Theater in San Francisco, where it plays through March 17.

The vintage musical (book by Jerome Weidman and George Abbott; music by Jerry Bock, lyrics by Sheldon Harnick, who would go on to write music & lyrics for "Fiddler on the Roof") is based on the life and political career of Fiorello Enrico La Guardia, who was Attorney General of New York, Congressman, and then popular Mayor of New York City (1934-45), and gave his name to one of three major NYC-serving airports. You would think this would all be ancient history, but the musical's message about the dirty game of politics is surprisingly relevant today.

The old-fashioned proceedings begin in La Guardia's law offices, where he and his underpaid, overworked staff labor tirelessly on behalf of the impoverished and downtrodden, many of them recent immigrants who don't have the resources to deal with their legal problems ("On the Side of the Angels"). Sound like nonprofits on a shoestring that provide social services to the needy today?

Soon we are privy to the backroom wheeling and dealing that determine political fortunes in big cities with City Hall cronyism and corrupt political machines such as Tammany Hall and other municipal mafias ("Politics and Poker"). But this is popular entertainment with a progressive political consciousness that includes being on the side of labor in the face of poor working conditions and other capitalist exploitations. We follow a female garment workers' strike for a living wage ("Unfair"). La Guardia is on the side of the working class, and begins his political career against all odds ("The Bum Won").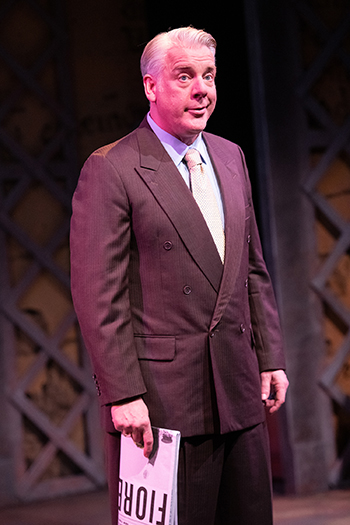 From the title role, ably performed by Colin Thomson, on down through all the roles and ensemble, the cast directed by Karen Altree Piemme sings beautifully and gives it their very best. The principal players all have a chance to shine, as Katrina Lauren McGraw, Sean Fenton and Matt Hammons do as office staffers in "Side of the Angels" and "Marie's Law," Amanda Johnson does as first wife Thea in "When Did I Fall in Love," and Chris Vettel does as head politico Ben in "Little Tin Box." As Dora, Marisa Cozart falls for a man in a uniform in "I Love a Cop." Catrina Manahan offers a larky "Gentleman Jimmy" as flapper showgirl Mitzi, in the thrall of a playboy pol.

The catchy melodies, hapless antics and creaky plot devices of a classic musical are all part of the fun. It's a fast and entertaining ride through early-20th-century New York politics and culture. But there is a serious message to be discerned under all the show-business frippery. You hear it in the slyly satiric lyrics: "Politics and poker, running neck and neck,/If politics seems more predictable,/That's because usually you can stack the deck!"

From "The Bum Won": "Who'd ever guess that the people/Would go to the polls and elect a fanatic?!/People can do what they want to,/But I got a feeling it ain't democratic!"

From "I Love a Cop": "Oh, how gruesome,/Can you see me introduce him?/'You remember her — she detested you,'/'You remember him — he arrested you.'"

The score's most famous song, "Little Tin Box" is a cautionary tale about the corruption and graft endemic to politics without sufficient oversight and regulation (see "Citizens United"). It's worth more than a few chuckles as characters imitate Tammany Hall pols caught with their hands in the bribery cookie jar. But it's a sober reflection of the even more insidious corruption and graft afoot in 2019 America. We wonder what Fiorello La Guardia ("The Little Flower") would have said about the billionaire kleptocrats currently sullying the Cabinet, the gross and greedy crime family stinking up the White House, and the aiding-and-abetting, disgraced G.O.P. now led by one Donald J. Trump ("The Orange Ignoramus"). It's hard to see the musical of real-life American politics ending quite so harmoniously.

Next year's Moon

In a curtain speech before last Saturday night's performance, 42nd Street Moon co-executive directors Daren A.C. Carollo and Daniel Thomas announced the attractions for its upcoming 2019-20 season. The company will mount full productions of "Hot Mikado" (Sept. 25-Oct. 13), "Scrooge in Love!" (Dec. 4-23), "A Gentleman's Guide to Love and Murder" (Feb. 26-March 15, 2020), "The Pajama Game" (April 15-May 3), "Merrily We Roll Along" (the 1981 musical) (May 13-June 14), and "Merrily We Roll Along" (the 1934 play) (May 20-June 23).

Their 2019-20 season, 42nd Street Moon's 27th in operation, will also include "Titanic the Musical in Concert" (Sept. 7 & 8, 2019) and the inauguration of two ambitious new programs, the "Back-to-Back Series" and "The Sondheim Sweep." In the first series, Moon will present a classic musical and the play that inspired it; the second series reflects the company's intention to become the first theatre to eventually present Stephen Sondheim's entire body of work, as a lyricist, playwright, composer, and composer/lyricist. Next season's last two offerings kick off both ambitions: Sondheim and George Furth's 1981 musical "Merrily" and the play that inspired it, George S. Kaufman and Moss Hart's 1934 work of the same name. That play will also be the first non-musical that Moon has ever presented.

Info: www.42ndstmoon.org
Comments on Facebook