Total pop-song coverage
Tuesday Mar 5, 2019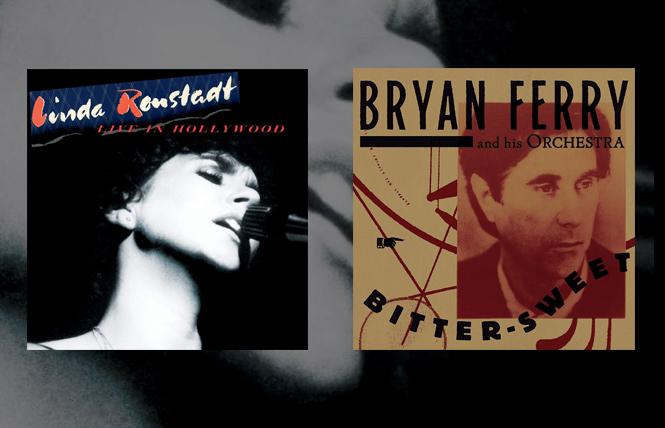 Linda Ronstadt is known as a gifted interpreter of other people's songs. Known for revitalizing classic pop songs ("That'll Be the Day"), and leaving her mark on songs by Anna McGarrigle ("Heart Like a Wheel") and Dolly Parton ("I Will Always Love You"), Ronstadt's voice was a one-of-a-kind-instrument. That made her 2010s Parkinson's diagnosis and the loss of her singing ability that much more devastating. "Live in Hollywood" (Rhino), the long lost/recently rediscovered audio recording from Ronstadt's 1980 HBO concert, is cause for celebration. Featuring songs from "Don't Cry Now," "Heart Like a Wheel," "Simple Dreams," "Living in the USA" and "Mad Love," this live recording finds Ronstadt at the top of her game, singing a section of "Blue Bayou" in Spanish, giving listeners a taste of what they would later hear on her "Canciones" albums. Be sure to read John Boylan's liner notes about how the album came to be.

A covers album of sorts, "Dumplin': Original Motion Picture Soundtrack" (RCA) features Dolly Parton teaming up with a variety of artists to perform some of her songs. It's an album accompaniment to the 2018 Netflix movie starring Jennifer Aniston and Danielle Macdonald. Parton duets with Sia ("Here I Am"), Elle King ("Holdin' on to You"), Mavis Staples ("Why"), Miranda Lambert ("Dumb Blonde"), Rhonda Vincent and Alison Krauss ("If We Don't"), Macy Gray and Dorothy ("Two Doors Down") and Willa Amal ("Here You Come Again"). Rest assured, the album is better than the movie.

Performing cover tunes is nothing new to former Roxy Music frontman Bryan Ferry. His 1973 solo debut "These Foolish Things" found him interpreting songs by the Beatles, Stones, Beach Boys and Dylan. For 2012's "The Jazz Age," Ferry took an all-instrumental approach to songs from his catalog including Roxy Music tunes and solo work. On "Bittersweet" (BMG), Bryan Ferry and his Orchestra return to those sources, but this time Ferry provides vocals for some tracks. The tasty songs go down easy.

With the exception of two originals co-written by 21st century crooner Michael Bublé, the songs on "Love" (Reprise) consist of Bublé's lush covers of beloved standards on the theme of romance. His snappy take on "I Only Have Eyes for You" twinkles. "When I Fall in Love" and "My Funny Valentine" are lush, while the Loren Allred duet on "Help Me Make It Through the Night" adds an unexpected bit of twang. One of the biggest surprises is the modern number "Love You Anymore" (co-written by Charlie Puth), which places the album in the present moment. The deluxe package features bonus tracks "I Get a Kick Out of You" and "When You're Not Here."

For those who don't remember Wilco's alt-country roots, a twangy cover of "I Got You (At the End of the Century)" serves as a reminder on "Sharing the Covers" (YepRoc) by North Carolina-based bluegrass quartet Chatham County Line. Other artists given a similar treatment by the foursome include Beck ("Think I'm in Love"), the Rolling Stones ("The Last Time"), John Lennon ("Watching the Wheels") and Tom Petty ("You Don't Know How It Feels").

Featuring an all-star cast of performers, "Linda Thompson presents My Mother Doesn't Know I'm on the Stage" (Omnivore) is an affectionate celebration of songs from the British music hall tradition. Thompson, known for membership in Fairport Convention, as one-half of the musical duo Richard & Linda Thompson, as well as a solo performer, enlisted son Teddy Thompson, Martha Wainwright, actor Colin Firth, diva Justin Vivian Bond and others for this delightful project recorded live at the Lyric Hammersmith in London.

To observe the 100th birthday of Nat King Cole, the John Pizzarelli Trio, led by jazz guitarist and vocalist Pizzarelli, pays homage on "For Centennial Reasons: 100 Year Salute to Nat King Cole" (Ghostlight Deluxe). In addition to Cole numbers "Straighten Up and Fly Right," "The Very Thought of You" and "(Get Your Kicks On) Route 66," Pizzarelli contributed a pair of originals, "A Hundred Years from Now" and "Nat King Cool."

The late Pete Seeger is another music legend who would be celebrating his 100th birthday in 2019. Folk musician John McCutcheon pays homage to Seeger on "To Everyone in All the World: A Celebration of Pete Seeger" (Appalsongs), featuring 15 songs written, co-written or covered by Seeger over the course of his inspirational career.

French jazz vocalist Cyrille Aimée sets her sights on American musical theater legend Stephen Sondheim on "Move On: A Sondheim Adventure" (Mack Avenue). Highlights include her interpretations of "Marry Me a Little" (from the show of the same name), "Take Me to the World" (from "Evening Primrose"), "Being Alive" (from "Company"), "Not While I'm Around" (from "Sweeney Todd"), "No One Is Alone" (from "Into the Woods") and "Move On" (from "Sunday in the Park with George").
Comments on Facebook