42nd Street Moon has struck veritable gold in their current offering, the 1959 Pulitzer Prize-winning Broadway musical "Fiorello!" Out There was happily in the house opening night at the Gateway Theater in San Francisco, where it plays through March 17.
In the opening scene of "Her Portmanteau," playwright Mfoniso Udofia's riveting family drama now at the Strand, we meet Iniabasi Ekpeyong (Eunice Woods) outside JFK Airport.
I finally made it to the room where it happens when "Hamilton" officially opened its second San Francisco engagement last Thursday night.
When the original Broadway run of composer Jerry Herman and director Gower Champion's hummable humdinger "Hello, Dolly!" opened way back in 1964, the musical was already a nostalgia-fest.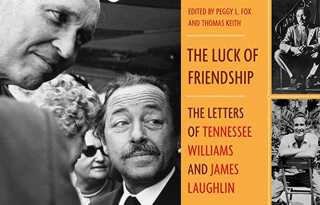 Edited by Peggy Fox and Thomas Keith, "The Luck of Friendship: The Letters of Tennessee Williams and James Laughlin" (Norton, $39.95) chronicles the decades-long relationship between the author and the founder of his publisher New Directions.
"Violet" is in bloom, and it's a sight to behold. Also, a joy to listen to.
Two forces are at war in "A White Girl's Guide to International Terrorism," a slow, soulful social drama and a hastily paced thriller.
Stephen Sondheim's "A Little Night Music," inspired by an Ingmar Bergman movie, endures as one of his most successful shows. It's that "Send in the Clowns" musical, as marketers are quick to remind.
Rory O'Malley takes the stage at Feinstein's at the Nikko for a two-night run of "Pub Crawl," his deeply personal one-man show, on February 22 & 23.
"Seascape," Edward Albee's Pulitzer Prize-winning 1975 play, is a crypto-comic riff on the E-train ride from Amoeba to Suburbia.
Now playing at the Peet's Theater in a 20th anniversary revival of its original Berkeley Rep production, director and playwright Mary Zimmerman's celebrated interpretation of mythological tales "Metamorphoses" is set around a shimmering pool of water.
In the San Francisco Playhouse's loopy "King of the Yees," Jue portrays Larry Yee, the father of playwright Lauren Yee, who herself is played onstage by Krystle Piamonte.