Caryl Churchill's 1979 play, "Cloud 9," a poly- and chrono-morphously perverse comic drama, splits its two acts between 1880s Africa and 1980 London.
Tenderloin edge meets "Let's put on a show!" pluck in Left Coast Theatre's clothes-shedding, zinger-flinging production of "The Most Fabulous Story Ever Told."
Mary Woolley and Jeanette Marks' up-and-down coupledom is the thumping heart of "Bull in a China Shop," playwright Bryna Turner's gutsy political romance now on stage in a handsome production at the Aurora Theatre Company.
The newest show from San Francisco's most explosive comedian, Monica Palacios, is coming soon, and you shouldn't miss it.
"If I could only do one kind of performance," Mandy Patinkin explained in a recent phone interview with the B.A.R., "it would be doing concerts."
"Stomp," the so-called "international percussion sensation," played A.C.T.'s Geary Theater in San Francisco for eight performances last week, and Out There and a lot of vicarious percussionists were in the house.
Playwright Kate Attwell's "Testmatch" is about race and gender and global economic power.
Robert Townsend, who helped pioneer 1980s independent cinema with "Hollywood Shuffle," has a file cabinet's worth of autobiographical anecdotes.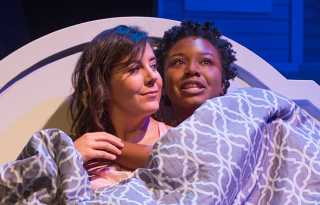 Della, the cheery proprietor of a small-town North Carolina Bakery, shares her philosophy in the opening moments of "The Cake," now at the New Conservatory Theatre Center.
You've got to give Michael Longoria, Broadway performer in "Jersey Boys" and "Hairspray," credit for being ballsy.
Evelyn, a 20ish ingenue in a cheery floral-print dress, wears a grin of unabashed delight through most of the first act of "The Daughters,"
"Elevada" is a tonic. This singular whatchamacallit of a show, being presented by the Shotgun Players through November 17, effervesces with an offbeat creativity .