Evelyn, a 20ish ingenue in a cheery floral-print dress, wears a grin of unabashed delight through most of the first act of "The Daughters,"
"Elevada" is a tonic. This singular whatchamacallit of a show, being presented by the Shotgun Players through November 17, effervesces with an offbeat creativity .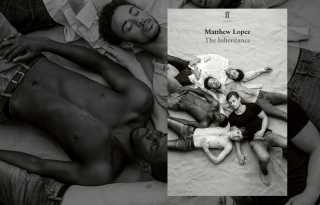 The new play "The Inheritance" by Matthew Lopez, is an epic of current gay life in New York performed in two parts, lasting a total of 7.5 hours.
"There's a huge community out there looking to see narratives about themselves, to hear stories that represent them as something other than caricatures," says director Ely Orquiza, discussing "Driven."
Afong Moy was the first Chinese woman to ever set foot in the United States. She arrived as chattel, a 14-year-old girl leased out for a tidy sum by her already well-to-do father.
During quick breaks between scenes in the thrilling Berkeley Rep production of Suzan-Lori Parks' audacious new drama "White Noise," we hear the play's titular sleep-inducing sound.
"Bloody Bloody Andrew Jackson" is a rock musical originally produced in the year of Obama's first election and now onstage at the Custom Made Theatre Co., through Oct. 27.
You don't expect a show called "Dance Nation" to be about a lack of coordination. But Clare Barron's bold, original play, at the San Francisco Playhouse through Nov. 9, is exactly that.
Even if you've never seen "Top Girls," you've likely heard something about British playwright Caryl Churchill's celebrated 1982 work.
"This Side of Crazy," written and directed by Del Shores ("Sordid Lives"), is now making its world premiere at the New Conservatory Theatre Company.
Northern Irish playwright Francis Turnly's "The Great Wave" is now in its American premiere at the Berkeley Rep, directed by Mark Wing-Davey.
"Caroline, or Change" is more than the title of Tony Kushner and Jeanine Tesori's ingenious sung-through musical, now playing in a not-to-be-missed Ray of Light Theatre production. It's an aphorism we'd be well to heed.