Holiday variety: Taylor Mac, New Conservatory's seasonal shows
Tuesday Dec 8, 2020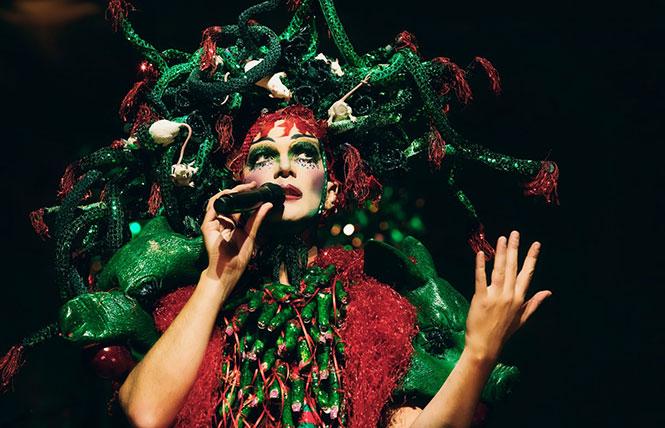 The tinsel-strewn variety show has long been a staple of December entertainment, on stage at venues like Radio City Music Hall and on the small screen, where emcees have included everyone from Mariah Carey to Miss Piggy.

This weekend, the New Conservatory Theatre Company and The Curran are doing their bit to make the season bright with queer new spins on the old vaudeville tradition. Needless to say, the endless slay-ride of Corona, the Red-Spiked Plague Year, means stage and screen will once again be conflated via the internet. Yule log in, won't you?

On Saturday, The Curran —along with other queer-friendly arts organizations around the country and the Pomegranate Arts production company— will present a one-night only performance of Holiday Sauce: Pandemic! with Taylor Mac revisiting and revising elements of the multi-act extravaganza he hosted in person here back in 2018. And on Sunday, join NCTC online as they premiere their Mighty Queer Virtual Variety Show, which will remain available for on-demand streaming through January 3.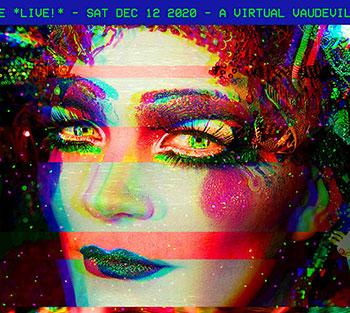 Taylor-made mayhem
MacArthur Fellow Taylor Mac has spent the bulk of the coronavirus pandemic at his home in the Berkshire mountains of Massachusetts. While his stage personae veer toward the feral, Mac considers himself to be an introvert —playwright before performer— and has enjoyed the long blocks of productive alone-time brought on by the otherwise disheartening situation. Among other projects, he's completed the first draft of a play commissioned by San Francisco's Magic Theater, which is tentatively scheduled for a late 2021 production.

"At a certain point, though," he notes, "something breaks. I'm a theater artist, so nothing I work on can really be finished until I collaborate with a whole team of other talented people."

For the past couple of years, Mac and a shifting crew of colleagues have toured the country with their Holiday Sauce variety show, which often integrates local performers in the cities it plays.

"Because we're collaborating remotely this year," he says, "Some elements of the show that have never shared a stage will be on the bill together for the first time. It's also providing a chance for me to connect with communities where our shows this year have been cancelled, and to touch base with places we've played in the past. So we're holding on to our artistic relationships, our extended families of art and activism."

The pandemic edition of Holiday Sauce will include live performances along with debuts of music videos created for the just-released album of songs from the show, which includes a glitter rock Velvet Underground/"Little Drummer Boy" mash-up, and the Mac original "Christmas with Grandma."

Livestream audiences can also expect a sacrilegious Baby Jesus appearance and brand-new costumes by the extraordinary Machine Dazzle, whose Instagram account (@machinedazzle) has elevated him to new levels of fame this past year.

The Curran will donate its share of the $10 ticket price to OpenHouse, which provides social services to LGBTQ seniors in San Francisco. Holiday Sauce: Pandemic! livestreams Dec. 12. 7pm. $10. www.sfcurran.com




NCTC gets eclectic
Richard A. Mosqueda, the director of NCTC's Mighty Queer Virtual Variety Show, says that while the eclectic, newly commissioned performances he's curated don't directly address the holidays, "I thought a lot about what this season means to people in the queer community. Holidays can be really triggering. As we come to the end of this particularly traumatic year, we wanted to give people to find something to cling to moving forward, something joyous, happy and celebratory. The theme of the evening is 'Hope Is Where the Art Is.'"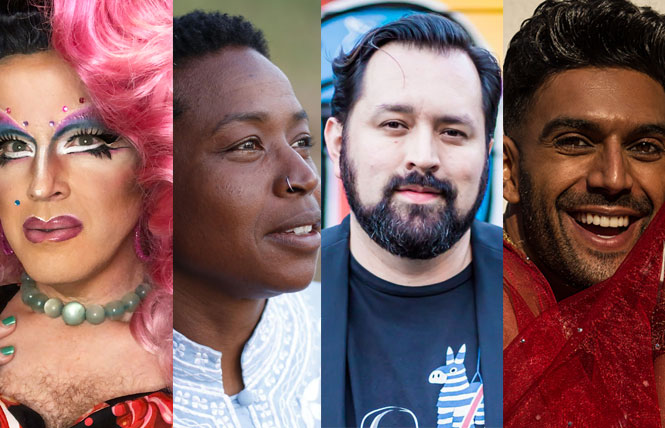 The short-take format of a variety show allowed Mosqueda to cast a wide net in selecting his acts: "I wanted to celebrate queer voices in the community who were not primarily known as theater artists."

The result is a genuinely eclectic bill that Mosqueda has built to whiz by in a light-footed 60 minutes. Performance poet Baruch Porras-Hernandez offers "13 Ways to Survive a Pandemic," a humorously poignant spoken-word piece illustrated by his own drawings. Singer-songwriter Azuah, who Mosqueda had followed for several years at open mic nights, performs an original folk/pop number filmed in sun-dappled Pinole Park. Transman aerialist Joey the Tiger does a lyrical turn, captured at the San Francisco Circus Center.

SevanKelee Lucky 7 Boult chronicles her relationship with her 80-year-old mother with ukulele tunes and watercolor paintings. And SNJV (pronounced sun-jeev) melds Fijiian and Punjabi dance traditions in a sexy, kinetic movement piece. It's all brought together by drag performer Dusty Pörn, whose interstitial musical numbers were safely filmed on NCTC's Decker Stage, accompanied and arranged by local piano legend Joe Wicht.

"For me," says dancer SNJV, "the holidays have always been about warmth and abundance and family, both chosen and given. We can't be together physically this year, but hopefully this show can provide nourishment that's even better than a piece of ham on a Thursday night. I've never been a gift-giver. I'm a hugger. My hug for everyone this year is this performance."

The Mighty Queer Virtual Variety Show streams on-demand Dec. 13 — Jan. 3. Pay what you can, $10-$40. www.nctcsf.org




Help keep the Bay Area Reporter going in these tough times. To support local, independent, LGBTQ journalism, consider becoming a BAR member.