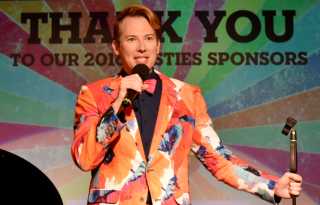 Thank you very much, it has been both humbling and encouraging receiving your generous support when so many are also in need of help. So far, we have raised just over $25,000 and are just 15% away from reaching our goal of $30,000.
Stars of television and music will take part in two online events this week to raise people's spirits as well as some money for LGBT community centers that are struggling financially due to the novel coronavirus outbreak.
When Cate Blanchett told her mother she was going to portray Phyllis Schlafly, she replied, 'Why would you want to play someone like that?' And Cate said, 'Because you just asked me that question. I want to find out who she is.'"
According to Ryan Murphy, "Casting a television show is like casting a dinner party. It's like, 'Well, who do I want to sit next to for the next six months of my life?'" In the case of his new Netflix series 'Hollywood,' Murphy has set an amazing table.
Years after her festival hit 'Saving Face,' writer-director Alice Wu discusses her second movie, 'The Half of It.' A queer 21st-century take on Cyrano de Bergerac, debuting on Netflix on May 1, Wu's teen rom-com introduces a trio of bright young actors.
The Lavender Tube covers 'Grey's Anatomy' star Ellen Pompeo takes down fake doctors, sapphic spies on 'Killing Eve,' bi bites in 'What We Do in the Shadows' and gay dads on PBS Kids.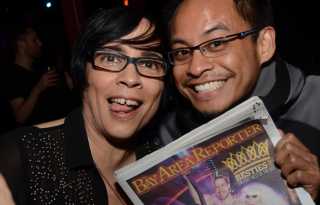 San Francisco is one of 11 US cities that is fortunate to have a legacy LGBT publication by us, for us, and about us. Help preserve the BAR as an historic and important community institution for the future.
Netflix's 'Tiger King: Murder, Mayhem and Madness,' is the hottest show in America right now. But many other hit shows with LGBT characters (minus the murder, mayhem and well, a bit of madness) are either free online or available on subscription.
Joseph Caldwell's 'In the Shadow of the Bridge' is a heartfelt memoir about being gay in the New York City of the 1950s an '60s, as well as a remembrance of the peak years of the AIDS crisis.
Welcome to the new dystopia. While we are self-isolating for the foreseeable future, let's make our time in quarantine as manageable as possible and create a TV routine that is helpful, not harmful.
Oakland couple Richard Board and Flynn DeMarco's first bit of notoriety for their shared love of Legos came in 2018 when they wowed the crowd and judges at the annual Bricks by the Bay convention. They recently appeared on the TV show 'Lego Masters.'
We watched ABC's two-hour fright-fest special on "20/20," "Coronavirus: Outbreak," and it was flat-out terrifying.