Liberation of Norma
Tuesday Nov 26, 2019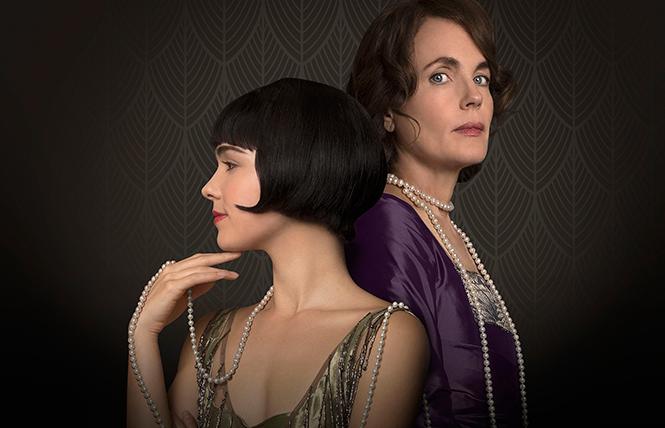 How does one lead an authentic life in light of oppressive attitudes that thwart one's attempt to find happiness? This is the question posed by "The Chaperone," a PBS Masterpiece movie that had a limited run in theaters, but is broadcast this month on KQED and available for streaming until the end of December. While reviews were mixed, the picture seems more suited for television and should experience a welcome reception by fans of "Downton Abbey," as it stars Lady Grantham herself, Elizabeth McGovern, with a script by "Downton" creator Julian Fellowes based on a best-selling novel by Laura Moriarty. McGovern recorded the audiobook, loved the story, and, seeing a rare plum role for a middle-aged woman "learning how to own her own sexual life," optioned the book, asking Fellowes to pen the screenplay, and convincing rising star Haley Lu Richardson ("Edge of 17") to play the other lead role. The acting redeems a hokey but intelligent script to deliver an adroit movie about the 1920s that will resonate with today's #MeToo milieu.

Norma Carlisle is an unhappy society matron and patron of the arts in 1922 Wichita, Kansas, married to a lawyer (Campbell Scott) whom she discovers is having an affair with another man. Attending a recital given by 15-year old modern dancer Louise Brooks (Richardson), mesmerized by her performance, and seeking refuge from her domestic prison, she seizes Louise's socialite mother's offer to act as chaperone traveling with Louise to New York City to audition for a position at the innovative Denishawn school/dance company run by Ruth St. Denis (Miranda Otto, funny as a pretentious artist) and her gay husband Ted Shawn (NYC Ballet principal dancer Robert Fairchild). Brooks would later become the famous silent film star who caused a sensation with her bob hairdo and flapper lifestyle, epitomizing a new understanding of womanhood.

"The Chaperone" is about Norma's liberation as she takes the opportunity to find the identity of her birth parents. She was raised in the New York Home for Friendless Girls, a Catholic orphanage. The nuns refuse to give out any information, but she makes a friend in Joseph Schmidt (Geza Rohrig), a German immigrant handyman whose daughter lives in the convent. He helps Norma locate her mother (incandescent Blythe Danner), whom she meets in Central Park. But her mother doesn't want to acknowledge or introduce Norma to the rest of her family. Norma and Joseph become lovers. After Louise is accepted by Denishawn, they return to Wichita with an unconventional family arrangement, integrating old and new lives.

Much criticism concerned a lack of attention to the more captivating Louise Brooks story. But the film, like the book, focuses on the relationship between the women and Brooks' influence on Norma. On their train ride to NY, they get acquainted, testing each other's boundaries. Norma objects to Louise's sexual precociousness, cautioning her, "Men don't like candy that's been unwrapped. They don't know where it's been." Louise declares, "I don't intend to live the way I was brought up." Later she will confess to a shocked Norma, "Please don't worry about me losing my virginity. I didn't bring it here. I left it somewhere in Kansas."

Brooks' subversions of social and gender norms will enable Norma to reinvent her domestic life, but the screenplay lapses into moralism. In a postscript 20 years later, an alcoholic, broke, and disillusioned Brooks, her career in ruins, implies she might have gone too far. This time Norma will play the mentor, helping Louise salvage her life.

The scenes of the two women sparring back and forth are the film's highlight. McGovern is transcendent, a woman in transition as she liberates herself from corseted traditions. Richardson shines, making us believe Brooks was star material from the start, sensual and spirited. The viewer will long for a movie about Brooks alone.

The film mildly satirizes Prohibition and hypocritical morality. Despite a low budget, the costumes, production design, and cinematography capably recreate frenetic Jazz Age NYC, as does Michael Engler's direction. With its stellar cast, "The Chaperone" surmounts its limitations, tracing the roots of contemporary mores we take for granted.
Comments on Facebook