Groove Tube: the B.A.R.'s five decades of TV turn-ons
Tuesday Apr 6, 2021
A 50th anniversary is an extraordinary event. In a culture that regularly cancels itself, the existence of something valued and valuable for a half century remains an accomplishment.

The nearly 30 years that I have been writing The Lavender Tube TV column for the Bay Area Reporter has been an evolution of both the medium and the message. In 1994, then-B.A.R. Arts Editor Chris Culwell asked me to write about TV for the paper. It began as an experiment: The early columns were meditative and musing. A lot of what-if so-and-so was gay about various TV characters like The X-Files' Dana Scully (Gillian Anderson) and Law & Order: Special Victims Unit's Olivia Benson (Mariska Hargitay).

I have had three terrific editors at B.A.R. —Chris Culwell, Roberto Friedman and Jim Provenzano— all of whom have given me leeway to highlight where we remain most lax in our community and society. Politics has been part of the TV column because being marginalized and excluded is a political act that must be countered with rebellion.

For nearly 30 years I have kept the "I" voice out of The Lavender Tube, so this marks a divergence. It is hard to narrow the discourse to just a handful of shows over so many years and hundreds of columns, but here are some of the LGBTQ stories that spurred controversy or altered the landscape. I will write more about the history of TV as explored in B.A.R. again throughout this anniversary year. This is part one. So as I note in every column, stay tuned.


The 1970s
In the 1970s and 1980s, there was very little TV with openly queer content. It's different now; LGBTQ representation is infinitely better, if still not where it should be. And unlike those early decades, we have GLAAD to detail every little LGBTQ nuance that constitutes that representation in their annual report, about which I write—and sometimes pointedly refute—each year.

We've come a long way from Billy Crystal's Jodie Dallas on Soap in 1977. (Bay Area Reporter, January 18, 1979, p.26) Far enough, in fact, to have Crystal turn homophobic 40 years later.

In January 2015, Crystal was at the Television Critics Association meeting where he was talking about homophobia he had encountered when he starred as Jodie Dallas on the ABC sitcom.

Crystal said, "It was very difficult at the time. Jodie was really the first recurring [gay] character on network television, and it was a different time, it was 1977. So, yeah, it was awkward. It was tough. I did it in front of a live audience, and there were times where I would say to Bob, 'I love you,' and the audience would laugh nervously, because, you know, it's a long time ago. Then I'd feel this anger. I wanted to stop the tape and go, 'What is your problem?'"

Yet then Crystal said that graphic scenes of gay sex on TV have gone too far. He said "modern day" TV shows are guilty of "pushing it a little too far" and "shoving it in our faces." So much for icons.

The B.A.R.'s Entertainment Editor, Donald McLean, did a column in the 1970s called Show Biz (april 3, 1975)
McLean was also Lori Shannon, a well-known female impersonator who appeared on All in the Family as Beverly LaSalle, a close friend of Edith's. In one of the episodes, Archie Bunker gives the 6'5" Beverly mouth-to-mouth resuscitation, and of course, hilarity ensues. McLean died suddenly in 1984 of a heart attack at only 45.
The 1980s
1980's Gay Power, Gay Politics, a CBS documentary, aired nationally and stirred up quite the controversy due to its portrayal of gay life. At a CBS affiliates meeting in Los Angeles at the Century Plaza Hotel, 500 gay activists staged a sit-in (historical write-up, April 4, 1996).

Right on page 2 of the B.A.R., in a sign of those times, is the headline: 'Reynolds Goes on TV to Deny He Has AIDS.' The story details how actor Burt Reynolds appeared on Entertainment Tonight in an interview with Rona Barrett to refute rumors spread throughout San Francisco that he was dying of AIDS.(Bay Area Reporter 22 August 1985).




I wrote a biography of Rock Hudson in the 1990s. He was tortured, he was typecast, he was very gay. The leading man of dozens of films in the 1940s, '50s and '60s shifted to TV in the 1970s and in the 1980s starred on the prime time soap, Dynasty.

It was during his tenure there that Hudson revealed he had been diagnosed with AIDS, the first celebrity to do so. (B.A.R. August 8, 1985) He died of complications from the illness and never did come out publicly as gay.

In 1987, the BAR published 'Homoeroticism and Pee Wee Herman: Could the Secret Word Be Gay?' (B.A.R., April 2, 1987), which mused on the encoded language and activities of Pee-Wee's Playhouse, a CBS children's program which ran from 1986 through 1990.
The ABC drama Thirtysomething created an ongoing furor when in a prime-time television first, the show portrayed two gay men, series regulars Russell (David Marshall Grant) and Peter (Peter Frechette), in bed together.

Sponsors pulled advertising for that episode. The New York Times estimated that ABC lost $1.5 million in sales. Though the show's producers insisted the controversy would "not affect how we write the show," the episode was not repeated and the show never showed the couple in a physical clinch again. November 23, 1989)

The 1990s
Writing about TV was not without its pitfalls. One irate letter-writer (B.A.R. February 12, 1998) complained I had wrongly insinuated that Rosie O'Donnell was gay because she had hired out lesbian comedian Kate Clinton as a writer on her show. O'Donnell came out publicly in 2002.

Throughout the '90s one of the singular issues I wrote about often was the disparate treatment of AIDS on TV. Major story lines ran on daytime soaps, nearly all of which had a character with HIV/AIDS, while prime time pretended it didn't exist. The Young & the Restless, General Hospital, As the World Turns, Guiding Light,and Days of Our Lives all featured these stories while prime time ignored the fact of the AIDS pandemic in our midst.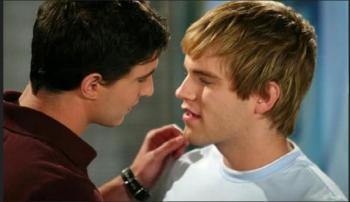 The 2000s
The romance between Luke Snyder (Van Hansis) and Noah Mayer (Jake Silbermann) on the daytime drama As the World Turns made history on August 17, 2007, when the show "featured the first-ever" gay male kiss in American daytime. The kiss was later labeled "legendary" and was, at the time, one of the most viewed selections in the history of YouTube with over 2 million hits. (B.A.R. Sept. 14, 2010)

In "Real TV makes us weep," (B.A.R., Feb. 17, 2009 ), it was Valentine's Day 2009 when the marriage of Bianca Montgomery (Eden Riegel) to Reese Williams (Tamara Braun) on ABC's All My Children, became TV's first legal lesbian wedding. AMC creator Agnes Nixon said she had wanted to present a gay storyline on the soap and have it be intricately connected with family, thus tell a true story about being gay in America.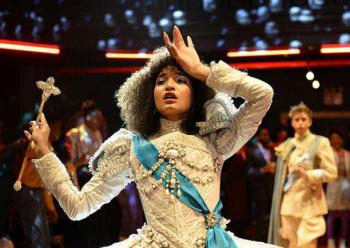 The 2010s
Glee. Ryan Murphy took us back to high school to let us relive those hell years with people who accepted us and wanted us to thrive. Gay, bisexual, non-binary, trans —even straight— the students at McKinley High were us and we loved them. Glee was also the series that turned Murphy into a juggernaut, launching careers and the American Horror Story franchise, among others. (B.A.R. Oct. 8, 2013)

LGBTQ people are also Black, Latinx, Asian and Native American. It only took decades to get to this place of multiculturalism on TV (B.A.R. July 28, 2015).

One of the people who put us there is Shonda Rhimes, who created storytelling on several flagship shows, Grey's Anatomy, Scandal and How to Get Away with Murder that gave is queer characters of color, older queer characters and gay men who had real sex and lots of it. (B.A.R. Oct. 7, 2014)




Trans people exist. That was a huge message —finally!— on TV in the 2010s: Transparent, Glee, The Bold and the Beautiful, Supergirl, Euphoria, Dispatches from Elsewhere and The L Word: Generation Q were among the series that put trans characters in the foreground and employed trans actors for the roles (B.A.R. April 7, 2020). Jazz Jennings's reality series I Am Jazz showed a young trans girl come of age—and activism (B.A.R. Jan. 15, 2019).

But it was Pose that broke all the rules, all the ground and all our hearts. The tale of ballroom culture and the rise of the AIDS pandemic was the AIDS story we didn't realize we needed so desperately. And it was the story of Black and Latinx trans women and gay men that felt so real we could have walked into their world and been home Dec 18, 2018 and June 20, 2018).

Now
One of the pivotal changes on the TV landscape that I've written about here over the past few years is how LGBTQ teens are having real relationships.

On This Is Us, NBC broke ground with the relationship between Tess and Alex, who first came out as lesbian and then as non-binary. Tess's mother, Beth, walks into Tess's bedroom without knocking, to find the couple kissing. Beth is shocked, Tess confronts her about why (her sister Deja has a boyfriend) and says she may never feel close to her mother again.

It's powerful stuff and such a long way from 1970s TV. Stay tuned.

Help keep the Bay Area Reporter going in these tough times. To support local, independent, LGBTQ journalism, consider becoming a BAR member.