Pride, Pose, Dear... and more: The Lavender Tube on Supremes, progress and Pride programming
Tuesday Jun 16, 2020
The Supreme Court gave us one helluva Pride gift with their employment ruling. The Trump administration had even fought their own EEOC to try and keep us from federal employment protections. That Trump's own hand-picked conservative justice, Neil Gorsuch, wrote the 6-3 opinion made the victory all the sweeter.

Keep hanging out on the wrong side of history—first we came for the Confederate statues, next we come for you. As Janelle Monáe wrote on Twitter after the decision, "It's upsetting that there needed to be a ruling to protect human lives—the real question is why this had to be voted on in the first place."

Of course there isn't a moment to exhale. The Trump administration has made it legal to discriminate against gay and trans people in healthcare—in the midst of a pandemic and on the anniversary of the Pulse nightclub massacre. Black people are still being killed by police despite the protests across the country. Hate crimes against LGBTQ people are up exponentially—1 in 5 hate crimes is against LGBTQ people, according to the FBI. Pride is virtual this year, due to the pandemic. All of this is on a non-stop loop on CNN, adding to our collective trauma.

So keep making your own Pride, because as Audre Lorde taught us, self-care is a radical act. Settle in and watch some TV that is guaranteed to make you feel empowered.

Season 2 of Ryan Murphy's Pose dropped on Netflix June 11. Set in the diverse ballroom culture of the 1980s and '90s, the FX series is like nothing else on TV. Pose is the queerest thing you've ever seen. Starring a retinue of trans women actors, including the luminous Indya Moore, Pose has at its focal point the incredible Tony- and Emmy-winning Billy Porter as the emcee Pray Tell.
If you need sustenance to keep protesting or because you want to be but can't be in the streets, Pose is what you need right now. These stories of queer and trans lives in the midst of the threat of AIDS and the turmoil of the fight for our very lives is very much a story for now, even as it tells a tale of our collective history.

Pose is lush and fierce. It is powerfully written and wonderfully acted. Pose is about our authentic lives and the realness of our collective truth. It will make you cry, but it will also give you hope.

Could there be a more necessary time for self-care? The fifth season of Queer Eye has dropped just in time. The Fab Five, Antoni Porowski, Tan France, Karamo Brown, Bobby Berk and Jonathan Van Ness bring all their Big Queer Energy to this new season.

Queer Eye's messaging is so critical: The power of growth and change, the importance of taking control of your life, the need to amplify and embrace your self-worth: it's all there. Let the Fab Five show you how radical self-care is done.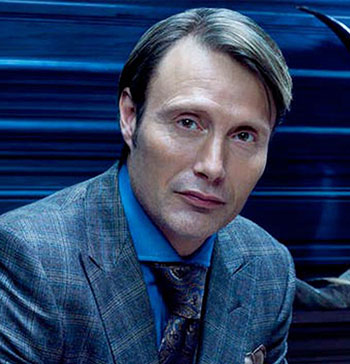 One of the most perverse, homoerotic and exquisitely beautiful series ever is now on Netflix for Pride. All three seasons of out gay showrunner Bryan Fuller's brilliant tour de force, Hannibal, are not to be missed.

Fuller's psychological thriller is re-crafting of the Hannibal Lecter horror series and is as extreme as it is maddeningly alluring. Fuller (Pushing Daisies) is a master of the visual feast and there is not a single frame of this incredibly self-indulgent repast that isn't as exquisitely rendered as are the bodies Hannibal butchers with the loving care of a true aesthete.

Danish actor Mads Mikkelsen is phenomenal as the sexy/ dangerous Dr. Hannibal Lecter, attractive/attracted to men, women and large animals. As he prepares extraordinary meals rendered with all the visual beauty of a Dutch still life, we are both horrified —he is, after all, a cannibal— and rapt.

This is the stuff of nightmares and fever dreams. The relationship between Hannibal and FBI investigator Will Graham (Hugh Dancy as the best bottom ever) redefines sexual tension.

It's difficult to imagine that this show was ever on network TV, and yet, someone must have truly loved it. Hannibal also stars the magnificent Caroline Dhavernes, the iconic Gillian Anderson (The X Files, The Fall) and the perennially under-rated Laurence Fishburne (The Matrix, black-ish).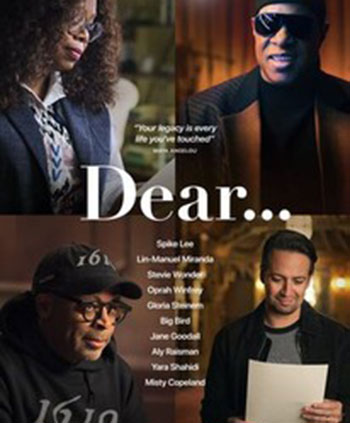 We need inspiration these days. We need feel-good stories. We need hope. We get all of that in Apple TV's new series Dear... which highlights 10 iconic Americans (Spike Lee, Oprah, Lin Manuel-Miranda, Misty Copeland, Stevie Wonder and Gloria Steinem, among others.)

A ten-episode documentary series executive produced by Emmy- and Peabody Award winner R.J. Cutler, the series debuted last week on Apple TV+.

Dear... takes a nouvelle approach to biographies of these iconic figures by using letters written by those whose lives have been changed through their work. It's a stunningly powerful platform and a deeply emotional experience. Dear... makes one think about the legacy each of us is leaving and how we can touch and improve the lives of others with our own example.

Apple TV+ is available on the Apple TV app as well as at TV.Apple.com, for $4.99 per month with a seven-day free trial. AppleTV+ has a plethora of new series that are exceptional, so you might want to try it out for the price of a latte.

HBO is presenting their first ever digital Pride on the Human by Orientation site. HBO's Pride festivities begin on Juneteenth. The virtual programming includes musical headliners, a drag brunch, underground DJ sets, a queer comedy night and more. All events are free to attend. The celebration will feature performances by queer and trans people of color with art and music by Papi Juice.

HBO's virtual Pride concludes with an intimate performance with headliner Janelle Monáe on Sunday, June 28.

Stay safe, stay prideful and remember that there has never been a more vital time for you to stay tuned.


Editor's note: If you liked this article, help out our freelancers and staff, and keep the B.A.R. going in these tough times. For info, visit our Indiegogo campaign. To donate, simply claim a perk!
Comments on Facebook