Welcome to the Tabula Rasa 2020s!
Monday Dec 30, 2019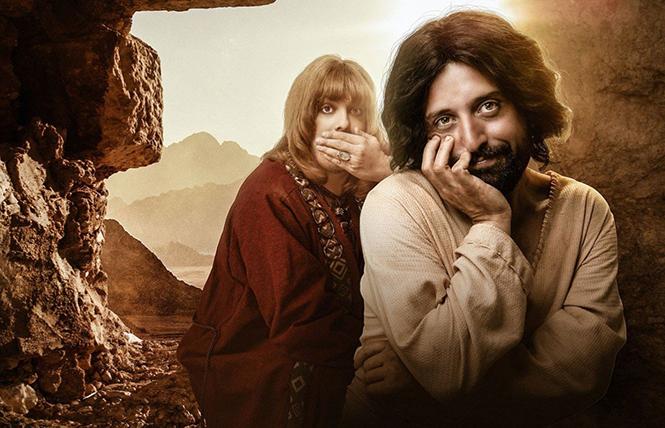 Out with this old, incredibly tired and shop-worn year that looks like bad orange pancake applied with a Mr. Clean eraser on a wig stand with a whip-and-chill swirl where the hair should be. Out with that image and all it stands for. In with the new decade!
The Tabula Rasa 2020s are upon us, and oh are we here for them. We want LGBTQ everything, please. Starting with our TV, since nothing says exhausting like mid-week holidays. Thank goodness for eight days of Hanukkah and 12 days of Christmas so we have time to settle into the New Year and new decade.
Back in November, GLAAD published their annual 40-page "Where Are We on TV" report about how many LGBTQ characters there are on the tube. Not enough. Two things popped for us: GLAAD cited a study that suggests 20% of Americans are LGBTQ (so ready for that to be true, since about 85% of our friends are LGBTQ) and that networks and streaming services should be proffering 20% LGBTQ characters by their next report.
Sounds like such a good way to open the Tabula Rasa 20s. But then as we sat down to write this column, what do we see but the hashtag #CanceloNetflix on Twitter. Por què, por favor? The straights are upset again because they saw something a little gay on TV. So tiresome. Imagine if we got upset and demanded a boycott every time we had another heterosexual coupling thrown in our faces?
A Brazilian comedy troupe, Porta dos Fundos, is a YouTube video channel where the five principles — Fabio Porchat, Antonio Pedro Tabet, Gregorio Duvivier, João Vicente de Castro and Ian SBF — have been uploading their irreverent political comedy since 2012. On YouTube they became the first Brazilian comedy group to reach 10 million viewers. In 2014 they signed with Fox, then for Christmas they debuted their 46-minute feature film "The First Temptation of Christ" on Netflix.
Just a little "boy goes to spend 40 days in the desert contemplating the fate of the world and comes home to his parents with his new boyfriend" rom-com. The part that upset people was that the boy was Jesus Christ, the boyfriend's name was Orlando (Bloom, Jones or the Virginia Woolf lesbian character in the eponymous novel?), and the suggestion was that the two were an item. Conservative heterosexual outrage ensued. Inexplicably.
We say inexplicably because for two millennia Jesus has been portrayed as a low-key bisexual, moving seamlessly between St. John and Mary Magdalene as his two favorite people. "Jesus Christ Superstar" created a furor with Jesus' relationship with Magdalene back in 1971 when the musical debuted.
Christ's sexuality has always been a bit of a down-low situation — no overt sexuality portrayed in the Gospels. Yet the relationships were also pretty distinct in those same gospels: "The disciple whom Jesus loved" and the retired sex worker Magdalene, whom he protected and hung out with when no other women were around. If you spent nine years in Catholic school and countless hours in Sunday school and catechism class, then took classes in liberation theology in college like we did, you would fully believe Jesus was at least bi, if not outright gay.
But once Christians south of the border heard about "The First Temptation of Christ," they tried to pull a One Million Moms boycott for Christmas. The hardliners went further and firebombed the offices of Porta dos Fundos on Christmas Eve. Because nothing says you "love your neighbor as yourself" as Christ commanded like trying to burn people alive at the office on Christmas Eve. Fortunately no one was injured.
Earlier in 2019, Rev. Pat Robertson ranted on his popular TV show "The 700 Club" (ironically on our birthday) that Jesus wasn't gay. Robertson said, "I hate to say it, but the homosexual agenda has gotten so pervasive, it is taking the thought processes of colleges, universities, all the way up and down the line, the bathrooms, and all the transgender, and so forth." ("And so forth" is covering a lot of territory there.)
The homosexual agenda, Robertson argued, "is a lie from the devil. Jesus Christ, you know, was the perfect man. He obviously wasn't engaged with any relationship with any fellow man. And there's no support for that in the Bible whatsoever. Nothing in history. Nothing whatsoever. But it is a fiction that is created by the tiny minority who are in that L, G, B — all those numbers." Wait till Robertson hears about the gay Jesus of Netflix. We would love it if folks who call themselves Christians could be more, well, Christ-like in the New Year.
Gen Qers
As we start that new decade there are lots of things we want to see on the tube. More gay, lesbian, bisexual, queer, trans, gender-nonconforming and non-binary folks, to start. We need LGBTQ-NB-GNC characters in every age group and of every race and ethnicity and economic/class strata. We need to get those folks behind the camera as well, so we can get that representation happening. We need those people and that diversity in the writers' rooms and in the directors' chairs. The results don't all have to be perfect shows, but they do have to exist.
That whole spectrum of diversity is on display in "The L Word: Generation Q," which was on our Best of 2019 list. "Gen Q" debuted on Showtime Dec. 8, just in time to take the old decade out with a bang and be ready to ring in the new with the proverbial ball-drop.
"Gen Q" is our fave new show for 2020 because it is hip to the new decade and to who lesbians and lesbian community are. Fluidity is portrayed in all its messy accuracy. There are the married and monogamous lesbians, and there are those women you find absolutely adorable late at night in that dark make-out corner of the club, but then in the light of day sans buzz you are all what-the-whut.
We also like seeing two generations of trans men doing something other than being the token trans character and standard-bearer for an entire group. They have real lives, just like in real non-TV life. And among the lesbians, there's no fear of the butch, no femmephobia, no conflation of bi and lesbian, or vice versa, like on so many series.
What makes "Gen Q" work is that we know these people, they are already in our lives. But equally important, we don't have to wait for them to arrive on screen: "The L Word: Generation Q" is all queer, all the time. More of that, please.
Love the sinner
More, too, of gay actors in series. One of the best new series is the upcoming Season 3 of "The Sinner." Set your DVR now for this, because it looks to be the best acting of Matt Bomer's long career. While Bomer doesn't play a gay character in the series (or does he?), having out gay actors on screen is also critically important to broadening LGBTQ representation.
"The Sinner" is an anthology crime drama based on the novel of the same name by German crime writer Petra Hammesfahr. Detective Harry Ambrose (Bill Pullman) is a deep, dark guy with a sadomasochism fetish that has made for some of the most amazing scenes in this thriller series.
Pullman is magnificent as the rumpled, noir-ish and broken Harry. In Season 3 he investigates a fatal car accident in Upstate New York. Jamie (Bomer) was in the car. So was his friend from college, Nick (Chris Messina, "The Mindy Project"). Also starring Jessica Hecht ("Breaking Bad") and Parisa Fitz-Henley ("Jessica Jones," "Luke Cage"). The series begins Feb. 6 on USA.
For Trekkies, the universe has much to offer. On Jan. 23, CBS All Access debuts a new "Star Trek" series with Patrick Stewart as the erstwhile (and best) captain, Jean-Luc Picard. In "Star Trek: Picard," the events of the film "Star Trek: Nemesis" are revisited 20 years later. Picard has never fully recovered from the death of Data and the destruction of Romulus. There will be a lot to unpack here. And some of it will be queer.
Megan Abbott is a brilliant writer. Her novel "Dare Me" could not be more perfect for adaptation to TV. And with Abbott at the helm for the writing and development, it was bound to be lit. It is. "Dare Me" the series follows the lives of competitive high school cheerleaders in a small Midwestern town. As USA says about the series, which debuted on Dec. 29, "Small town. Big drama. There's something dangerous about the boredom of teenage girls."
Oh yes. This is "Pretty Little Liars" on steroids, "13 Reasons Why" without the boys being so omnipresent. Abbott is in palpably 1940s-style noir territory, and she totally loves it there. This is Abbott's home base from her books, and she makes the transition to TV — alas, having to divest of her dynamic interstitial prose and replacing it with atmosphere — seamlessly. These girls far outstrip the boys they cheer, and their competitiveness knows no bounds. They are injured, they are scarred, they are terrorized by the work, the competition, the future. But the now: that is everything.
We talk endlessly about the damage to boys in sports, but never (the serial sexual assaults of Dr. Larry Nassar on hundreds of young female gymnasts notwithstanding) about what happens to the girls. "Dare Me" takes us there. Think about the courage it takes to be tossed in the air by a group of girls and hope they catch you so you don't break your back and legs and crush your own skull.
Sleek, atmospheric, incredibly dark and smartly acted, this is a series about ambition and sex, gender imbalance and things that happen in small towns that cannot be undone. Mesmerizing. Oh, and deeply, darkly queer.
We will watch anything with Alan Cumming, one of our favorite queer actors. We were fortunate enough to see him onstage in "Cabaret," and we can't think of anything in which he is not good, even if what he's in is sketchy. Cumming co-stars in "Briarpatch," a noir series executive produced by Sam Esmail ("Mr. Robot") and starring Rosario Dawson, best-known lately for her starring role as the woman Sen. Cory Booker refers to as "my boo."
"Briarpatch" is a dark-but-quirky thriller in the "Better Off Saul"/"Imposters" style. Allegra Dill (Dawson), a private investigator, returns to her border-town Texas home after her sister, a cop, is murdered. The search for her sister's killer turns into an all-consuming battle to take on the wanton corruption in her hometown. This is pulp fiction at its most alluring — stylish yet incredibly creepy. Animals have escaped from the zoo as the series opens, and it is both comical and ghastly.
In addition to Dawson and Cumming, "Briarpatch" stars Jay R. Ferguson ("Mad Men," "The Romanoffs"), Brian Geraghty ("Chicago P.D.", "Ray Donovan") and Edi Gathegi ("StartUp"). Shot in the extraordinary light of Albuquerque, New Mexico that mesmerized Georgia O'Keeffe for decades. Premieres Feb. 6 on USA.
"Awkwafina Is Nora from Queens" is a new comedy series premiering Jan. 22 on Comedy Central from the award-winning rapper and breakout star of "The Farewell" and "Crazy Rich Asians." In addition to starring in the series, Awkwafina created and wrote the half-hour show, which is inspired by her life growing up in Flushing, Queens. Awkwafina plays Nora, who is being raised by her dad (out gay actor BD Wong) and Grandma (Lori Tan Chinn) alongside her cousin (Bowen Yang, the newest cast member on "SNL" and one of only a handful of out gay cast members), Nora Lin leans on her family as she navigates the vicissitudes of life as a 20something in New York to high and NSFW comedy.
"Zoey's Extraordinary Playlist" is like grown-up "Glee" with a little "Crazy Ex-Girlfriend" added. The always delightful Jane Levy ("Suburgatory") stars in this high-concept drama as Zoey Clarke, a whip-smart computer coder forging her way in San Francisco. After an unusual event, Zoey, who always preferred podcasts over pop songs, suddenly starts to hear the innermost wants, thoughts and desires of the people around her — her family, co-workers and complete strangers — through popular songs. At first Zoey questions her own sanity, but after getting some guidance from her musically adept neighbor Mo, and making a breakthrough with her ailing father, Zoey soon realizes this unwanted curse may just be an incredibly wonderful gift as she connects with the world like never before.
Zoey's bestie Mo is played by Alex Newell, who played Unique Adams on "Glee." Newell identifies as a cis gender nonconforming gay man, so you know this friendship is going to be gay and lit. The cast includes Lauren Graham ("Gilmore Girls"), Peter Gallagher ("The O.C."), Oscar winner Mary Steenburgen, among others. Premieres Jan. 7 on NBC.
So for all that is fresh and new and Tabula Rasa 20s, you really must stay tuned.
Comments on Facebook