Putting the GLAAD report in context
Tuesday Nov 19, 2019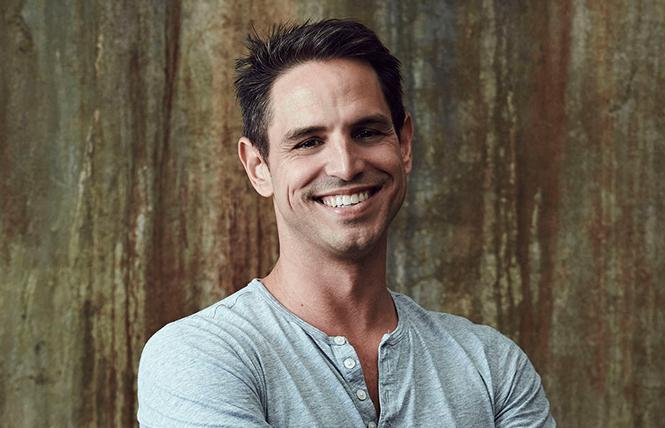 The big TV story of the decade is the impeachment inquiry. It is both riveting and terrible. How it will play out is anyone's guess given the cravenness of the GOP. So we can but watch, witness and be appalled by first, Donald Trump, and then his cohort of quislings, like Devin Nunes and Jim Jordan. The daily wrap by House Minority Leader Kevin McCarthy has been a testament to what it looks like to choose the wrong side of history repeatedly.
But there are heroes in this debacle: Maria Yovanovitch, Fiona Hill, Alexander Vindman and others who refused to be cowed by Trump. And there is, of course, Speaker Pelosi. That there remain people with integrity and honor during this most dishonorable of times is something we cannot and must not lose sight of.
Plus, watching Pelosi school Trump on the definition of exculpatory was truly fabulous. If you missed that, be sure to watch. Even Fox News aired it.
Unsurprisingly, we spent a lot of our week retreating to the world of holiday baking shows, and we urge you to watch the Food Network's incredibly gay "Thanksgiving Pie Fight." It's amazing for both the pies and the queens and the fantastic host, Sunny Anderson. It is available online also. Wait till you see the skyscraper pies!
So we had promised ourselves no more medical series while we deal with serious illness like millions of other Americans, but there we were Nov. 14 watching the 350th episode of "Grey's Anatomy," because how could we not when Meredith Grey's medical license was on the line and she is one of our spirit animals? The episode was in many ways a flashback on the years of our heroine's long (now in its 16th season) career as a surgeon. Dr. Grey is the kind of surgeon who always puts patients first, which is how she got into trouble for using someone else's insurance to cover a very sick uninsured child.
But did the gay guy have to be the one responsible for Meredith having her license on the line? Yes, as we discovered in the final five minutes of the episode, Dr. Levi Schmitt (Jake Borelli) was the one who told the administration of Meredith's illegal action. So the last minute of the episode was every other intern looking at Levi with revulsion and getting up and walking out. Sigh.
Jake Borelli, who is openly gay, coming out on Instagram when his character came out on "Grey's," is set to play the lead in an upcoming gay romantic comedy on Freeform called "The Thing About Harry," which will also star "Queer Eye" culture expert Karamo Brown. Deadline reports that Borelli will star with newcomer Niko Terho in the road-trip rom-com. Borelli plays lead character Sam, who Freeform describes as a "handsome, funny, neurotic, intelligent gay man" who has both "a scathing wit" and "an overly idealistic worldview." Sam came out when he was still in high school and was constantly bullied in his small Missouri town. Drop-dead gorgeous and ripped Terho plays Harry, an "emotionally uncomplicated, promiscuous player" (yes, they wrote "promiscuous," like it's 1980) who secretly "yearns for love, family and stability," even though he is commitment-phobic. "Queer Eye" Brown plays Paul, an "overbearing and pretentious gay man" in the rom-com. Of course he does.
The producers are excited about the made-for-TV film, releasing a statement that says, "It's been an honor to partner with Freeform in making great television with LGBTQ+ characters as leads." Executive producers Peter Paige ("The Fosters"), Greg Gugliotta and F.J. Denny said in a statement, "True equality can only be achieved when you see yourself reflected in the movies, music and stories that paint our culture."
In a very moving additional statement, they said, "As young gay men in the 90s, whenever a rom-com opened, we would watch the leading lady fall in love, and imagine what it would be like if the boy was saying all those things to another boy. We've always wanted to make a movie, an unabashedly romantic comedy, that queer boys wouldn't have to translate. It's rewarding to take the genre to a new, all-inclusive level." Missouri with hot gay guys for Valentine's Day? You could do worse.
GLAAD reports
That statement from the producers of "The Thing About Harry" speaks to where we are right now on the tube: queer producers and writers trying to broaden the landscape to be more inclusive while straight powers-that-be still don't see LGBTQ people. GLAAD released its annual "Where We Are on TV" report last week. The comprehensive forecast of the LGBTQ characters expected in primetime scripted programming in the 2019-20 television season is critical to charting where we are with regard to overall visibility. And while GLAAD doesn't monitor unscripted shows, we do.
Reality TV has had a banner 2019 for highlighting LGBTQ people in every venue of unscripted shows. Entertainment contests like "The Voice" and "America's Got Talent" have continually had queer, trans and nonbinary people among their contestants. Cooking and design shows have been a great venue for queers. And 2019 even gave us a truly LGBTQ dating show with its all-LGBTQ casting of an entire season of "Are You the One?," which we truly loved.
In its 24th year of tracking LGBTQ characters on broadcast and cable television, GLAAD has got better at discerning what is truly a queer/trans character and what isn't. This is the 15th "Where We Are on TV" report, and you can read it in full online for more details.
In 2015 GLAAD expanded its count to include LGBTQ characters on original series that premiere on the streaming content providers Amazon, Hulu, and Netflix. Those venues have added considerably to the number of queer and trans characters on TV. Some original series on those venues are specifically geared toward an LGBTQ audience, and dealing in subject matter we have not seen on broadcast or even cable TV like "Orange Is the New Black" or "Transparent."
GLAAD's report says of the 879 series regular characters expected to appear on broadcast primetime scripted programming in the coming year, 90 (10.2%) were counted as LGBTQ. This is the highest percentage of LGBTQ regular characters GLAAD has counted on primetime scripted broadcast programming, and up from the previous year's 8.8%.
GLAAD lauds the networks, noting, "Last year, GLAAD called on the broadcast networks to ensure that 10% of primetime broadcast scripted series regulars were LGBTQ by 2020. In just one year, the networks met and exceeded this call."
According to the report, there were an additional 30 recurring LGBTQ characters on broadcast. This is 120 total LGBTQ regular and recurring characters on primetime scripted broadcast TV, up from the previous year's 113. The five broadcast networks are ABC, CBS, The CW, Fox and NBC. The CW counts the highest percentage of LGBTQ series regulars of all series regulars, at 15.4%.
That big number for the CW is due 100% to the Arrowverse programming by Greg Berlanti. His shows have all the queers and also the first lesbian Batwoman and the first trans superhero, Nia Nal, on "Supergirl." The CW also has the first black lesbian superhero in Thunder.
Statistics breakdown
One change in this year's report is that for the first time this year, LGBTQ women on primetime broadcast scripted series outnumber LGBTQ men. Of the 120 LGBTQ characters on broadcast, 53% are women and 47% are men. There is one non-binary character on broadcast. Additionally, this is the second year in a row on broadcast where LGBTQ people of color outnumber white LGBTQ people, 52% to 48%.
We have written for years that many series do a two-for-one diversity statement with a queer character of color. So while we say yes to more queers of color on broadcast, often these characters are dropped into a predominantly white landscape where they are tokenized. We don't approve of that use of LGBTQ people of color. Nor should GLAAD, but they are just compiling data while we are deconstructing it.
In the new report, GLAAD is issuing a bold challenge: "GLAAD is calling on the industry to make sure that 20% of series regular characters on primetime scripted broadcast series are LGBTQ by 2025," the report states. "Further, we would challenge all platforms — broadcast, cable, and streaming — that within the next two years, at least half of LGBTQ characters on each platform are also people of color. This is an important next step towards ensuring that our entertainment reflects the world in which it is created and the audience consuming it."
A stunning statement embedded in the GLAAD report is their contention that "20% of Americans aged 18-34 are LGBTQ. And this applies across demographics." The report cites Harris Poll's "Accelerating Acceptance" study and the nonpartisan and objective research organization (NORC) at the University of Chicago's General Social Survey for these statistics. The NORC's GenForward study reports that 23% of black women identify as bisexual, and "one in five Latinx Millennials is LGBTQ."
The number of LGBTQ regular characters counted on cable increased from 120 last year to 121 this year, not much of a change. The number of recurring LGBTQ characters is up from 88 to 94. This is 215 regular and recurring LGBTQ characters, though a whopping 48 of these characters are not expected to return for the 2020-21 season due to series cancellations, announced finales, or characters being written off but who appeared as a regular or recurring character during the research period.
On cable, Showtime is the most LGBTQ-inclusive network, with 38 regular and recurring LGBTQ characters expected on the network's primetime scripted series. The majority of those characters will appear on the upcoming "The L Word: Generation Q," which has a wide range of characters that includes Latinx and Asian women as well as a black trans man.
FX is next at 31 LGBTQ characters, and Freeform following with 26. These three networks together account for 44% (95 characters) of all LGBTQ representation in primetime scripted cable, and 15 of the 20 transgender characters (75%) on cable.
On scripted streaming originals on Amazon, Hulu, and Netflix, LGBTQ regular characters are up with 109 (from 75) and an additional 44 recurring. This is 153 total LGBTQ characters expected on scripted streaming originals.
The takeaway here is what we have been writing for several years now: Broadcast TV lags considerably behind cable and streaming in LGBTQ representation. When one considers there are nearly the same number of LGBTQ characters on cable and on just three streaming services as on broadcast, that is not really the "Now we have 10%!" representation that GLAAD is touting.
Also we have to acknowledge how these numbers break down. It is not that 10% of characters on each show is LGBTQ. It's that some shows, largely from queer showrunners, are basically all queer content. Consider that nearly every character on FX's "Pose," a show created by a gay man, Ryan Murphy, is trans, gay or lesbian. Or that the upcoming "The L Word: Generation Q" on Showtime is the same: nearly every character is lesbian, queer or trans. These single shows comprise the majority of LGBTQ characters on their respective networks.
The fact of the TV landscape is: very few shows have LGBTQ characters, and the ones that do overwhelmingly have one queer character of color who is doing double duty as a person of color and an LGBTQ token. That isn't broadening the straight world's perception of LGBTQ visibility. Some of the longest-running series on TV have no LGBTQ characters: "Law & Order: Special Victims Unit" is the longest-running prime time series in TV history, is set in New York City, with the largest LGBTQ population in the country, and has never had a main character who was queer and has only had two recurring gay characters in 21 years, one of whom is black.
"NCIS" has been on the air for 17 years and never had an LGBTQ character. But "Grey's Anatomy," now in its 16th season, has always had LGBTQ characters and had the longest-running storyline in prime-time history of a main-character lesbian couple. The showrunner, Shonda Rhimes, has consistently showcased LGBTQ characters on her series. The show currently has a gay male couple in the main cast, as well as a recurring trans character. But one of the gay characters, Dr. Levi Schmitt, is also a recurring character on two other Rhimes shows, so one character is being counted three times in the GLAAD report.
The dilemma facing LGBTQ viewers is finding queer content that is neither ghettoized on all-queer shows, or where queer characters are tokenized. While we are certainly grateful for the work GLAAD is doing to monitor these characters on TV on all available formats, putting it all in context matters. The context is that unless LGBTQ people are behind the camera as a showrunner, writer or director, or, as in the case with Ryan Murphy or Greg Berlanti, all three, there is little likelihood of having LGBTQ representation in ways that are not tokenized.
So for the D.C. apocalypse, DC Comics queer characters and queens in the kitchen, you really must stay tuned. Have a happy Thanksgiving!
Arrowverse producer Greg Berlanti: his shows have all the queers, the first lesbian Batwoman and the first trans superhero. Photo: Courtesy of Warner Bros.
Comments on Facebook