Jonathan Van Ness is our fave TV doyenne
Tuesday Oct 8, 2019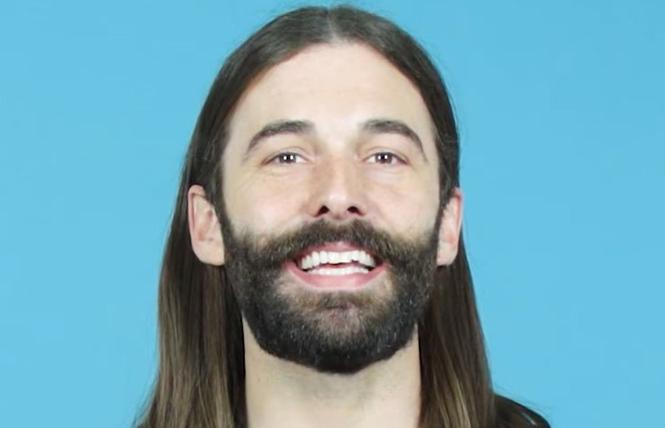 Happy October Impeachment Surprise! We have been transfixed by CNN, MSNBC and C-SPAN in recent days. The telenovela that is the impeachment inquiry combined with the near-daily scandals unfolding have put our three fave queer cable news anchors, Anderson Cooper, Don Lemon and Rachel Maddow, in the forefront of, well, everything.
Especially Maddow, who breaks news with the same rapidity that the President breaks social mores. The past couple of weeks of Maddow's thoughtful, well-researched and always pithy broadcasts have been leading to another Emmy and a Peabody Award for the political science Ph.D. and Rhodes Scholar who has been giving post-graduate seminars on how Trump has cheated America since the day after the 2016 election.
There are other political tidbits. Sen. Kamala Harris made the cover of Time magazine and has been on a bazillion TV shows talking about impeachment, Ukraine, homelessness in California, and on Oct. 3, the Trump administration's war on San Francisco via the EPA.
The premiere of "SNL" had iconic comedian and "SNL" alum Maya Rudolph playing Harris as the hot and sexy prosecutor with a "Law & Order"-style stance. Kate McKinnon reprised her hilariously uncanny Elizabeth Warren, Larry David did Bernie better than Bernie, and host Woody Harrelson did a disturbingly on-point Joe Biden. On Oct. 3, former HUD Secretary Julian Castro said he would be happy to play himself on the show, gratis, since "SNL" has no Latinx male cast members to play him in the skit, thus he was excluded. Yikes.
We actually hated the writing of Harris on the show and found it deeply misogynist, but the Senator chose to be a good sport and embrace it on Twitter with a joke of her own referencing the skit. #KHive said yas queen, but we think a joke that hinges on calling the only black woman in the race a "funt," rhymes with c***, ain't that amusing.
Meanwhile, Elizabeth Warren was the center of another right-wing fake-news scam from Trump toadies Jacob Wohl and Jack Burkman on Oct. 3. The Trump trolls held a press conference to announce that they had found a 24-year-old Marine with whom Warren had allegedly had a long-term BDSM affair as a dominatrix.
Now, while we might actually pay to see that fetish scene play out, the press conference was itself an "SNL" skit, with the Marine laughing through his lines, then taking off his shirt to display chaining marks allegedly inflicted by the Massachusetts senator. There was a big sign up that read, "Elizabeth Warren, Cougar 2020." You cannot make this stuff up.
NBC News broke the story, with reporter Ben Collins noting that Warren had risen so swiftly in the polls, Wohl was forced to write erotica about her. Wohl and Burkman had previously attempted to scam Pete Buttigieg this summer with a gay prostitute sex scandal, and prior to that, Robert Mueller. Warren, with her characteristic cool, tweeted out a pic of her college team, the Cougars, with a whimsical note about her free college plan.
Meanwhile, everybody's fave "Queer Eye" doyenne, Jonathan Van Ness, was on "The Jimmy Kimmel Show" explaining how the Trump administration's attacks "demonizing Planned Parenthood" forced them to reveal their HIV+ status. Van Ness spoke at length about seroconverting at 25, how they had no money, and how hard it was to get help. "When I was 25 and got this [HIV], I was not someone who had this platform. I did not have access financially that I have now." They said it should not be so hard to access care as an HIV+ person without means. They also explained why they are supporting Warren in the primary. Van Ness had lost their HIV meds, and the cost of replacement was astronomical. They told Kimmel Warren's support for Medicare for All was defining for them.
Van Ness added other things about Warren they support, telling Kimmel, "She is an educator. She is a policy expert. I believe that she has a way to be able to communicate the necessities of what we need moving forward." But Van Ness was quick to add, "I should just say that no matter who you're supporting on the Democratic side, honey, I am going to support them. I will campaign for them. I think everyone is better than who we have now."
Always the calming influence on "Queer Eye," Van Ness said, "We're gonna be moving into a lot of endorsements, honey. It's very important to just feel that breath coming in your nostrils." You can see the entire interview at ABCgo.com.
Murder & mayhem
As Van Ness suggests, at times one has to put down the politics pipe, breathe deeply and imbibe something frothier. Just as we decided we had to give up hospital shows this season because we have been too ill (thanks for all the well wishes via email and Twitter, you are the best!), we know a portion of the day needs to be utterly transformative fun TV.
We can't explain why instead of the logical choice of comedy, we lean toward murder & mayhem with a soupçon of cooking & design shows, but these are our go-to media. This being October, everyone is going all-in for Halloween. What could be better than any excuse to celebrate the national queer holiday every day from now through the Day of the Dead?
Of course we are still reveling in FX's "American Horror Story: 1984," which is a murderous, queer, camp dream. And AMC's "The Terror," which wraps this week but can be seen on demand. There is a new series we've fallen into that we recommend highly if your tastes lean dark.
CBS' "Evil" is one of the best scarefests on the tube. Robert and Michelle King created the new fall series. The Kings previously created the long-running political drama "The Good Wife," the political-horror series "Braindead" and "The Good Fight," their current political drama on CBS Access. "Evil" stars Mike Colter as David Acosta, a former journalist studying to be a priest. Acosta assesses demonic possessions for the Catholic Church. His partner is Dr. Kristen Bouchard (Dutch actress Katja Herbers), a forensic psychologist who does not believe in the supernatural or religion. They have some wild chemistry. We see Acosta struggling with his subverted passions by running while saying the rosary. Bouchard's married to a mountain climber who is never home and is raising their four daughters, one with a serious heart condition, alone in a ramshackle house under the elevated train in Queens with occasional help from her hipster mother, Sheryl (played oh-so-well by Christine Lahti).
The Kings' particular mix of acerbic humor and stark real-life scares (Bouchard is visited at night by a terrifying demon who introduces himself as George) makes this show one of the best in its genre since (dare we say it?) "Buffy, the Vampire Slayer." What makes "Evil" work on a deeper level is that both leads are struggling with real-life emotional demons. So when Dr. Leland Townsend enters the dynamic, everything shifts. We see there is in fact a real battle between Good and Evil in the world, right there in New York.
Townsend is played with skin-crawling alacrity by the great Michael Emerson, who has made creepy roles his métier in "Lost" and "Person of Interest." Is Townsend a demon from Hell? Or is he just a monster of the more common sort, who walks among us inflicting cruelty for no reason other than that they can?
Streaming is the new cable, so get prepped to be subscribing to not just Netflix, but Amazon, Hulu and now Apple TV+, which launches Nov. 1. In the coming weeks Apple has some delectable offerings that are definitely worth the $4.99 trial subscription.
M. Night Shamaylan will always be beloved for "The Sixth Sense." And while his films have been of varying quality since that masterpiece, his latest foray into TV looks spectacularly creepy. "Servant" is a 10-episode series by Shamaylan and British director/producer Tony Basgalllop. Apple TV+ described Shamaylan's psychological thriller "Servant" as following "parents Dorothy and Sean Turner, who have hired young nanny Leanne to help care for their newborn child. As time goes on, it becomes clear that things are not quite as they seem." There are three trailers, each more creepy than the next. But who and what do we believe? When a cricket crawls from a drain and a baby looks at the viewer in a way that babies do not, what does it mean? With Tony-nominated Lauren Ambrose ("Six Feet Under"), Toby Kebbell ("Black Mirror"), Nell Tiger Free ("Game of Thrones") and Rupert Grint ("Harry Potter"). The series drops Nov. 28.
Though not a thriller, the Apple TV+ series "Dickinson" looks thrilling. Now that we don't have to pretend Emily Dickinson, one of the greatest American poets of all time, was anything but a lesbian, there are more nuanced portrayals of her on the big and small screen. This series is the latest, and the previews look fabulous. "Dickinson" melds comedy and drama in this story of the early adult years of the poet. The series will delve into Dickinson's claustrophobic 19th-century world in which women have no autonomy unless they wrest it from men around them. Emily does, exploring the constraints of society, gender and family from the perspective of a nascent writer and budding lesbian who doesn't quite fit into her own time and place. The series stars Oscar nominee Hailee Steinfeld as Emily, Ella Hunt as her longtime lover, Sue Gilbert, with Toby Huss, Anna Baryshnikov, Jane Krakowski and Wiz Khalifa. Streams Nov. 1.
On National Coming Out Day, Oct. 11, Hulu debuts "The Bravest Knight," breaking ground as queer kids programming. Written and directed by Shabnam Rezaei, the animated series is based on a children's e-book by Daniel Errico, "The Bravest Knight Who Ever Lived." Rezaei has previously done other queer-focused series for kids like "16 Hudson," with two gay dads, and she has also done several multicultural series for kids.
"The Bravest Knight" is the first TV series for kids with an LGBTQ lead. The series tells the story of Sir Cedric (voiced by "Grey's Anatomy" alum, out gay actor T.R. Knight), his husband Prince Andrew (out gay actor Wilson Cruz, who seems to be in everything these days, which we love) and their 10-year-old daughter Nia (Storm Reid of "A Wrinkle in Time"). Nia wants to become a brave knight just like her dad, so she listens to Cedric's tales of how he was once a young pumpkin farmer who became a fierce warrior. The story's Big Bad Wolf likes to dress up in women's clothes and is voiced by the most famous drag diva in America, RuPaul. Trans reality star Jazz Jennings ("I Am Jazz") voices Lily the Fairy. The series also has appearances by Tony winners Christine Baranski and Donna Murphy, and by out comedienne Wanda Sykes.
We had to take leave of "The Conners" last season because we just hated every storyline, particularly the one where the lesbian couple was promised Becky's baby, but then was just hand-waved off when Becky changed her mind. That scene was played for laughs, but it was shockingly awful. Nevertheless we have a soft spot for gender nonconforming kids like Darlene's (Sara Gilbert) son, Mark (Ames McNamara). When our ABC source told us Mark, who we knew was gay because he had given hints that he liked boys all last season, was coming out, we had to tune in.
Mark's parents get called by the principal when the 12-year-old gets in trouble for breaking his school's "No PDA" rule. "Somebody posted a picture of you kissing your friend Austin at school," Darlene says. "So Austin's your boyfriend? How come you didn't tell me?"
Mark says, "That was the first time. [Austin] only told me he was gay last week."
First gay kiss at 12, and your parents get called to the principal's office. Yikes. That happened to us at 15, and we got expelled and put into conversion therapy, to this could have gone all sorts of wrong. Mark's parents are accepting. Austin's grandmother is not. She tells Darlene that Austin isn't gay, and Darlene gives her a talking-to.
"Maybe you don't want to accept the fact that your grandkid might be gay, but you're scaring him into denying, and it's just gonna ruin his life," Darlene says. The scene upsets Mark, who later tells his mother, "You told me I shouldn't hide who I am, and look what happened." Then come the words we have all thought at one time or another: "My life would be so much easier if I wasn't gay."
It's a crushing moment. But by the end of the episode, the family has convinced Mark that he is loved and supported as he is, a gay kid, and he embraces his 12-year-old queer truth. It's pretty moving, and made us hope that the message got through to more than Austin's grandmother: Love your LGBTQ kids.
So for the best of the political season and the many scarefests, for pumpkin-carving shows and Halloween bake-offs, you know you really must stay tuned.
Comments on Facebook