Saturday Night slurs
Friday Sep 27, 2019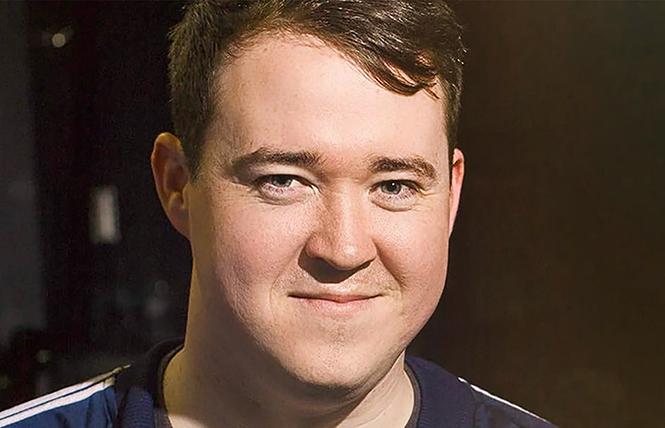 The new fall season is starting out with a bang. "SNL" hired its first Asian comedian in its 45-year history, and it fired its first conservative white-guy comedian before he ever went on air. As we say often under President Trump, what a time to be alive.
We're not sure how "SNL" forgot Asians exist for 45 years, but Bowen Yang joined the "SNL" writing team in Sept. 2018, and now joins the cast. Yang is also the third openly gay male cast member on "SNL." (John Milhiser was on the show for one season in 2013, and Terry Sweeney was on for one season in 1985.) Openly lesbian cast member Kate McKinnon has been on "SNL" since 2012.
"SNL" dropped new cast member Shane Gillis after video surfaced of the comedian using Asian slurs and homophobic language. Gillis was also grossly misogynist, but we know that male comedians can not only be misogynist, they can sexually assault women and still not only be on "SNL," but not have any professional blowback (looking hard at you, Louis CK). After all, it took 50 years and 70 women coming forward accusing him of sexual assault before Bill Cosby was taken off the stage and held for trial at 81. As someone said to us unironically, "Well, it's not like comedy is the U.S. Supreme Court." Yeah, about that —
Emmy winner Sandra Oh, star of the fabulous lesbian thriller "Killing Eve," hosted "SNL" last season, only the third Asian woman ever to do so. Oh tweeted she was "glad to see" the NBC show had decided to "NOT legitimize/give platform [to] purveyors of racist homophobic content." Gillis had taken to social media to justify his offensive comments, which he claimed were "taking risks" as a comedian. He said he would apologize "to anyone who's actually offended." Turns out a bazillion of us were offended. For her part Oh said, "Risks? LAZY ASS UNORIGINAL."
Gillis had referred to Asians as "f*cking ch*nks" and mocked Asian accents. Gillis also asserted that comedians who have spoken openly about mental health, like "SNL" cast member Pete Davidson, were "white f*ggot comics." Gillis also ranked comedians using their race, gender and sexual orientation. Who wouldn't hire that guy? It's confusing why "SNL" made no effort to vet Gillis before hiring him, particularly after the furor around Kevin Hart hosting the Oscars when his past homophobic comments surfaced. But apparently producer Lorne Michaels was attempting to appeal to conservative viewers. Viewers like former cast member Rob Schneider, who tweeted "Dear @Shanemgillis: As a former SNL cast member, I am sorry that you had the misfortune of being a cast member during this era of cultural unforgiveness where comedic misfires are subject to the intolerable inquisition of those who never risked bombing on stage themselves."
It's almost like there is still a perception that it's okay to be racist, misogynist and homophobic, and that only people who are straight white cisgender males matter. The victimhood of these guys is as stunning as it is tedious.
So in this climate, imagine how disappointed we were to discover that Bernie Sanders, much of whose platform we strongly support, isn't going to either of the LGBTQ Iowa forums in October, citing "scheduling conflicts."
CNN partnering with HRC to broadcast an LGBTQ forum is groundbreaking. Why wouldn't everyone want to be part of that historic event? As Angelica Ross ("Pose") tweeted, "Y'all need to ask @BernieSanders why he's not participating in the #LGBTQForum. At this point I don't know the answer to that. Either way his presence or absence will be noted."
Ross is hosting the CNN forum with GLAAD president-CEO Sarah Kate Ellis. Queer issues have been ignored in the debates, despite the fact that Pete Buttigieg is in the top five. Buttigieg told a moving story about coming out publicly in answer to one of the debate questions on ABC's Houston debate, but that was the sole reference to anything queer in the third debate.
GLAAD says there are "more than 124 anti-LGBTQ attacks in policy and rhetoric from the Trump administration, including the President's ban on transgender Americans from serving in the military and the administration's opposition to the Equality Act." Then CNN reported Sept. 19 that HUD Secretary Ben Carson said that "big, hairy men" were attempting to enter women's homeless shelters. Two HUD staffers told The Washington Post that during the meeting in HUD's San Francisco office, Carson complained about "the blurring of gender roles," "a refrain that upset many staffers." According to CNN, "That was the first time any of us heard him use such derogatory language," one SF staffer said. "He's more tactful when he's talking before Congress, whereas this sounded like a slur to me." It sounds like a slur to us, too.
Carson has previously cited incarcerated people being in same-sex relationships as proof that same-sex sexual orientation is a choice. When Carson was running for president in 2016, he compared being a trans person to changing ethnicities. Since becoming HUD secretary, Carson has proposed a rule that would allow federally funded shelters to consider gender identity when deciding whether or not to house a homeless person. Just writing that makes our stomach churn.
It's in this climate that Bernie Sanders is perfectly comfortable with being absent at the LGBTQ forums (the second is being hosted by The Advocate) as they are televised to the nation. Meanwhile Kamala Harris and Elizabeth Warren are out there talking about the latest tragic killing of trans women, so: priorities.
Groff center
Now for a palate cleanser. Actor Christian Borle ("Smash," an impossibly gay show about theater we still miss) described Jonathan Groff as "scrumptious" to Vulture, and we hear that. Groff is mesmerizing in Netflix's "Mindhunter," and when he's not doing TV, he's doing musical theater. His latest role is in "Little Shop of Horrors." Charmingly self-deprecating (unlike his "Mindhunter" character), Groff says he puts everything into his theater roles, and that the song "Skid Row" really impacted him as a seventh grader.
"When Seymour sings, 'Someone show me a way to get outta here,' it was an appealing message to a closeted kid," said Groff, who describes his seventh-grade self as "a sweaty, uncomfortable person with a secret so deep-rooted I wasn't even flirting with the idea of being myself."
Groff also told Vulture that while he was starring in the SF-based HBO dramedy "Looking," "We would talk about stories about PrEP, uncut dicks and monogamy," and "so many stories about anal douching." We could watch Groff in anything.
One dishy item that caught our eye is that Janet Mock, the first trans woman to direct and write a prime-time TV series, "Pose," is now dating Angel Bismark Curiel, who plays Lil Papi on the series. She's drop-dead gorgeous, he's adorable, and they looked fabulous stepping out together for the papi-razzi at New York's Fashion Week.
Less than charming was former Trump press secretary Sean Spicer in his debut on "Dancing with the Stars." Spicer was paired up with Season 25 champion dancer Lindsay Arnold. Arnold said Spicer dances at a "pre-pre-school level," and "he definitely isn't natural at it." We witnessed the train wreck and the hideous outfit that some bitchy Resistance queens designed for him. Wearing a neon-yellow-green frilled shirt and tight, unflattering off-white pants, Spicer epitomized all we have come to loathe about mediocre straight guys rising.
"Top Boy" is a British series about the opposite: the things black people have to do to rise in a white society dominated by institutional racism. Netflix has been instrumental in reviving series that other networks discarded and giving them not a second life. The first two seasons of "Top Boy" originally aired on Britain's Channel 4. The series was cancelled abruptly despite winning a Bafta (British Emmy) and getting rave reviews. It has now been revived with the help of rapper Drake.
Drake saw the first two seasons on YouTube and approached Netflix for a revival. It began streaming on Netflix last week with Drake and fellow rapper Future credited as executive producers. Netflix describes "Top Boy" as "two seasoned drug dealers return to the gritty streets of London, but their pursuit of money and power is threatened by a young and ruthless hustler." That doesn't begin to cover what the series is about or elevate searing performances by Ashley Walters, Kane Robinson, Shone Romulus and others, but Netflix is always underselling its series.
"Top Boy" will remind some of David Simon's brilliant "The Wire." Set in a fictional low-income housing complex in London's fraught Hackney neighborhood, it's all about how ascendancy and survival commingle in the most urban of centers, East London. The timing of the revival is significant, with the Brexit decisions (referenced in the story) hanging over the heads of the poorest, most vulnerable citizens, who would be most harmed by Brexit. "Top Boy" is vivid and has a strong queer streak. Be advised it is also quite violent, but the violence is always contextual, which makes it more realistic. There is great music both as background and part of the plot. There are several trailers available so you can decide whether it's too violent.
The debut of "American Horror Story 1984" had us screaming. Billie Lourd is great. Cody Fern was made for 1980s dyed blond hair and exercise latex. Emma Roberts and Matthew Morrison are playing wildly against type. Gus Kenworthy can't act, but he doesn't talk too much and shows off his gorgeous body so you won't notice. Angelica Ross has carried over some of the snap diva of her "Pose" character Candy, but is playing a nurse who is regularly off the clock, part of Camp Redwood's camp. Leslie Grossman is spectacular as the creepy Christian anti-sex camp owner who wants everything to be pure. Lourd and Grossman have all the best lines, some of which are priceless.
It's the usual bloodbath from Ryan Murphy and Brad Falchuk, with literal streams of blood in the first five minutes, but it's enjoyable, not sickening like some of the seasons have been. Of course, it's early days yet, and there was that knife in the eye, but with "AHS," it's all relative. "AHS 1984" will send you right back to those killer-camp films of our youth. The music, starting with "Cruel, Cruel Summer," is perfect. This is a high-camp camp outing, and yes, it's queer af.
Several of our faves are back for final seasons, including "The Deuce," "How to Get Away with Murder" and "Modern Family." The third season of "The Deuce," David Simon's dark drama about the New York City sex trade, moves from the 1970s to the 80s, and takes on the AIDS epidemic. The vantage point of sex workers and adult-film stars is one plotline, while gay bartender Paul (Chris Coy) is living through that time many of us will never forget: what the disease did to the queer community, how every day was a funeral and a fight for our survival.
In addition to the gay storylines, Season 3 has two of our fave lesbian actors, Roberta Colindrez ("Vida") and Kat Cunning ("Trinkets"). Starring Maggie Gyllenhaal and James Franco. Be forewarned, once you start watching, you won't be able to get Grace Jones' iconic "Pull Up to the Bumper" out of your head.
"HTGAWM" will end with its sixth season. The Emmy-winning drama created by out gay "Grey's Anatomy" alum Peter Nowalk and exec produced by Shonda Rhimes has been one helluva queer ride, and we cannot wait to see what the new season brings. Starring the always-brilliant Viola Davis. Premiering Sept. 26 on ABC, available on demand.
What can we say about ABC's "Modern Family" that we haven't said over the decade it's been on the air? It's always funny, the acting is always good, we've watched the kids grow up, and some have kids of their own now. As the show heads into its 11th, final season, remember that it picked up where the first round of "Will & Grace" left off: It taught America that queer couples were living in their neighborhoods, they had kids, and they also had 99 problems, though being straight wasn't one of them. Many credit the series with getting straight people more comfy with queers. All we know is that we always laughed when we watched, even when we cringed, and it's had a good run.
ABC's new crime drama "Stumptown" checks a lot of boxes. Based on the graphic-novel series, the show stars "How I Met Your Mother" alum Cobie Smulders as Dex Parios, a former Marine with PTSD. Dex is bisexual, which makes her one of the only bisexuals on the tube, one of the few who is bisexual to start. Dex is a complicated character who is into both women and men who uses sex to heal herself. She is working as a private investigator and is supporting her brother, Ansel, who has Down Syndrome. Ansel is portrayed by Cole Sibus, who has Down Syndrome. The number of disabled actors on TV can be counted on one hand, even though the CDC states that one in four Americans has a physical, neuro-atypical or intellectual disability. Also featured on the series is indigenous actress Sue Lynn Blackbird as Tantoo Cardinal.
So for what's new, what's old and what's new again, you know you really must stay tuned.
Comments on Facebook