The Lavender Tube heads into August
Tuesday Jul 30, 2019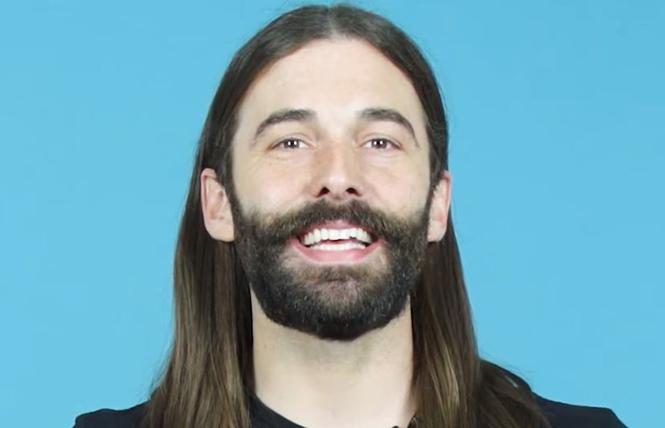 How is it already August? As we head into summer's last languorous lap, the dictate to Netflix, Hulu and Amazon, and chill becomes ever more resonant. The TV summer press tour is imminent, and with it will come the fall schedule announcements. Let's hope there's some LGBTQ programming in our fall future.
Now that Robert Mueller has come and gone and Congress is on summer recess, we all need to decompress from politics for a bit. The primary moves on apace, but the first vote won't be cast until next year, so really does it matter what the polls say now? The leaderboard has five names on it according to the latest polls on July 26 that blazed across the morning news shows: Joe Biden, Bernie Sanders, Elizabeth Warren, Kamala Harris and Pete Buttigieg, in that order. No one else polls closer than 3%.
The two rounds of debates have not opened the door to any breakthrough candidates. As CNN and MSNBC remind us nightly, the rules for inclusion in the September debates are more stringent, and thus far only five other candidates outside the Top 5 have qualified: Amy Klobuchar, Andrew Yang, Cory Booker, Beto O'Rourke and John Hickenlooper.
Yet Chris Cuomo featured billionaire Tom Steyer on his July 25 show, because why not highlight another older white guy? Steyer just entered the race with $140 million of his own money to throw away on his vanity run. He is best-known for spending a couple hundred million on ads promoting impeachment. Seems like a nice guy, but that's not criteria for being president, no matter how low we keep setting that bar for men (it will never be lower for women).
This is where the rubber meets the road on donors and MSM coverage. Buttigieg, Biden and Sanders have the most cash. With the MSM constantly pushing Biden for reasons we will never understand in a bazillion years, it's been difficult for other candidates to get donor traction. Having 130,000 individual donors as well as polling at 2% or above are the qualifiers for the September debates. Steyer, apparently, can buy his way into prime time, if not the debates.
There are many more things we could say here about what we've witnessed on the tube in recent weeks from some of the candidates. But we will just say this: Biden fumbled the first debate when he has literally been running for president for 31 years, and the MSM scooped him up, dried his tears and pointed its collective finger at the bad black lady from San Francisco. Chris Cuomo devoted one of his prime time CNN shows to Biden, who presented himself as Harris' victim.
A week later, Cuomo gave Biden yet another hour (no equal rebuttal time for Harris). This was a set-piece with Biden and his wife, Dr. Jill. She drove the narrative of the not-to-be-trusted black female candidate. "America's not buying it," she informed us, hotly. A few days later, Biden's campaign manager referred to Harris as "slick and slippery."
That place in America where racism and sexism converge has always been ugly, and watching it nightly on cable TV news has been as shocking as it has been unsurprising. With Trump's polling up since he made four women of color his new targets, it's déja vu all over again. No wonder we need a palate cleanser.
Feisty females
On July 26, Hulu announced they had acquired one of our fave queer series, "Designing Women." If you've missed the Sugarbakers as much as you have shoulder pads (we'll eschew the big hair), the iconic, trailblazing comedy that ran on CBS from 1986-93 will begin streaming on Women's Equality Day, Aug. 26. There are 163 episodes in the seven-season series.
As Hulu describes the series, "'Designing Women' follows outspoken owner Julia Sugarbaker (Dixie Carter) as she runs a design firm out of her Atlanta home along with her self-absorbed, ex-beauty-queen sister, Suzanne (Delta Burke), divorced sassy mother Mary Jo (Annie Potts), and naive country girl Charlene (Jean Smart). The feminist, feisty females discuss everything going on in their lives, from sex and love to politics and religion, all in the confines of their Victorian Georgian office. Ex-con handyman and token male of the series Anthony Bouvier (Meshach Taylor) offers his help not only at the firm, but also offers his opinions on all of the ladies' personal matters."
The seventh and final season of Netflix's "Orange Is the New Black" began streaming on July 26. There are 13 episodes. At the end of season six, showrunner Jenji Cohan said, "After seven seasons, it's time to be released from prison. I will miss all the badass ladies of Litchfield and the incredible crew we've worked with. My heart is orange, but fade to black."
According to Netflix, the seventh season will follow Piper as she tries to adjust to life back in New York City following her release from prison, while her wife Alex (Laura Prepon) remains behind bars. The series will also tackle the themes of institutional racism and corruption in the prison system, as well as immigration, with the focus on Bianca (Laura Gomez)'s fate following the last episode of season six.
Netflix says other characters who will be featured are Taystee (Danielle Brooks), who was facing life imprisonment at the end of season six; Lorna Morello (Yael Stone), who went into early labor; and Red (Kate Mulgrew) and Gloria (Selenis Leyva), who were facing life in solitary confinement. Martiza Ramos (Danielle Guerrero), who was sent to a different prison last season, also returns this season, sparking speculation that the Litchfield inmates could be about to be reunited.
Here's the thing about "OITNB": this series was and remains groundbreaking to the end. "OITNB" featured out lesbian actresses Samira Wiley and Lea DeLaria and out trans actress Laverne Cox, who is nominated for another Emmy. It's featured queer storylines that felt real, not forced or sensationalized Women in Prison tropes. And now, in its final two seasons, "OITNB" has addressed the cataclysm wrought by Trump on brown women with ICE deportations and asylum-seekers in cages at our border.
Throughout the show's seven seasons, issues related to women in prison and the larger picture of incarceration have been addressed. As the Democratic primary plods on, these issues are becoming more central to the political Zeitgeist. This makes the storylines about solitary confinement, privatizing of prisons and unreasonable sentencing for nonviolent offenses all the more powerful and forward-thinking.
It will be hard to let "OITNB" go. For those early seasons, there was nothing else like it. In many respects, there still isn't. So if you never watched, you have the entire series (91 episodes) to binge.
As part of its farewell, "OITNB" has also launched The Poussey Washington Fund. Named for the character played by out lesbian actress Samira Wiley, the initiative will support eight pre-existing nonprofit advocacy groups focusing on criminal justice reform, protecting immigrants' rights, ending mass incarceration and supporting women who have been affected by it. Brava.
Klepto mania
There are some new summer series that we were surprised by. "Trinkets" on Netflix isn't like anything else. The story of three young kleptomaniac women is surprisingly compelling as it addresses the ways in which we deal with our outsider status and those voids in our lives that need filling. We didn't think we'd like it. Instead, we loved it.
Elodie (Brianna Hildebrand), Moe (Kiana Madiera) and Tabitha (Quintessa Swindell) meet at a Shoplifter's Anonymous 12-step program and form a bond that is part healthy, part toxic, all real. These young women are navigating that minefield of late adolescence and miming the "it gets better" mantra.
Elodie is also dealing with her queerness as she embarks on a relationship with Sabine (Katrina Cunningham, a performer also known by her stage name Kat Cunning). Tabitha is dealing with an abusive boyfriend. And Moe is dealing with being a nerdy black girl in a white, white world.
Hildebrand and Cunningham are both out actresses. Hildebrand said of her sexual orientation, "I am lucky to say now that it is not frightening for me living in LA to be gay. I am glad that I am public about it, and I think I should be." Cunningham identifies as queer and has performed in many queer productions in New York. Ten episodes make this series utterly weekend bingeworthy.
If you want something heavier, "When They See Us" (Netflix), Ava DuVernay's searing four-part limited series, chronicles the harrowing story of the Central Park Five. These five young men were arrested, tried and convicted for a gruesome crime that they did not commit. "When They See Us," created, directed and co-written by DuVernay, has garnered 11 Emmy nominations, including for best limited series.
Among the critically acclaimed cast is Isis King, who plays Marci Wise, the trans sister of Korey Wise, the eldest of the Central Park Five. This is not easy viewing. It's not binging material, so don't try. Watch each episode, digest, go back. This series is deeply emotional and painful to watch. It is a testimony to racism and the unequal justice system.
That system also failed the victim. Because the police and media (and Donald Trump, who called for the boys' execution with full-page ads in all four New York City newspapers) railroaded these kids, the victim never got justice. The Central Park Jogger, Trisha Meili, a 28-year-old investment banker with two master's degrees, was running with headphones when she was struck on the back of the head with a tree branch and savagely attacked. She sustained several skull fractures, facial fractures, and one eye was crushed. She had lost three-quarters of her blood volume when she was found convulsing in a pool of her own blood. She had been raped and sodomized.
Meili was in a coma for 12 days while the Central Park Five were being railroaded and her attacker went free. She required complete facial reconstruction and was left with traumatic brain injury, cognitive impairment and no sense of smell. She spent seven weeks in ICU.
"When They See Us" is must-see viewing. It's almost a necessity, really, because at its core it's a story of what's been happening in post-Jim Crow America, and how easily society demonizes black teens and men.
The verisimilitude of the Hulu series "The Handmaid's Tale" to our current political situation is difficult to ignore. Season three is now available for streaming. If you haven't watched this dramatic adaptation of the Margaret Atwood novel, why not?
Somehow, end of summer seems to demand reality TV. Top on our list for binging is "Queer Eye." Honestly, we can't get enough of these guys. What's so good about "Queer Eye" is the emotional essence of the series. These are men who really have experienced much of the opprobrium and homophobic micro/macro aggressions that come with being gay and/or gender-nonconforming in America. There's a depth of feeling that we really need right now, because it's a counternarrative to everything that we get assailed with under the Trump regime.
"Queer Eye" really believes in and follows through on its own tagline, "More than a makeover." As each of the Fab Five have gone back to their roots to explore where they came from and how they remained whole despite some tough origin stories, we've felt an entree into the lives of these men that we weren't really allowed in the original series, which was played very differently for what was also a less queer-centric/queer-accepting audience.
The new, fourth season, which just debuted on Netflix, opens with the series' nonbinary, genderqueer beauty expert Jonathan Van Ness' emotional return to his Quincy, Illinois high school where he was the first male cheerleader and was also bullied horribly. Van Ness' experience resonates deeply, and is a truly provocative and poignant episode.
Karamo Brown is the only black cast member of "Queer Eye" and one of the only out black LGBTQ men on TV. Brown headed back to his HBCU to do a makeover on Gibbs Hall, a student space in his alma mater, Florida A&M University in Tallahassee, Florida. Brown said, "When I was a student, I was super-involved, serving on student government as freshman class president, and participating in other on-campus student groups, so I love that I was able to give back to the school by creating a fun and inspiring space for students to find their passions like I did."
Finally, one of the best TV moments of possibly every day since the day before the 2016 election, when we still had hope, was with Supreme Court Justice Ruth Bader Ginsburg last week. In an interview with Supreme Court expert and NPR journalist Nina Totenberg, RBG said, "There was a senator, I think it was after the pancreatic cancer, who announced with great glee that I was going to be dead within six months." The justice leaned forward in her chair and added, "That senator, whose name I've forgotten, is now himself dead, and I am very much alive." And: scene! If you haven't seen it, please watch. The glee with which RBG delivers her final line makes clear that she intends to be around til Trump is not.
So for the lazy dog days of August, the comedy and the tragedy and a break from all that's hellish, you know you really must stay tuned.
Comments on Facebook