Megan Rapinoe is all over the tube
Tuesday Jul 16, 2019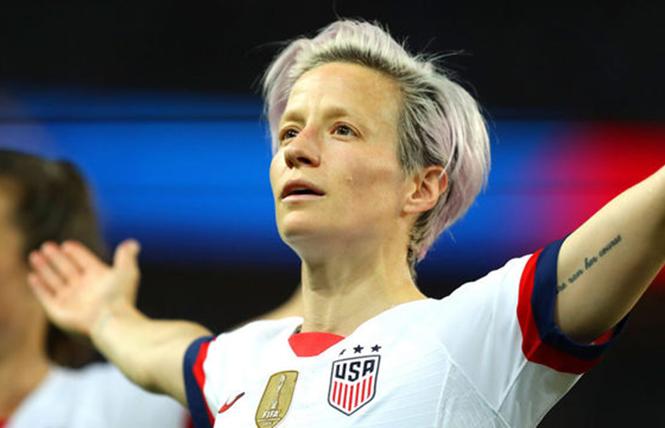 There is always a little frisson of sadness when Pride Month is officially over. But this year is Stonewall 50, so we can keep the Pride stoked through December. What's more, America now has an unofficial queer ambassador to the world in Megan Rapinoe. The co-captain of the USWNT, winner of the FIFA World Cup soccer championship and MVP of the World Cup is all over the tube, and OMG are we ever here for it. That the lavender-haired goddess is putting GOP panties in a bunch is the proverbial cherry on top of a month of spectacular play from USWNT. The final game itself was amazing. We were screaming, our friends were screaming. But there was so much more.
At game's end, Rapinoe ran over to the stands to kiss girlfriend Sue Bird. Then Kelly O'Hara ended all speculation about whether she was or wasn't a lesbian by going to kiss a woman in the stands. Then the team's engaged couple, Ali Krieger and Ashlyn Harris, kissed each other. Coach Jill Ellis, a married lesbian, kissed everyone. Yes, lesbians won the World Cup, and it was the queerest event in sports history.
Rapinoe, who turned 34 during the month of games, came out publicly nearly a decade ago, saying that it was important for others to see her modeling out gayness on the field. "When you're out, it's only one part of who you are," Rapinoe explained. "But when you're not out, it's just this all-consuming thing. The deeper in the closet you are, the more you lie, the more it becomes this all-consuming thing that it really doesn't have to be, and it takes over your life. So people getting to a point where they can just live their lives and be happy, if I can have any part in that, that's pretty special."
Rapinoe's outspokenness throughout the World Cup events has been unlike anything we've seen from a professional sports figure. Rapinoe has become an advocate for gender equality and LGBTQ rights. During an interview after the U.S. beat France in the quarterfinal right before France's Pride Day on June 29, Rapinoe said, "Go gays! You can't win a championship without gays on your team, it's never been done before, ever. That's science, right there!" Rapinoe added, "For me, to be gay and fabulous, during Pride Month at the World Cup, is nice."
Nice for us, too. The USWNT tweeted out her quote. After the team won the World Cup, they added to their original tweet with a photo of Rapinoe, Krieger and Harris with the message, "Told ya!"
The USWNT's support for Rapinoe and the other gay players has been remarkable. But even better has been the way Rapinoe has used her celebrity to speak out for LGBTQ people on every network. In her appearance on Anderson Cooper's "AC360," Rapinoe took President Trump to the woodshed that Joe Biden has only talked about. Trump has attacked Rapinoe in tweets. Rapinoe, who calls herself a "walking protest against Trump," has called him "sexist, misogynistic, small-minded, racist" and "not a good person."
On July 9, Rapinoe told CNN's Cooper (her World Cup trophy beside her) that if she could speak to Trump directly, she would say, "Your message is excluding people. You're excluding me. You're excluding people that look like me. You're excluding people of color. You're excluding Americans that maybe support you."
She added about Trump's MAGA message, "We need to have a reckoning. You're harking back to an era that was not great for everyone. It might have been great for a few people, and maybe America is great for a few people right now, but it's not great for enough Americans in this world." Rapinoe said to Trump, "I think that we have a responsibility, each and every one of us — you have an incredible responsibility, as the chief of this country — to take care of every single person, and you need to do better for everyone."
These words and the way Rapinoe presented them — calmly, directing herself to the audience as if she were giving her own State of the Union Address — was like nothing else we'd ever heard. We've heard many Democratic presidential candidates and members of Congress take Trump to task. But this was so different. It cut across all divides.
Rapinoe's words resonated. The next morning the front page of The New York Daily News had the headline, "Megan America Great" over a photo of Rapinoe, arms spread wide with the other women of the USWNT.
Rapinoe also appeared on "The Rachel Maddow Show." Watching two butch lesbian icons chatting was its own unique TV event and made us a bit verklempt. Maddow asked Rapinoe what was next on her agenda, citing a poll that has her beating Trump in an election. The soccer star isn't running for president, but she is going to keep talking about what needs to happen for women's soccer, women's sports, and gender and queer equality. She took that message to "GMA," "CBS This Morning" and the "Today" show. Then she won an ESPY Award. You can watch all these great queer TV moments online, and we urge you to do so. It's truly empowering to have Rapinoe speak to us and for us.
Candy crush
So everything else on the tube feels like less after the Rapinoe-a-thon. Everything except (major spoiler alert coming here) Candy's death on "Pose." As much as we were cheering Rapinoe, that's how much we cried The Ugly Cry during "Pose," as Candy Ferocity (Angelica Ross) was found dead in a closet after a bad trick. We were always cheering Candy when Pray Tell (Billy Porter) was slamming her for not being talented enough or pretty enough. We were devastated to know that she would never get a chance to get that 10 she'd been aching for.
But Candy's funeral was so deftly done, it gave everyone a chance to say to her in death what they never could in life, starting with Pray Tell and including her very straight parents who Angel (Indya Moore) managed to convince to come to their child's funeral, even if Mom kept referring to Candy as her son.
More than perhaps any other in the series, this episode of "Pose" highlighted how much so many of us are forced to depend on our found family, because our families of origin often can't (or won't) love us enough to accept who we are. If you haven't seen it, watch. Bring a full box of tissues. Ryan Murphy announced this week that Ross will be joining the next season of "American Horror Story," which premieres in September.
If you want lighter fare, MTV's bisexual reality romp "Are You the One?" is so worth watching. MTV describes Season 8 of the ongoing relationship reality series: "On the history-making eighth season, 16 singles head to Hawaii to find their perfect matches and for a chance to split the $1 million prize, and for the first time ever, all the singles are sexually fluid, which means there are no gender limitations: The one could be anyone."
We admit we mostly live in that world between political TV, PBS and Netflix, with some network and cable TV tossed in. Much as we love TV, we still read books as well as write them, so we try to limit our trash TV watching to cooking shows and talent shows, all of which highlight queers.
MTV has always been queer-friendly, but we sort of aged out of that network a while ago, and relationship shows tend to be either really tedious or scarily sociopathic and always straight, so we don't watch. But after five years of straightness, "Are You the One?" decided to change it up this season, and it's just like watching your friends have drama.
This season of "Are You the One?" is the kind of train wreck that "The Bachelor" and "The Bachelortette" only wish they could be. It's fabulous. As one of the contestants, Danny, said, "If you have a reality TV show that includes the entire spectrum of, like, racial, sexual, and gender identities, you're gonna have a really interesting show!" Yes, baby, you are.
So we have queer-poly-bi-pan folks. And of course they are all beautiful, because this is still TV, and young, and buff and ready for anything. There is a lot of backstory about the contestants who uniformly have the stories we all have: claustrophobic small-town closeting to scary only-out-kid-at-school-object-of-bullying. So it feels very real and very personal in the way those straight reality series must feel to straight people.
Most of these people are immensely likeable (Basit, a black queer poly, is our personal fave). What feels best about this series is the messiness of the show. The drama is not because the people are queer, but because they are people. So this isn't one of those point-and-stare exploitative series where the queer contestants are being made examples of, but a really enjoyable and emotional party where everyone is searching. We feel empathy for most of the contestants (a few can be over-much, but that's every episode of "Big Brother" we have ever seen) and we have so much affinity for the queerness. It just feels good to be immersed in a group where no one is straight. As Remy notes, "Some of us are not what you would want to maybe represent you, and that's fine, but we're real people, and we exist and deserve to be seen, and we deserve to express how we feel."
Amen to that. In a culture that shows us out-of-control straight people on TV 24/7 (looking at you, Meghan McCain, and you, Laura Ingraham, and you, too, Tucker Carlson, and every Real Housewife ever), the queer contestants on "Are You the One?" seem normative in their own milieu.
The show has all the things we expect to see on a relationship reality series, from hook-ups to catfights. But it also layers those things with moments of intense realness as the contestants reveal who they are under their hotness and prettiness and of-course-none-of-us-are-fat-ness (if the show really wanted to break out, they'd have had some folks who weren't perfectly model-sized).
Kai talks about becoming a trans man. Basit talks about being in love with love, no matter who the person is they fall for. Danny reveals some experiences that send him into tears.
Of course there are the aspects that make your eyes roll and set your teeth on edge, but then it is still TV. There's also a lesbian relationship guru, Dr. Frankie Bashan, who gives everyone some therapy on how to avoid the pitfalls of bad relationships. Not for everyone, but we definitely want to see who "wins." Wednesdays on MTV, with repeats; also available online.
We happened to catch Madonna on "The Tonight Show with Jimmy Fallon" on July 11, and it felt like a real blast from the past. The entertainer, who is the wealthiest woman in the music industry, the bestselling female recording artist of all time, and the highest-grossing single touring artist of all time, was there to promote her latest album, "Madame X."
The current season of "Pose" uses Madonna's 1990 hit "Vogue" as a foundation for some of the action, putting the importance of the entertainer and her role as a superstar in historical context. For us, seeing Madonna on late-night TV seemed a bit of a fall for someone of her legendary status. But then, presidents have been on the show, too, and she mentioned Fallon introducing her to President Obama, so maybe not.
At 61, with a not-too-obvious facelift, Madonna's nobody's grandmother, and she still has the edginess and elan that made her iconic. At one point Madonna got up and taught Fallon and the audience to cha cha, lifting her diaphanous black fishnet skirt all the way up. After watching years of aging male rockers, it's good to see Madonna refusing to bow to gender dictates about what is and is not allowed for older women performers, when every few years Mick Jagger and Rod Stewart take a younger wife and have a new baby.
Everything old is new again in the era of streaming, and a series we fell into when it popped up on our Amazon Prime is the 2013 "In Between Men." The series is described as "a sexy new dramedy about All-American masculine gay men who live 'in between' a gay world, whose cliches they don't relate to, and a straight world they don't belong to." There are trailers on YouTube. The men are hot, ripped, of various races, and there are two seasons to binge.
"Eastsiders" is another gay series now available on Netflix and Amazon Prime. The 2012 series follows the relationship between Cal (Kit Williamson) and boyfriend Thom (Van Hansis). The series also co-stars Constance Wu.
We wrote about Van Hansis here years ago when he broke ground on daytime TV as Luke Snyder on CBS' "As The World Turns." Luke and boyfriend Noah became the first gay male supercouple on daytime. Hansis is terrific in "Eastsiders" as well.
Williamson wrote and directed the series, which explores everything that can go wrong in a relationship, as well as the explicitly sexy good parts. There are three seasons, so it's definitely bingeworthy.
So for the queen of queer, the fun and frolicsome, and enough heat to keep you sweating, you really must stay tuned.
Comments on Facebook