Lavender Tube goes to the debates
Tuesday Jul 2, 2019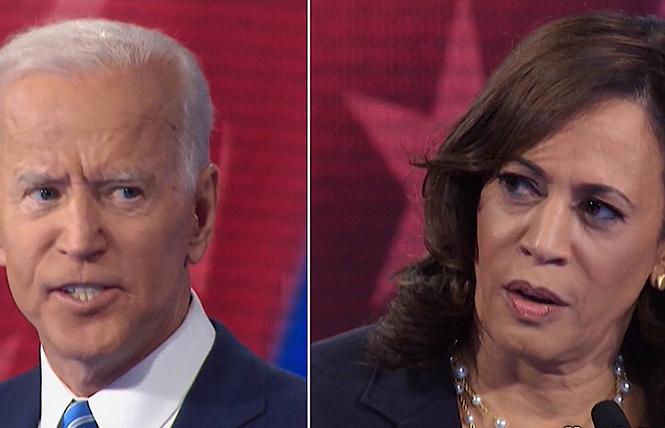 What an exciting miniseries the Democratic debates were! With 25 candidates, five of whom didn't make the cut for the stage, we expected a free-for-all for ascendancy. We were not disappointed. It was wild. The big tent is real. And historic. Of the 20 there were six women, five people of color and one out gay man. The moderators were two men of color, two women (one a lesbian) and one white man. It all looked suspiciously like America.
Whether he's too centrist for you or not, you can't deny the historic nature of Pete Buttigieg, the first out gay presidential candidate, on the debate stage as one of the top tier candidates on Pride Day eve, talking about his husband's student loan debt. No one asked him a single gay question. His presence was the statement. But in his closing, Buttigieg noted that his right to marry had hinged on one U.S. Supreme Court vote.
Buttigieg had a good debate. Solid, steady, no missteps, and he is thus far the only white male candidate able to apologize for errors and acknowledge blame, as when he was asked about the racial diversity issue in South Bend's police department. That was a response no one expected. It was also a response that elevated his candidacy yet again. While Buttigieg had a strong second-place showing, the big winner of the debates was California's own Kamala Harris, who was spectacular.
The debates were supposed to be balanced between both nights, but the only top-tier candidate the first night was Sen. Elizabeth Warren. Her command of every plan for the progressive future of America feels seamless and doable in a way that her colleague Bernie Sanders has never seemed able to articulate without appearing to be an angry scold. As the two best-defined progressives in the primary, Warren and Sanders had very different debate nights. Warren's was smooth, despite being shut out of questions, including some of her signature issues like immigration, by bad moderating for 34 minutes of the first hour.
Sanders was not as effective. Despite speaking for a full four more minutes than Warren did the night before, he came off hectoring, angry and shopworn. The message has not been refined or sharpened since 2016. This may be why Warren is now surpassing him in the polls.
Yet if Bernie's message, which beneath the rhetorical flourishes is still valid and largely sensical, felt repetitive, Biden came off like a visitor from another era. The inexplicable frontrunner for the past two months since he announced, Biden sounded both querulous and defiant as he took credit for "our administration," meaning Barack Obama's presidency.
In all our years of covering politics, we can't recall another vice president referring to themselves in that way. Biden said often that he had done x or y, but what he meant was, Obama had done it, and he was in the office across the street.
But the moment that altered the presidential race was when Harris demanded to speak. It was after Buttigieg's avowal of his failure to increase racial diversity among the police force. Rep. Eric Swalwell, the Californian who did not have a good debate, was shouting at Buttigieg from across the stage, demanding to know why he hadn't fired the police commissioner. But Buttigieg did fire the police commissioner, who is black, and that added to the strife. In the shouting match, Harris said, "As the only black person on this stage, I'd like to speak on the issue of race."
The moderators backed off. It was not her question and it was not her time, which made the power of her wresting the stage from several yelling white men even more extraordinary. What happened next was incredible drama. Harris confronted Biden as we have seen her do with former Attorney General Jeff Sessions, then-Judge Brett Kavanaugh, former Trump Chief of Staff Gen. John Kelly and others.
Sanders stood between them, but Harris seemed to be right in Biden's face as she challenged him on his record of working with segregationists against busing in the 1970s. It's instructive to recall that when Harris was eight years old and being bused to school, Biden was in the Senate. So when she said to him, "There was a little girl in California who was bussed to school. That little girl was me," not only could one hear a pin drop in the hall, you could hear a collective gasp all over America.
Former Rep. John Delaney, who debated on the first night and not especially well, tweeted, "Incredible moment from Senator @KamalaHarris. The decisions elected officials make impact people's lives directly, and her story brought that home. This is what public service is about."
Delaney was spot-on. Harris' challenge to Biden's record on busing was deeply personal. But as was the case when she addressed other issues, from Medicare for All to the climate crisis, Harris personalized the story to maximize understanding of the real-life consequences of political decisions.
We're still thinking about how seismic a shift this exchange created in the debate, and likely the race. We had expected Harris to be the star of the second debate night; her charisma is unmatched in this primary. But this exchange with Biden provided a stunning reversal of fortune for him and a shift in tone for Harris, who has been guarded and cautious in her campaigning to this point.
Biden, whose people should have been prepping him night and day for this, seemed stunned and unprepared. His answer was to claim he had been mischaracterized, then, shockingly, to make the case for state's rights, the very thing that had maintained segregation, Jim Crow and a pattern of structural racism in place long after Reconstruction and even after the Civil Rights and Voting Rights Acts.
For her part, Harris moved in for the deathblow, noting that "state's rights have failed us repeatedly." She mentioned the Equal Rights Amendment and the Equality Act as examples of how federal intervention is needed to right egregious state-imposed oppression. Biden couldn't keep up. Harris had delivered a critique of his record that was personal as well as political and generational. Although no one had called it, Biden said, "Anyway, my time is up." Quite the coda.
There were some other important moments over the two nights of the debates. Sen. Cory Booker raised the specter of murdered trans women of color into a discussion of violence against people of color. Since we think this can't be mentioned enough, we were grateful to hear it on the presidential debate stage.
Former HUD Secretary Julian Castro also brought up trans rights in the context of reproductive justice, which was also impressive. Sen. Kirsten Gillibrand, who, like Harris, has been a vocal supporter of LGBTQ rights, also mentioned the Equality Act.
But Rep. Tulsi Gabbard flat-out lied about her own record of virulent homophobia when she was asked about it on the first night. She noted that she is now a signatory on the Equality Act, which every Democrat in the House and eight Republicans signed. Yet Gabbard, who invoked her military service repeatedly, never mentioned the military trans ban. Quite the ally.
Gabbard said she came from a conservative family and when she was "very young" had different views. That representation gets a dozen Pinocchios from us. Gabbard's father, a well-known politician in Hawaii, which Gabbard represents, is a virulent homophobe who led the fight against gay marriage in Hawaii. Gabbard herself was a member of her father's organization, the Alliance for Traditional Marriage, which poured money into the fight against gay marriage and supported conversion therapy.
While in the Hawaii state legislature, Gabbard voted against LGBTQ rights repeatedly, including against anti-bullying protections for LGBT youth in Hawaii's schools, which she said did not exist. She claimed that studying the issue would be seen by parents as "an indirect attempt by government to encourage young people to question their sexual orientation."
When Gabbard campaigned for office she vowed to "pass a constitutional amendment to protect traditional marriage." While in office she argued, "As Democrats we should be representing the views of the people, not a small number of homosexual extremists."
We're all for people changing their views an addressing their past homophobia, and of course Pres. Obama and Hillary Clinton both came to marriage equality late. We appreciate that Gabbard posted an apology on YouTube after she announced her candidacy and got called out. But continuing to blame her father for her own actions is what makes her conversion seem suspect. And her failure to mention the egregious trans military ban, which Gillibrand has led the fight on, feels like a tell.
When Gabbard was literally in the streets marching against LGBTQ people having civil rights, Harris was marrying gay men and lesbians in San Francisco. Something to consider. Booker said that Gabbard supporting the Equality Act now was "not enough." Now would be a good time to have a staunch LGBTQ ally in the top tier of candidates, because the tide is turning on acceptance. GLAAD released a report on June 24 in advance of the Stonewall 50 celebrations showing that people 18-34 are increasingly less tolerant of LGBTQ people. The drop in tolerance between 63% in 2016 and 45% in 2019 is shocking. "While young people are identifying as LGBT in higher rates than ever before, there has also been an uptick in non-LGBT young people pushing back against acceptance," Sarah Kate Ellis, GLAAD president and CEO, wrote in the report.
This makes queer TV all the more important, since it sends a counter message to the one being pumped by the White House and the Trump cohort, and it does so subliminally. We have studies on this, so we know it's true.
NBC has done a series for Stonewall on LGBTQ icons and we highly recommend viewing these at NBC.com. We also recommend PBS' documentary "The Lavender Scare," which we found both compelling and heartbreaking in its story of the firings and hounding of "homosexuals" during the McCarthy era, some of which ended in suicide. Pres. Eisenhower, whom people always invoke as a "good" Republican, issued Executive Order 10450 shortly after taking office in 1953. The order banned gay men and lesbians from working for any agency of the federal government. Eisenhower also ordered all private contractors doing business with the federal government to fire any gay or lesbian employees. He also urged America's European allies to do the same, purging all the queers, or "perverts" as The New York Times called gays and lesbians on the front page. As the PBS documentary details, Eisenhower considered gays a threat to the security of the country because their "immoral lifestyle" left them susceptible to blackmail by foreign agents. Fascinating history. Check it out at PBS.org.
On the lighter side, "élite" is a teen drama on Netflix that has something for everyone and some really pretty and frequently semi-clothed young guys. This sexy romance-thriller has gay sex, bisexual sex, polyamory, HIV positivity, bribery and murder. It takes place at an elite Spanish prep school where the scholarship students are, well, you'll see. A perfectly delectable summer treat.
Finally, one of the great lesbian joys of the past two weeks has been watching women's soccer. The 2019 FIFA World Cup has been a bazillion times more exciting than men's soccer. Plus the USWNT is the best in the world. As the games continue through July 7, young lesbians the world over will be watching native Californian and out lesbian Megan Rapinoe tear up the field and take on Pres. Trump. What a heady mix. Rapinoe is co-captain of the USWNT and has already made history for being the first player, male or female, to score a Goal Olimpico at the Olympic Games. She was also the first out lesbian in the Sports Illustrated swimsuit issue this year, and she was the first national sports figure to take a knee in support of Colin Kaepernick and Black Lives Matter. She got called out in a tweet by Trump last week for saying if the women win the World Cup, she's not "going to the fucking White House."
Trump said, "Megan should never disrespect our Country, the White House, or our Flag, especially since so much has been done for her & the team." Your president, America. Yeesh. Oh and in case you missed it, a well-known woman journalist, E. Jean Carroll, who won an Emmy for her writing for "SNL," accused Trump of rape. Her interview with Anderson Cooper on "AC360" is as shocking as it is believable. As Angel says on "Pose," "the realness."
The Democrats showed in those debates how much better we can do. So for big whiny orange babies, sublime queer athletes, summer delectables and big reveals, you know you must stay tuned.
Comments on Facebook