Counting LGBTQ blessings for Pride Month
Tuesday Jun 18, 2019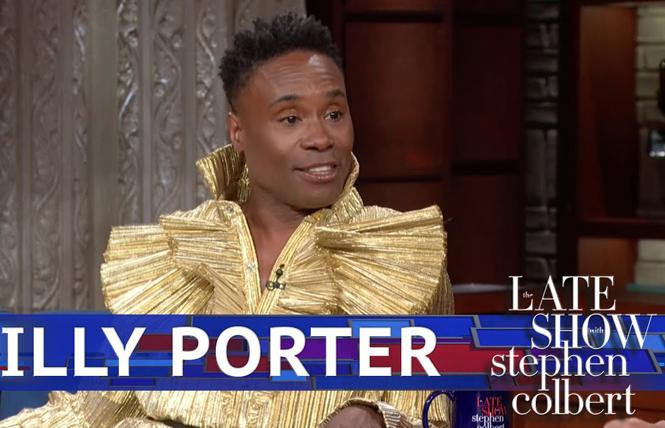 So like we said last time, if networks and cable were true LGBTQ allies, we'd have nothing but queer programming for Pride Month. But since they are not, we've compiled a list of series that you can watch to make the rest of your Pride and Stonewall 50 the queerest, right from the comfort of your own home, phone and TV.
Series with somewhat-to-mostly queer content are available on cable, Netflix, Hulu, YouTube, iTunes and Google. There is something for everyone: lesbian, gay, bisexual, trans, queer, questioning. You should take the opportunity to delve. You should take a risk with some of these series, which are off the standard monied-white-male-30something-gay track (not that there is anything wrong with being a 30something gay white man with money!). But it has taken quite a long while for the TV series world to recognize that there are non-white, non-male, non-cis queers out there.
Here is a list of shows we have watched that we know are worth a look and have queer content. You can clip or print out this list and put it right on your desk or bedside table for easy access. Some of these shows you know, others you may never have heard of, but what would Pride be without a little adventure?
"Pose." "Gentleman Jack." "Nos4a2." "Tales of the City." "Will & Grace." "The Bisexual." "The Fosters." "Empire." "Star." "Killing Eve." "Black Lightning." "Orphan Black." "Orange Is the New Black." "Wentworth." "RuPaul's Drag Race." "One Day at a Time." "Vida." "The Sinner." "West 40s." "Derek and Cameron." "Venice the Series." "Hanging Out." "The Bad Boy Series." "Queer Eye." "Addicted the Web Series." "Drama Queenz." "Before I Got Famous." "I Am Jazz." "Wynonna Earp." "Hunting Season." "Adulting." "Brujos." "My Best Gay Friends." "My Gay Roommate." "Her Story." "Carmilla." "Brown Girls." "Jaded." "People Like Us." "Falling for Angels." "Good Trouble." "Dear White People." "grown-ish." "Modern Family." "Veep." "Unbreakable Kimmy Schmidt." "The Bold Type."
These series will take you through Pride and beyond, and remind you of how much we need LGBTQ programing. We deserve characters who look, sound and act like us, and have lives like ours. We deserve to be more than tokens and the only queer in town, as is so often the case. If HBO can bring Anne Lister to the screen from the 18th century and keep us riveted in "Gentleman Jack," then surely we can have more stories of our current queer lives.
The season finale of "Gentleman Jack" was awesomely good, like the entire series has been. But then, Sally Wainwright is brilliant (if you haven't see "Happy Valley," go Netflix it). We are not overly fond of the period drama, but Wainwright, with Suranne Jones as Lister, brought the period to vivid and explicable life.
Jones is magnificent as Lister. Smart, clever, arch, handsome. It makes one just a bit giddy to remember that Lister was real, and in the 1700s was living openly as a lesbian and had lesbian affairs, ran a business and wrote four million words' worth of diaries. Truly awesome.
Billy Porter is having a moment, and oh are we here for it. Fresh off his fabulousness at the Tony Awards, where he arrived wearing a fantastic pink and red dress made from the curtains from his Tony-winning musical "Kinky Boots," Porter was a guest on "The Late Show with Stephen Colbert" on June 12. He was spectacular. Wearing a pleated gold silk pantsuit with a pleated ruff (yes, a ruff), Porter received huge applause. Colbert, the most staid dresser of all the late-night talk-show hosts, thanked Porter for dressing for the occasion. Porter said, "I'm on 'The Late Show.' Of course I'm going to dress."
There was discussion of Porter's fashion. Colbert showed photos of Porter's amazing outfits at the May 6 Met Gala, to which Porter said merely, "Susan Sontag, 'Notes on Camp.'" Educate that audience! Then there were pics of the Tonys outfit. Porter said the Tonys dress was "upcycled couture," that curtain from "Kinky Boots" plus lots of pink tulle.
Somewhat out of his depth, Colbert asked if Porter thought "fashion makes a political statement." Porter, in all his flaming, gorgeous majesty, leaned in and said, "I've always been into fashion. And I feel like especially when it comes to gender, [it can be political]." He then launched into one of the most feminist treatises we've heard on the tube. Certainly one of the most feminist we have heard from a man.
Porter said, "We've moved past the point where women wearing pants is a problem. Women wearing pants is powerful, it's strong, everybody accepts it. It's fighting the patriarchy. But the minute a man puts on a dress it's disgusting."
Porter looked out at the audience and repeated "disgusting." Then he continued, "So what are we saying? Men are strong, women are disgusting. I'm not doing that any more. I'm done with that." The audience went wild.
Porter went on, "I'm a man in a dress. And if I feel like wearing a dress, I'm going to wear one. Jesus wore a dress. They call them robes, but he wore a dress. Jesus wore a dress."
Colbert, a devout Catholic, looked just a little uncomfortable, so he changed the subject to "Pose." Colbert said he understood that Porter had been part of the ballroom culture. Porter said, "I was ballroom adjacent. I moved to New York, I was on Broadway, but I'm a gay black man, so I did attend the balls, but I was not in the balls."
Porter described the world of "Pose" for the audience who had just watched ultra-straight Beto O'Rourke waving his arms prior to Porter arriving and sashaying onto the stage. Porter said, "But the [ballroom] culture is really interesting. It's a culture of chosen family. I think that's what so great about the show. The show presents what chosen family looks like."
The next thing Porter said was the best encapsulation of what so many of us have experienced in our queer lives. He said, "Sometimes our biological families are not equipped to love us unconditionally for us to thrive as LGBTQ people." The audience was cheering. "The ballroom culture is a culture that emerged from these people being thrown out of their houses just for who they are. We found our tribe, we found our family. The culture is about how we uplift each other."
The segment ended with Colbert saying how much he loves and admires Porter's style. So Porter pulled out his pink rhinestone glasses from the Tonys and a black-and-white striped Philip Treacy fedora he said he bought for only $500 years ago (it would cost at least $2,500 now, that's the basic price line for a Treacy chapeau). He put the glasses and hat on Colbert and had him sissy that walk across the stage dragging his suit jacket like a cape. Utter fabulousness. For the full impact, watch the episode at CBS.com.
Beautiful ad
Now it's time for a word from an LGBTQ sponsor. When the Trump administration is threatening LGBTQ people and doing their best to actively harm transgender, non-binary and gender non-conforming people, it's heartening to see a company step up specifically for our community's most vulnerable members. For Pride month, Sephora released a gorgeous ad celebrating transgender, non-binary, gender-non-conforming and LGB people with their "We Belong to Something Beautiful" campaign. We admit, we got all verklempt after we saw it on TV the first time. And the second. And the third. (We also get the feels over the Truvada for PrEP ads.) Set to Shirley Bassey's rousing queer anthem "This Is My Life," the ad begins with a rush of words: They. She. Ze. He. Xe. We. We Belong to Something Beautiful. Yeah, baby, all of us.
According to Sephora, the ad is part of a new, multi-chapter platform "meant to celebrate different forms of diversity and inclusion in beauty." The "Identify as We" launch also includes a new "Trans is Beautiful" group. Sephora is also introducing its first-ever SephoraHeartPride collection, featuring 10 branded offerings that celebrate and support Pride. Sephora will also donate $1 to support LGBTQ organizations for every product sold. Sephora says it is working with the Tides Foundation to coordinate the donations.
There is no overstating the importance and impact of seeing companies center the LGBTQ community. Sephora is reaching out and not just putting LGBTQ people in their ads, they are hiring LGBTQ people as well. This is a statement: it means that LGBTQ people aren't just being tokenized, but are instead being included and even elevated. Among the incredibly gorgeous people in the ad are transgender, genderqueer and non-binary models Aaron Philip, Hunter Schafer and Fatima Jamal.
The inclusion of Aaron Philip in the ad takes it to a whole other level, as Philip is a black, disabled trans model. For those queers in wheelchairs like we have been since being paralyzed, seeing Philip in the Sephora ad was something. Born with cerebral palsy and identifying as a gender-non-conforming trans woman, Philip is breaking all kinds of ground. In a CNN interview, Philip said, "There's still a great lack of visibility and attention towards people with disabilities in fashion."
She said, "As of right now, I'm one of two physically disabled models in the entire industry, next to Jillian Mercado." (The Latinx Mercado has muscular dystrophy and also models from her wheelchair.) Philip told CNN, "It shouldn't be the responsibility of anyone who is marginalized to amplify their voice when there are so many voices that can amplify it for them. But it's just the way of getting to where you need to be. So I'll do it. Hopefully I'll do it so that other girls in my position don't have to — they can just live and do their jobs." Philip is only 17, doing the work the adults should be doing.
Hunter Schafer, who looks hauntingly beautiful in the Sephora ad, stars in the new HBO drama "Euphoria," which premiered on June 16. The series is a new direction for HBO, which has never had a teen-centered drama. Teen dramas have gotten darker since the days of "Glee," with "Pretty Little Liars," "Riverdale" and "13 Reasons" being a lot more like we remember adolescence: fraught, angst-driven, drug-laced, peppered with extreme moments of episodic joy and heartbreak.
"Euphoria" is definitely on the dark side. As HBO describes the series, "'Euphoria' follows a group of high school students as they navigate love and friendships in a world of drugs, sex, trauma, and social media. Actor and singer Zendaya leads an ensemble cast including Hunter Schafer, Jacob Elordi, Algee Smith and Sydney Sweeney."
Zendaya and Schafer are outstanding. This is a well-acted and beautifully shot series. Lush, atmospheric, deeply emotive. Zendaya plays Rue, a 17-year-old struggling to stay clean as she battles drug addiction. This is a really different role for her, being a Disney Channel star. But she is superb as Rue, and the demands the role makes on her as an actor are well-met. The most disturbing aspect of the aptly named Rue as a character is how her entire world revolves around her addiction. What that does to her, her younger sister and others around her is a lot of the drama, but acutely compelling because of the realness.
Schafer plays the charming Jules, a trans girl in love with pink who becomes friends with Rue when she moves to town. The dynamic of their relationship is truly groundbreaking. We've seen entirely too much TV over the years, and we have not seen this.
Jules makes everyone think about things differently. Her transness, her sweetness, her romantic nature are both breathtaking and heartbreaking. Schafer is a standout here, and it's just fabulous to see a young trans actor playing such a complex role at the center of such a big debut series. Note to networks: this is what inclusive casting and writing looks like.
Our one complaint about "Euphoria" is the tired trope of the fat girl who hates her body. Yes, millions of girls and women hate their bodies in part because they are told to by TV shows and ad campaigns. Barbie Ferreira does an excellent job with the role of Kat, a body-conscious teen exploring her sexuality, but still.
In real life Ferreira is drop-dead gorgeous, a model, the groundbreaking star of a web series and leader in the body positivity movement. In 2016, Time magazine named her one of America's 30 Most Influential Teens. But in "Euphoria," she spends too much time looking at her own ass in the mirror, and not in a good way. We would like someone of Ferreira's acclaim to be in-your-face comfy with her size and her sexiness in this series. Just saying.
"Euphoria" is edgy stuff. The Parents Television Council said the show is marketing adult content to teens. PTC reported the first episode had "close to 30 penises flash onscreen," and that the "onscreen statutory rape of a character" was intense for young viewers. Those are issues for parents to address in their own homes, but one thing we personally would like is for folks to stop putting adjectives in front of the word rape. Rape is rape. If there's no consent, calling it date or statutory or anything else is irrelevant. It is rape, period. A fluffy adjective does not diminish the trauma if you're a victim/survivor, as many of us are.
So for the dark, the daring and the decadent, in these days of Pride, you really must revel, and stay tuned.
Billy Porter was a guest on "The Late Show with Stephen Colbert." Photo: CBS-TV
Comments on Facebook