Classic LGBTQ TV for Pride 50
Tuesday Jun 4, 2019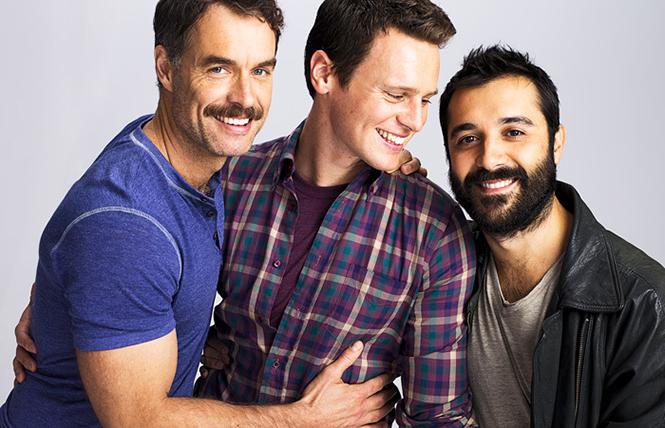 Happy World Pride, dear readers. Happy 50th anniversary of the Stonewall Rebellion and Days of Rage. Happy gayness, lesbianity, biness, transness and queerness.
In the best of worlds, the historic importance of this month would be celebrated with nothing but queer TV 24/7. But we've got Trump/Pence actively trying to deny us every conceivable civil right and, if possible kill us, instead. The one Republican Congressman being lauded for breaking ranks with the GOP and coming out for impeachment is also — spoiler alert! — a virulent homophobe. Fox News is still demonizing LGBTQ people despite Pete Buttigieg getting a standing ovation at his Fox News Town Hall.
Despite this being the 50th anniversary of one of the most pivotal civil rights actions in American history, TV networks seem not to have noticed. Shocking and not. Which means it's really just us and "Pose" for Pride Month, and some classic Netflix and rainbow chill. So let's fall into "Pose" and praise Pray Tell, and look for some other queer tidbits to make us feel celebratory.
Thank the gods and goddesses for RuPaul, Ellen, Anderson Cooper, Rachel Maddow, Don Lemon and Janet Mock. As long as they are around, there will always be some queers on TV to turn to, for which we are grateful. And while his politics are a little too Midwestern for us, we are also grateful that Mayor Pete and his husband Chasten are touring the country for Pride 50, showing the straights how it's done on TV screens, local and national. It is, pardon the pun, a seminal moment.
Netflix, Amazon and Hulu are the places to settle in for Pride Month. If you want to watch some classic LGBTQ TV, "Queer as Folk" is on Hulu, Amazon Prime and Showtime. This series opened the door for gay and bisexual people on TV. While it is very white, it still has resonance in its depiction of gay men and their friends. The interconnectedness we experience within queer community and the isolation we feel from straight society are certainly captured well in the series. Bar culture and nonstop cruising, and the concomitant bed-hopping, also get pride of place.
The series debuted in 2000 on American TV (there was a previous UK version), which means many of you were toddlers when it came out. But for five seasons, it rocked our collective world to know that there would be five gay men, two nesting lesbians having a baby with one of the men, a plethora of their friends, and real-life lesbian actress Sharon Gless playing a classic PFLAG mom on TV every week. The series is set in Pittsburgh, which was where everything was set in the early 2000s. There are 83 episodes, so you can settle in with the boys and come home to them every night for some time.
"The L Word" was also classic queer TV. Lesbians had Ellen, but depictions of lesbians on TV were even scarcer than gay men. Seeing lesbian couples living in West Hollywood and slipping in and out of each other's lives had a realness that we'd never thought we'd be able to witness on the small screen, since we certainly hadn't seen it on the big screen.
"The L Word" is getting a reboot before this 50th Pride year is up, and creator Ilene Chaiken has promised a less white, less affluent, more everything in "The L Word: Generation Q." But if you want to see how it all began and fall in love with Shane (Katherine Moennig) and Papi (Janina Gavankar) like the rest of us did, there are six seasons and 70 episodes of the show that ran from 2004-09. On Netflix and Amazon Prime as well as Showtime. Starring Jennifer Beals, Mia Kirshner, Pam Grier and Sarah Shahi.
Remember when all of gay San Francisco was aflutter because HBO was setting a TV series about gay men there? The 2014 HBO series "Looking" only got two seasons, but it was compelling and realistic, and it was hard not to be drawn in to the three main characters, Patrick (out gay actor Jonathan Groff), Agustín (Frankie J. Alvarez) and Dom (Murray Bartlett), and their romantic and sexual experiences. Plus, San Francisco is another star of the series, and it's frankly enjoyable to see gay men on screen in San Francisco and fall into that aspect of the show. There are 18 episodes, so it's perfect for a week of binging.
There is also "Looking: The Movie," which wraps up the series. That debuted at Frameline in 2016 and is also available on Amazon Prime, You Tube and HBO.
If you want more queer San Francisco, then "Tales of the City" is available on Netflix, Amazon Prime and You Tube. The TV series based on Armistead Maupin's books set in ribald 1970s San Francisco was extremely controversial when it first aired in 1993. Sex between men in the midst of the AIDS pandemic was considered extreme. HBO dropped the project, which PBS picked up. But the outrage was such that the series, which was unquestionably groundbreaking at the time and remains iconic, was axed after three seasons.
There are so many stars in this series it's amazing. It was Laura Linney's breakout role. Sir Ian McKellen, Olympia Dukakis, Nina Foch and Bob Mackie step in from the big screen. Chloe Webb, Thomas Gibson, Mary Kay Place and Donald Moffat are among the Emmy-nominated stars from myriad TV series.
Netflix has a reboot premiering June 7 on Netflix. The new "Tales of the City" stars Linney and Dukakis as well as out lesbian actor Ellen Page and "Looking" star Murray Bartlett. The series is executive produced by Maupin, and is perfect for Pride.
The Australian limited series "Deep Water," at only four episodes, can be binged in an evening. The drama is based on the historical, unsolved hate murders of possibly 30-80 gay men in Sydney's eastern suburbs and beaches in the 1980s & 90s, and is set in the present (it debuted in 2016) during Pride. Sydney's Pride is one of the most extravagant in the world. This is a fabulous series, and speaks directly and deeply to the way gay hate crimes have been routinely ignored throughout history, even relatively recent history. Compelling, if triggering. There is anti-gay violence, so be forewarned. There is also a documentary on the events upon which the series was based called "Deep Water: The Real Story," available on Netflix.
Also available for binging on Netflix is "Queer Eye" in both its first iteration and its more recent reboot. Season 2 of the current fab five just became available for June.
If you haven't seen Hannah Gadsby's "Nanette," why not? Released for Pride 2018, "Nanette" is a stand-up comedy act written and performed by lesbian Australian comedian Gadsby, not like any other comedic performance you've ever seen. It's about gender, sexual orientation, sexual assault, self-loathing and more.
We saw "Clapham Junction" at a queer film festival several years ago, and we've never forgotten it. The 2007 British television film, written by Kevin Elyot and directed by Adrian Shergold, centers on the experiences of several gay men during a 36-hour period in the Clapham area of London, and the consequences when their lives collide.
From a civil partnership ceremony to a heated dinner party, five stories are woven into London life from school and work, to bars and clubs, during one hot summer's night. The film opens with the audio of a weather report highlighting a current heat wave, while the main characters and storylines are introduced. Danny (Jared Thomas) is shown walking down a deserted tunnel in a school uniform, Robin (Rupert Graves) is heading into the Channel 4 studios, 14-year-old Theo (Luke Treadway) takes books from his locker at school, and Terry (Paul Nicholls) is at work, driving while listening to headphones. We then see Danny practicing on the violin, before the first scene opens with Robin trying to sell a script he's just finished. The script is rejected because "the whole gay thing has been done." This sets a general narrative for the whole film, questioning the idea that legal equality and general media acceptance makes being gay no longer an issue.
There is so much going on here and it's so deeply engaging, you will want more after it ends. The performances are achingly good, and the intensity is as gripping as any thriller. The way in which Elyot has woven the stories of these men and boys and how their lives intersect over one moment of senseless, inexplicable and irrevocable violence is masterful. Available on Netflix, YouTube and Here TV.
"The Perfection" is the latest most-hyped Netflix original film, and wow is it something. Netflix describes it as "a twisty horror-thriller" in which "a once-promising music prodigy reconnects with her former mentors, only to find them taken with a talented new pupil."
Oh the understatement. This film makes the violence of the lesbian-themed "Black Swan" feel so "All About Eve" tame. Allison Williams plays Charlotte, a talented cellist whose career is derailed by her mother taking ill. Charlotte must care for her, and when she returns, Charlotte meets the woman who took her place, Lizzie (Logan Browning). There's a lot happening here. Charlotte woos Lizzie. There's a tryst. Maybe. Then things start to happen that you really did not see coming.
Williams is tour de force good as Charlotte, and Browning is not-too-innocent as Lizzie and also gives a stellar performance. There are secondary characters who propel and bolster the narrative, played by the always superb Steven Weber and Alaina Huffman. There is lots of music, much of it scary, and the visuals are terrific. It is also deeply, darkly, archly, surprisingly witty.
The caveat here is if you are not a fan of the horror genre, you will likely hate this because of the horror elements, but this is a fabulous new addition to the killer lesbian genre of horror films. There are several trailers available, and we recommend watching those prior to the film just to be sure you're up for the visual challenges. Do not eat prior to viewing.
If you haven't watched Seasons 1 & 2 of "The Handmaid's Tale" on Hulu, now is the time to binge those, because not only is it becoming more a reality series every day, but Hulu just dropped Season 3 on June 5.
Marsha P. doc
The Netflix documentary "The Death and Life of Marsha P. Johnson" is quintessential Pride viewing. The Stonewall activist who died mysteriously in 1992 is being honored with a statue in New York City. Johnson, a self-identified drag queen who alternately referred to themselves as a queen and gay, was a founding member of the Gay Liberation Front and the co-founder, with trans woman Sylvia Rivera, of S.T.A.R. (Street Transvestite Action Revolutionaries). Their work was integral to the queer civil rights movement. Johnson modeled for Andy Warhol and performed onstage with the drag performance troupe Hot Peaches. Johnson was known as "the Mayor of Christopher Street," and from 1987 until their death in 1992, was a prominent NYC AIDS activist with ACT UP.
Though sometimes credited with starting the Stonewall uprising, Johnson denied she had started it, stating in 1987 that she had arrived at around "2:00 [that morning]," and that "the riots had already started" when she arrived and the Stonewall building "was on fire" after police set it on fire. The riots reportedly started at around 1:20 a.m. that morning after lesbian drag king Stormé De Larverie fought back against the police officer who attempted to arrest her that night.
Other sources including The New York Times credit De Larverie, a biracial lesbian who hung out at the Stonewall Inn, with starting the events that night. What remains clear is that gender non-conforming people began the pushback that triggered the Days of Rage, and all of them — Johnson, De Larverie and Johnson's friend and fellow activist Rivera — deserve our honor and gratitude. The critical importance of the street activism of these three icons cannot be overstated. Each followed their actions at Stonewall with lives of dedication to the LGBTQ community during the earliest days of the quest for civil rights and liberation.
"The Death and Life of Marsha P. Johnson" follows trans activist Victoria Cruz of the Anti-Violence Project as she investigates Johnson's murder. As the film's main narrator, Cruz, a contemporary of both Johnson and Rivera, gives her first-person account of their lives and experiences. It is as gripping as it is heartbreaking, because Johnson and Rivera, like so many trans and gender non-conforming people, were subjected to so much abuse and violence that an upwelling of rage attends this viewing.
"[Cruz] lived in that same time, in the same New York," says director David France, an Oscar nominee for his previous documentary "How to Survive a Plague." "Almost nobody who was a trans person of color survived, and she survived. She's a witness to a time that most of us can't even imagine."
In a Vanity Fair interview, Cruz, a native of Puerto Rico who moved to New York with her 11 siblings as a child, is described as a stunning investigator. Despite being in her 70s, she "called up police precincts, coroners, Johnson's family and friends, and other leads in an attempt to uncover new details about her mysterious death, 25 years later. She proves surprisingly adept at this grim, thankless job, though in real life she is deeply jovial, with a quick, flippant sense of humor."
"The D&L of MPJ" is compelling and enriching viewing. As Cruz told Vanity Fair about the work she did for the documentary, "Who gets a chance to relive their youth over again? That's how I looked at it, it's a labor of love. And I knew Marsha."
The stories of our LGBTQ lives are really just beginning to be told 50 years after that hot night in Greenwich Village. There are many gay, lesbian, bisexual, trans, gender non-conforming and non-binary characters on scripted TV series, and others on reality series now. There were none in 1969 when being gay or trans was considered a mental illness. But while we can watch those characterizations nightly now, as well as watch several out queer anchors giving us our news, we still battle to have appropriate depictions of our lives. Lesbians who don't suddenly become bisexual and vice versa. Gay men who aren't sexually neutered. Trans people played by actual trans actors and actresses as "Transparent" and "Pose" proved can be done (oh look!) really easily, if the show's creators and producers have the will to do it.
But it's still gruesomely difficult to be an out queer or trans person in America, which makes representations of our lives all the more critically important on the small (and big) screen. LGBTQ kids need to see themselves reflected on screen, but so do LGBTQ adults. So for the nostalgia as well as the new, the scripted and the all-too-real realities, for this Pride and always, you really must stay tuned.
Comments on Facebook