Civil rights history on the House floor
Tuesday May 21, 2019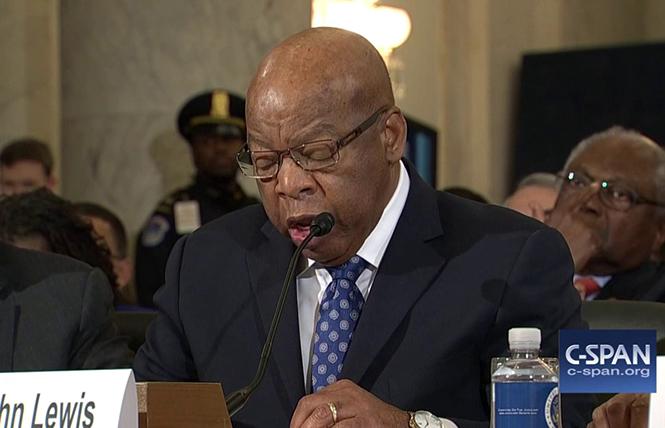 Four hours. That's how long we were riveted to CSPAN watching the debate over the Equality Act on May 17. It was an extraordinary event of historic proportions. Yet as House Leader Steny Hoyer said, "It's a shame that the House is not full and the gallery not packed with people, because this is an historic day."
Instead the chamber was nearly empty, on a Friday morning when most reps had already headed home for the weekend. Hoyer said that the Civil Rights Act and the ADA were voted in through bipartisan actions. He said, "Every Democrat will vote for this bill. The Equality Act is about America. It's about who we are and what we believe."
Rep. John Lewis, one of the great Civil Rights icons in American history, spoke with eloquence and passion. "Today is May 17. On May 17, 1954, the Supreme Court ruled on Brown vs. Topeka Board of Education. I remember that day," Lewis said, his voice rising. "I was 17 years old. I thought I would be attending desegregated schools. It never happened for me. Today we have the opportunity to cast this vote and set all of our people free." The floor erupted into spontaneous applause.
These were chilling moments of intense emotion. As we watched our queer civil rights being debated on the floor, we could not help but be struck by the distinction between the Democrats, who expressed their jubilance at being able to vote for this bill and establish a true basis for equality for LGBTQ people, and the Republicans, who presented it as dangerous and an assault on the First Amendment, women, girls and religious freedom.
In many respects, this was pure reality TV. The very notion that the civil rights protections of anyone in America could be a matter for debate seems counterintuitive to democracy itself. Yet here we are.
We sobbed through parts of this debate and raged through others. Speaker Pelosi invoked lesbian activists and San Francisco icons Del Martin and Phyllis Lyons as her introduction to LGBTQ activism, and called them an "inspiration." She was eager to pass the bill she had promised to bring to a vote when she won re-election as Speaker.
Katie Hill, one of the LGBTQ people elected in the Midterms, who reps CA25, said, "Today, my colleagues on the other side of the aisle tried to kill the Equality Act because of their own prejudice. They are on the wrong side of history. And we are waiting for them on the other side."
Hill was right. The Republicans speaking in the debate declared their bigotry openly and unabashedly in each successive iteration, some using the excuse of religious freedom, others declaring a sudden concern for the rights of women they had never shown concern for previously.
One of the most disturbing screeds came from Rep. Vicky Hartzler (R-MO), who insisted that "a vote for this bill is a vote against women." Describing herself as a former teacher and coach, she made a detailed case that teams and the Olympics would be "recruiting men who identify as women" to "win medals." She deconstructed how all of women's sports would become "men competing as women," and repeatedly referred to trans women athletes as men pretending to be women in order to win easily against female competitors instead of men. "Men are taking home the Gold in women's sports," she said.
Hartzler claimed, "In case after case, men competing as women are out-competing, out-cycling, out-running, out—fighting women. Welcome to the brave new world of HR5." She added, "Women's scholarships would be ended by HR5," and declared the Equality Act "devastating legislation."
Hartzler never raised her voice as she spoke, but her tone was filled with invective. Her rage at gay and trans people was palpable. And while she was the worst of the group, the fact that not one Republican spoke for LGBTQ was simply stunning in 2019, this 50th anniversary year of Stonewall.
We are grateful for the men and women who made this vote happen, like David Cicillini and Tammy Baldwin. But we know how transitory this euphoria is. When Rep. Louie Gohmert (R-TX) made a joke at the expense of trans people noting "gender dysphoria: nothing like euphoria," it was sickening to witness.
Strike a 'Pose'
The antidote to these rabidly homophobic and transphobic statements is to revel in the support from the hundreds of Democrats and eight Republicans who voted for us. But it is also to immerse oneself in queer TV. If you missed season one of FX's award-winning "Pose," now is the time to binge it before Season 2 begins June 9.
We fell in love with "Pose" and all the characters who reminded us of people we knew in the 80s, when Season 1 is set. Some of the performances were so memorable it hardly seems possible that an entire year has passed since the first season ended on its bittersweet note.
Season 2 begins in 1990. It's a dangerous time. The AIDS pandemic has moved from the coasts (NY, SF, LA) to the center of the country. In 1990, Ryan White died of AIDS at 18. The 6th International AIDS Conference in SF protested against America's immigration policy, which stopped people with HIV from entering the country. By the end of 1990, over 307,000 AIDS cases had been officially reported, with the actual number estimated to be closer to a million. Between 8-10 million people were thought to be living with HIV worldwide.
This is the world into which "Pose" takes us in Season 2. "Choosing life in the darkest of times is a choice," says Pray Tell (Emmy winner Billy Porter) in one of the new trailers. We lived through that time as the first woman AIDS reporter in the country. Most of our gay male friends did not survive. It would be Aug. 17, 1998 before this paper would post the headline "No Obits" after years of obituaries of gay men in their 20s, 30s, 40s, 50s.
This is the storytelling of our lives, our history. We can't wait for "Pose" to begin. Watch the trailers, immerse yourself in their stunning black-and-white imagery. Get ready to spend Pride month with some real queens.
Calvin Klein has tapped "Pose" breakout star Indya Moore, one of Time magazine's 100 last month, for their Pride collection underwear line. Moore appears in an open white shirt, no bra and Calvin's shorts, with just a hint of breast here and there. Moore says in their ultra sexy voice, "I used to tell my friends, I'm ugly before 10 a.m., and I'd warn them just to not look at me. But not anymore. I won't wait to be free. I speak my truth in my Calvins." As if they were ever ugly.
Moore is luminously beautiful as they move about a terrace and a tropical-themed bedroom. No doubt this will be a controversial campaign. But we are so here for it.
So just as we had finished with Eli and Nico in "Grey's Anatomy," along comes the May 16 finale that made us like them again. Who knew that Eli would turn out to be the brave one? We thought they might be written off for next season, but the closing sequence of the finale made clear these two are just beginning. Now do lesbians.
But don't do lesbians the way "Law & Order: Special Victims Unit" did lesbians in their egregious mash-up of the Ilhan Omar controversy, the Covington high school boys and some borrowing from "The Bold Type." This season of "SVU" has been kind of a mess. There have been some stellar episodes and some gawdawful ones, but making the Muslim anti-Semite a lesbian who was raped by her former husband in a synagogue but blamed some Jewish teens was so many layers of wrong our heads were spinning. We love Olivia Benson, but Mariska Hargitay has such strong input on this show that would collapse without her that she should have said no to this story. Disappointing.
Meanwhile, several production companies are pulling out of Georgia after the state's egregious new abortion law. Among them is Christine Vachon's ("Carol") Killer Films and David Simon's Blown Deadline Productions. The only way to fight back against these draconian attempts to legislate women's bodies is through their wallets. They are soulless, so appealing to their better angels is pointless.
Actress and talk-show host Busy Philips broke the internet this week with her #YouKnowMe campaign on Twitter. After back-to-back abortion bans passed in several states, Philips launched the campaign a day before the last episode of her talk show, "Busy Tonight." Philips, a married mother of two, said, "One in four women have an abortion by 45, and I'm one of them."
On May 16 Philips talked about her abortion, about the response, about the importance of women's bodily autonomy. It was a radical moment in late-night TV. Since there are no late-night hosts who are women except her on E! and Samantha Bee on Comedy Central, it was big. Philips said, "I am hopeful that we won't slide backwards. I hope this is a real turning point, and from here on out, things will get better."
Thousands of women posted their stories, including famous ones like California Congresswoman Jackie Speier. Queer actress-activist Cynthia Nixon shared a story about her mother having an illegal abortion. We hope someone smarter than E! picks Philips up for another talk show. This embargo against women in late-night TV seems of the same era as these restrictive abortion laws.
We did start thinking about how TV has always been afraid of addressing abortion. We remember Susan Lucci caused a scandal on "All My Children" when in 1973 (before Roe v Wade was passed) her character Erica Kane became the first woman on TV to have an abortion.
Sandra Oh, now starring on the lesbian-esque thriller "Killing Eve," previously starred on "Grey's Anatomy." Her character Christina Yang had an abortion. On "Scandal," also helmed by Shonda Rhimes, Olivia Pope (Kerry Washington) had an abortion. Both women had their abortions in secret, for reasons that were both simple and complex. The presentation was unique as it was groundbreaking.
Phoebe Waller-Bridge, creator of "Killing Eve," is back with a new season of her other series, "Fleabag," which began streaming on Amazon May 17. In an interview with the Fresh Air host Terry Gross, Waller-Bridge talked about "Killing Eve," one of our favorite series ever. Jodie Comer (Villanelle) won a BAFTA this week, and brava because she is spectacular.
Waller-Bridge said of "Killing Eve," "I wanted both characters to be charming. I found it very hard not to write jokes. I also think that comedy and drama actually live very closely with each other and complement each other. So I wanted these characters to be witty."
She said, "Villanelle [the killer] just messes with people, and it cracks her up and she's very irreverent. Comedy lent itself to that very easily. That's the quickest way to make people love a character, is if the character makes them laugh. Then they can murder somebody and you'll go, 'Oh, it's OK, because she's funny!'"
Waller-Bridge is right, we almost excuse Villanelle anything because she's so clever and arch, and dresses mad fabulous. We are, like Eve (Sandra Oh), in love with her in spite of ourselves. What surprised us in the charming interview (podcast at NPR) is that Waller-Bridge had a period of living as a boy.
It's an extraordinary exchange. Waller-Bridge shaved her head, dressed as a boy and called herself Alex for six years during her childhood. She explains she and a friend were living as boys.
"We were just boys. I remember going into Gap once when I was about 7, and the guy coming up to me when I was with my mum and said, So what does the young man want? And I was like, Yeah, convinced."
Gross asks, "Do you think if that was happening today that your parents would wonder if you were trans?"
Waller-Bridge says, "I think my parents would've been exactly the same. You know, they never had an issue with it. They were just sort of like, sure. You're Alex. Let's take you to Gap, Alex! I just remember it never being a problem. I just desperately wanted to a boy more than anything, else. If it had been taken seriously maybe by my school, and those options had been given to me, I probably would've jumped at it. But I don't think my parents would've been any different. They're just like, live and let live. I was very happy being a girl dressed as a boy as long as I was allowed to express myself that way."
At least parents like Waller-Bridge's have "Arthur." The long-running PBS animated series had a gay wedding this week. Not only was it sweet, lovely, and perfect for children and adults, but it put the right into another tizzy.
On May 13, "Arthur" opened its 22nd season with Arthur's teacher, Mr. Ratburn, getting married. In "Mr. Ratburn and the Special Someone," Arthur and his friends attend their beloved teacher's wedding, and the students talk about cake, Mr. Ratburn's dance moves and decor, but never mention the fact that this is a same-sex wedding because it's Mr. Ratburn, they love him, he loves someone, and everyone is happy. What a lovely message for our kids.
So for the dichotomy of DC reality TV, the anticipation of "Pose," the quixotic Phoebe Waller-Bridge and so much more, you really must stay tuned.
Rep. John Lewis, one of the great Civil Rights icons, spoke with eloquence and passion on the House floor. Photo: Courtesy CSPAN
Comments on Facebook