The Lavender Tube reads the redactions
Tuesday Apr 23, 2019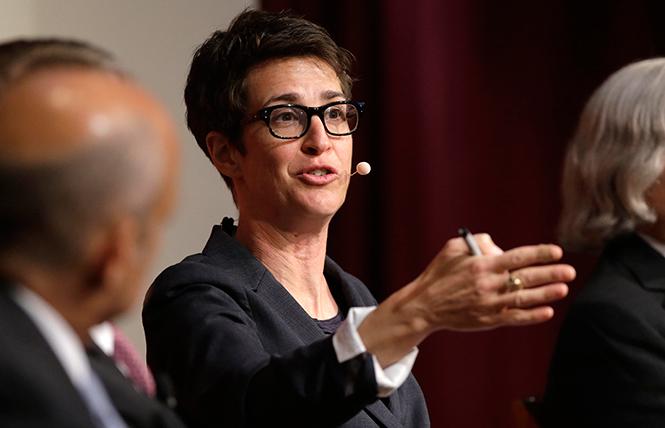 In the same week we got new brilliant Beyoncé, a new Madonna, one head-swiveling episode of "Ru Paul's Drag Race," "Pose"'s luminous Indya Moore as one of the Time 100, and the redacted Mueller Report dropped. If it hadn't been for the fact the republic is in peril, it would have been a great week to be queer. But that Mueller Report. Quisling.
That was the word that came to mind as we watched Attorney General Bill Barr give his explanation for the redactions in the Mueller Report he finally released on April 18. We soon discovered reading redacted text, even 448 pages of it, goes really quickly. So it didn't take us long to determine that the summary Barr had previously provided was, as they say, a tissue of lies. Our fave queer news anchors Rachel Maddow, Anderson Cooper and Don Lemon did masterful deconstruction and call-outs of the report, but then all three (especially Maddow) had been on top of the details we now know to be fact throughout the Mueller investigation. Bravo.
Maybe we need more queer newspeople, because these three managed not to be diverted from the facts, even when Trump's gaslighters would come on MSNBC and CNN to spin Trump's lies with their own. We were struck as we delved deep by how Press Secretary Sarah Huckabee Sanders was revealed to have been lying to the press. Michelle Wolf, you were right at that White House Correspondents Dinner. She is a liar.
Get your LGBTQ derrieres in gear, folks. Although Rep. Alexandria Ocasio-Cortez and Rep. Rashida Tlaib are putting out an impeachment resolution, the onus will be on the electorate to get the Trump mob out of office. White House Senior Counsel Kellyanne Conway told CBS News the report was "a proctology exam." She also said Trump's not leaving the White House before 2024. "You know what [President Trump's] greatest rebuttal will be? His greatest rebuttal will be he's in office. He's going to remain in office. And he'll get re-elected because the Democrats have nothing."
Former prosecutors Sen. Kamala Harris and Sen. Amy Klobuchar had a different view on "All in with Chris Hayes" on April 18. Well-worth a look if you missed it, since both women are polling in the Top 10 in the primary.
In other presidential TV news, Pete Buttigieg is the rising star of the Democratic field, which no one could have predicted a few months ago. Nor could anyone have imagined some of the interviews we've seen with the South Bend, Indiana mayor.
Our other hat is covering politics, so we won't have a candidate until next year when it's time to actually vote, but we admit to getting a bit verklempt when seeing Buttigieg and husband Chasten kiss in public. We were expelled from our all-girls high school at 16 and put in a psych ward for conversion therapy, so knowing how those kisses will help gay kids across America — that's never going to get old for us.
On "The Rachel Maddow Show," Buttigieg told his coming out story to one of the only out lesbian anchors on TV ("GMA"'s Robin Roberts is also out). Maddow said, "You went through college, then getting the Rhodes Scholarship, going to work for McKinsey, joining the Navy and deploying to Afghanistan, coming home and running for mayor in your hometown and getting elected before you came out at the age of 33? I think it would have killed me to be closeted for that long."
Buttigieg, who's been campaigning for months, but just officially announced his run on April 14, told Maddow, "It was hard. It was really hard."
Maddow, herself a Rhodes Scholar who came out in college, said, "Coming out is hard, but being in the closet is harder."
Buttigieg explained that it took him "plenty of time to come out to myself. There were certainly plenty of indications by the time I was 15 or so that I could point back and be like, 'Yeah, yeah, this kid's gay,' but I guess I just needed to not be," he explained. "There's this war that breaks out, I think, inside a lot of people when they realize they might be something that they're afraid of, and it took me a very long time to resolve that."
Buttigieg said his tour in Afghanistan taught him not to put any part of life on hold. "I realize that you only get to be one person," he told Maddow. "You don't know how long you have on this earth, and by the time I came back, I realized, 'I've got to do something.'"
Right before the U.S. Supreme Court legalized same-sex marriage, Buttigieg wrote an op-ed for Pride Month in June 2015 in The South Bend Tribune.
Buttigieg's and Maddow's conversation was deeply moving, even poignant. We cried watching it for all the people forced to lead closeted lives, and especially the ones who lost their lives over the conflicts their gayness brought them.
The conversation Buttigieg is having with America about coming out is one that can only benefit millions of gay and lesbian people throughout the country. Watch the interview if you missed it. As we approach the 50th anniversary of Stonewall, it's something to celebrate.
Buttigieg also did an interview with Ellen DeGeneres, and another on "TMZ Live" with Harvey Levin where he answered questions. Levin asked Buttigieg how he would handle homophobic remarks during the race. "I'm used to bullying," Buttigieg said. "You confront it initially, then you move on." Buttigieg has been heckled on the campaign trail, but those malcontents have been few and far between. Buttigieg's affability and his willingness to go on every TV outlet that asks him (he's been on all the Sunday shows, as well as most of the late-night shows) have raised his profile dramatically in just a few months.
As Barney Frank, the first out gay member of Congress, told MSNBC's Chris Matthews, Buttigieg's progress is "both a sign that the prejudice is diminishing, and it is an opportunity further to diminish the prejudice by giving him this platform." Frank also said of those protesting Buttigieg, "People don't get heckled if nobody thinks they're a threat. The fact that these bigoted lunatics start acting out in public, it's a sign of their desperation." Amen.
Gone boy
One reason Buttigieg going viral is a net positive for LGBTQ people regardless of where he lands is all-too-clear as scripted TV is telling the other side of the story: when coming out harms us. "Gone" addressed James' past in the April 17 episode. (James is played by the fabulous Andrew Mientus, who has appeared on Broadway in numerous musicals and co-starred on "Smash," which we loved.)
We knew James was gay and that he'd been an abductee like Kick (Leven Rambin), but what we didn't know is his own family put him in the path of sex traffickers by tossing him on the streets at 14 when he came out. (Spoilers ahead.)
In a hyperrealistic episode, James' history is revealed when he receives a message from his brother that their father has died and the funeral is imminent. As James reveals what happened to him, Kick and Frank (Chris Noth) convince him to go to the funeral, accompanying him there.
The meeting between James and his mother (Marlee Matlin) is fraught, and we have a hard time forgiving homophobic parents, but the two have a rapprochement of sorts. She tells James she wants to "make things right," but it's been a decade and James has been through hell and back. Nevertheless, he chooses to give her a second chance. What happens next remains to be seen.
Casting a deaf actress in the role implies her deafness will play a part in the storyline. James is fluent in sign language, and the two sign as they talk. We see the emotion clearly in their hands as well as on their faces.
The Swedish psychological thriller "Modus" has debuted on PBS as part of their ongoing Brit crimes series (it was produced by BBC), and it is dark and stunning. During a snowy Christmas season in Sweden, psychologist and profiler Inger Johanne Vik (Melinda Kinnaman) becomes involved in solving a series of murders, one of which her young autistic daughter, Stina (Esmeralda Struwe), has witnessed.
With several gay storylines, one a real shocker, it is thoroughly compelling viewing. The naturalness of the gay storylines also suggests that Sweden is doing gay TV far better than we are. The autism feels real and the girl isn't a savant, like most of the autistic characters on TV, but, for lack of a better word, a normal girl who is mostly non-verbal, but highly engaged in her surroundings.
This is a complex two-season thriller, which premiered on BBC in 2018. We don't want to give anything away, as the mystery is really thoroughly engaging, but if you like your thrillers super dark, this is the series for you. The landscape is used to stunning effect in the gorgeous cinematography. No spoilers, but we will say that blood on snow is tremendously vivid. In Swedish, with English subtitles. Check local listings for times. Also available on Amazon Prime.
If we handed out Emmys, we would give one to Michelle Williams right now for her nimble, nuanced, clever, poignant performance as Gwen Verdon in "Fosse/Verdon." FX has been racking up the stellar limited series, and this is yet another. The musical numbers are riveting, the disjunctive narrative bearably so, the acting and writing strong, the sets perfection.
Sam Rockwell's Bob Fosse is a mix of sleazy sexy and brutally insensitive. He loves the work, he loves the women, he loves the milieu, but he is such a relentless user and abuser of women that it is often wearying to watch, and the series relies just a bit too heavily on his innate sadness to jolly us (and Gwen) into continuing to tolerate his BS.
But then there is Williams, who is in nearly every scene and is just remarkable as Fosse's great love and life-long muse. She exudes enthusiasm, and it's easy to see in her evocation how Fosse fell in love with her and became dependent on her even as he cheated on her repeatedly.
The man who brought us "Cabaret," "Chicago," "Pajama Game" and "Pippin" is in every gay household. Watching how it all began is may be a little too much sausage-making, but the music, the dancing and Williams make all of it so very compelling.
What can we say about "Homecoming" other than that Beyoncé just keeps bringing it? The Netflix documentary is immersive. Beyoncé is the queen, the goddess, the evocation of black musical culture. The places "Lemonade" took us just expanded a hundredfold in "Homecoming."
This is Beyoncé at Coachella in 2018. The documentary is described as an "intimate, in-depth look" at the concert, revealing "the emotional road from creative concept to a cultural movement." This is Beyoncé with her huge, overwhelming, all-consuming performance. The retinue of dancers and backup singers, the costuming and choreography and above all, Queen Bey herself, are all mesmerizing. The documentary is entrée into Bey-world, at once a home movie, exercise video and performance art.
In "Homecoming," Beyoncé highlights blackness in ways that remain subversive in white culture, and watching "Homecoming" you can't miss that fact. Beyoncé wants the voices of black women to resonate through the film, through the performances. There is an ethos that is fundamentally, mesmerizingly, undeniably about elevating blackness and situating female blackness. We hear those voices we recognize immediately, like Dr. Maya Angelou. This ain't your mama's concert film. This is an experience. Written and directed by Beyoncé Knowles-Carter.
The new season of "Killing Eve" is possibly even better than the first. AMC has smartly paired it with the new "Discovery of Witches," so we have two hot, clever, dark, queer-themed dramas back-to-back on Sunday nights. Plus Matthew Goode's vampire in "Discovery of Witches" is just incredibly, undeniably sexy, with his admonitions to lower one's adrenaline so he doesn't rip your throat out. Not since "True Blood" have we warmed so to a vampire, "The Originals" notwithstanding.
Alas, the time slot pits these stellar dramas against Masterpiece on PBS, but that's why the DVR was invented. On PBS, season three of the fabulous "Unforgotten" delves deep into cold cases and queerness with the always remarkable BAFTA-winning Nicola Walker ("Last Tango in Halifax," "River") as the introspective detective DCI Cassie Stuart.
Also on Masterpiece, running with "Unforgotten," is the new period piece "Mrs. Wilson." PBS describes Mrs. Wilson as "a spy thriller and a totally gripping journey that will have you gasping with disbelief and marveling that the truth really is stranger than fiction! 'Mrs. Wilson' is based on the true story of actress Ruth Wilson's grandmother Alison, who discovered, upon the sudden death of her husband Alec, that he had another, secret family. But the secrets don't stop there! It's up to Alison to prevent her family and her world from being torn apart as she unravels them, one at a time." Starring Ruth Wilson ("Luther"), Iain Glen (yes, Mormont from "Game of Thrones") and the great Fiona Shaw, who is also co-starring in "Killing Eve," because she was born to play spies.
We're none too thrilled that yet another lesbian coupling is being sundered, but that's how "The Bold Type" has decided to open season three. Kat (Aisha Dee) and Adena (Nikohl Boosheri) are over, and while we know that there were problems in that relationship, we root for all the queer TV couplings, even the bad ones. But Adena has always been too loosely drawn a character, and at times it felt the series wanted a Muslim lesbian but didn't want to go to the trouble of actually writing the part deeply and seriously. We'll miss Kadena, and maybe, with some insight, we could have them back.
So for the scary, sublime and everything in-between, you really must stay tuned.
Comments on Facebook