Political Notebook: LGBT advocates back SF, Oakland youth vote measures
Friday May 22, 2020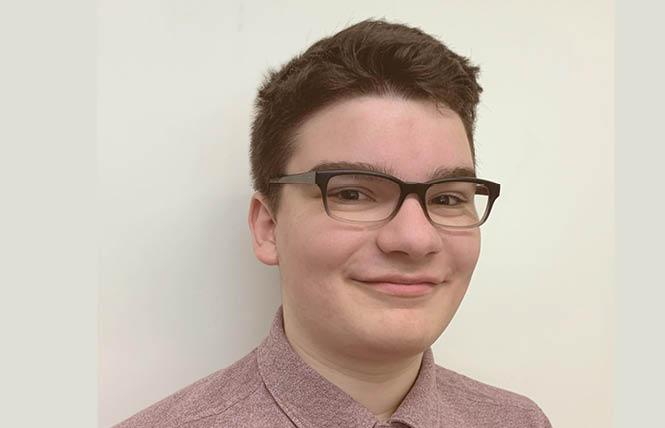 At 15 years of age Ewan Barker Plummer is already attuned to politics and civic affairs. The queer San Francisco teenager earlier this year published an essay on how important it was for him and other LGBTQ young people to see Pete Buttigieg run as an out gay man to be the Democratic Party's 2020 presidential nominee.
A child of immigrant parents, Plummer remembers going with his mom to phone bank for Hillary Clinton when she ran as the party's presidential candidate in 2016 and together watching the debates that fall. In 2018, Plummer volunteered on the mayoral campaign of former supervisor and state legislator Mark Leno, who fell short in his bid to be San Francisco's first gay mayor.
Last fall, he worked on Lief Dautch's unsuccessful bid to be the city's district attorney. At Waldorf High School, where he is finishing his freshman year, Plummer is working with fellow students to launch a chapter of High School Democrats.
He already belongs to the city's San Francisco Young Democrats chapter and the moderate United Democratic Club and the Alice B. Toklas LGBT Democratic Club. When he turns 16 this September, he plans to pre-register to vote when he turns 18.
But he wishes he could cast a ballot this fall when seats on the city's school and city college boards will be decided by voters, as well as a number of local measures. Among them is expected to be a charter amendment that would allow 16- and 17-year-olds to vote in local races.
"I think it is just about time, especially on the local level where the decisions directly impact the future of San Francisco," said Plummer, who singled out the lack of affordable housing in the city as one key issue that he is already worried about and advocating on. "I would like to vote for politicians who would guarantee housing on all market levels. I think it is important for 16- and 17-year-olds to have a voice in San Francisco."
He is not alone in espousing such a view. LGBT advocates in both San Francisco and Oakland are backing measures on the November ballot that would extend voting rights to youth age 16 and 17. Oakland's city council unanimously voted May 19 to place on its city's fall ballot a measure that would allow 16- and 17-year-olds to vote in school board elections.
Lesbian Oakland City Council President Rebecca Kaplan, who holds the at-large seat and is up for reelection this year, worked with a coalition of youth advocates, including members of the groups Oakland Kids First and the All City Council Student Union, in seeking the council's support to put the charter amendment before Oakland voters.
"Allowing young adults to have a vote in elections directly impacting them, helps improve responsiveness of these governmental roles, and helps build empowered community members, with practical knowledge and skillset to make change in their community through the democratic process," stated Kaplan after the vote. "In this era, as we face down threats of voter suppression and other efforts to silence marginalized voices in our democracy, it is all the more important that we work to ensure our communities are included."
A number of school board members are supporting the ballot measure, which comes four years after voters in neighboring Berkeley overwhelmingly approved a similar charter amendment allowing 16- and 17-year-olds to vote in school board races.
"Research has proven that younger first-time voters are more likely to become lifelong voters and make our parents more likely to vote as well. This will help us get more youth and young adults more civically engaged," stated Denilson Garibo, 17, one of the Oakland school board's student directors.
SF amendment
The San Francisco Board of Supervisors is expected to vote in late June or early July on placing a similar charter amendment on the fall ballot. Called Vote16SF, it would allow 16- and 17-year-olds to vote on all local races and city ballot measures and needs a simple majority to pass. Its backers would like to see it be implemented in time for the city's 2022 election.
"This will make our city government so much more responsive and effective if young people have a voice and if we are accountable to young people," said District 6 Supervisor Matt Haney, a former school board member.
The city's youth commission has been spearheading the campaign in coordination with various community groups such as SF Rising, Coleman Advocates for Youth, Generation Citizen, and the Community Youth Center. At its meeting Tuesday, May 19, the Harvey Milk LGBTQ Democratic Club voted in support of seeing the charter amendment be placed on the ballot.
Its lead legislative sponsor is board President Norman Yee, a former school board member who is termed out this year from his District 7 supervisor seat. During a May 12 online news conference timed to his introducing the proposal to the board, Yee argued there is no reason why teens age 16 and 17 should not be allowed to vote on the people representing them at City Hall or on city oversight bodies like the elected boards for the city college and school districts.
"My question to voters is if young people have the capability of changing the world for the better, will we stand behind them and let their voices be heard?" asked Yee. "I hope everyone will get behind and support this historic effort to extend voting rights to 16- and 17-year-olds here in San Francisco."
A similar effort in 2016 fell short by 15,116 votes, with those opposed to lowering the voting age to 16 in local races coming in at 52.1% and 47.9% of voters in support. Backers of the measure are confident those numbers have switched in the intervening years and that voters will approve this fall's measure.
Crystal Chan, 18, who represents District 7 on the city's youth commission and is a senior at Lowell High School, noted during the news conference that her peers are already leaders in the community. She pointed to recent youth-led marches against gun violence and climate change as just two examples of how teens are using their voices to seek societal changes and lobby for government policies.
"Vote16 is a super important movement. We are strengthening democracy by helping youth build a lifelong habit of voting," said Chan. "Young people in our city understand how policies impact them, their families, and their communities. It is time they get a voice in our local government."
Gay District 8 Supervisor Rafael Mandelman told the B.A.R. he is supportive of allowing 16- and 17-year-olds to vote and expects to become a sponsor of the proposal when it comes before him and his colleagues in the coming weeks.
"For local elections getting people engaged in voting earlier makes it more likely they will continue to do it throughout their lives. I think that is a good thing," said Mandelman in a phone interview, as the former City College of San Francisco board member did not take part in the news conference. "Particularly for local elections, like for the school board and community college board, these things directly impact young people."
Gay state Senator Scott Wiener (D-San Francisco), who backed the 2016 measure when he served as the District 8 supervisor, expressed confidence the needle has moved since then to see this year's charter amendment by approved by voters. From climate change and gun controls to criminal justice reform, so much of what politicians are grappling with today will have impacts for youth in the decades to come, he noted during the online press call.
"We have a moral obligation to increase youth engagement in the political process if we care about the future of our world," said Wiener, adding that, "unfortunately so many of the decisions we are making are overwhelmingly being made by older people. Older people should not be unilaterally making decisions that impact young people for the rest of their lives when young people don't have a full voice."
To those who argue youth are not ready to vote, Wiener, who recently turned 50, quipped that some 60-year-olds aren't ready to vote.
"Young people must have a voice," he said. "I know 16- and 17-year-olds are perfectly capable of being excellent, informed voters and active voters."
But he acknowledged it won't be a slam-dunk to adopt the measure this November, with normal campaigning tactics like rallies and door-to-door canvassing likely suspended due to the novel coronavirus outbreak.
"It is going to be close. Campaigning will be different this year than in past years," noted Wiener, who himself is seeking reelection in November. "There will be a lot more texting and calling and digital outreach, frankly things younger people are better at than older people. Nontraditional outreach to voters, I think, creates an advantage, so I think it can pass."
Plummer told the B.A.R. he hopes a victory in San Francisco will lead to an extension of voting rights to youth in other counties throughout California, at the state level, and in federal elections.
"We should be able to vote on every level," he said. "We should allow 16- and 17-year-olds across the country to vote."
The supervisor's rules committee will likely take up the charter amendment sometime in mid-June, after which it would go to the full board for a vote. The deadline to place measures on the ballot is July 15.
Political Notes, the notebook's online companion, will return Monday, June 1.
Keep abreast of the latest LGBT political news by following the Political Notebook on Twitter @ http://twitter.com/politicalnotes
Got a tip on LGBT politics? Call Matthew S. Bajko at (415) 829-8836 or e-mail m.bajko@ebar.com
Editor's note: If you liked this article, help out our freelancers and staff, and keep the B.A.R. going in these tough times. For info, visit our IndieGoGo campaign.
Comments on Facebook